That cherished land where all is peace and beauty.
We all seem to yearn for it and that, I suppose, is a very good reason for painting it.
— artist Frank Vincent DuMond, 1909

The place itself—an easy train ride from New York City to atmospheric river lowlands, small forests, salt meadows, colonial farms, and a charming village—positioned Lyme, Connecticut, as a perfect setting for an art colony. The town, now called Old Lyme, is a former ship-building center situated near the Connecticut River, the Long Island Sound, several smaller ambulating rivers, and beautiful countryside—an ideal locale for artists to paint en plein air.

When, in 1896, the artist Clark Voorhees (1871–1933) happened upon Old Lyme while on a bicycle trip, he quickly spread the word of the place's potential to his artist friends back in New York. Possibly at Voorhees's suggestion, Henry Ward Ranger (1858–1915) arrived soon after and boarded with the gregarious art patron Miss Florence Griswold in her stately Georgian mansion. Miss Florence's home, opened to many more artist boarders, would become center stage for the influential Lyme Art Colony.

By August of 1899, Old Lyme was being promoted as an "American Barbizon" with Ranger as its leader, and artists came to capture the landscape in subtle, tonalist palettes. The colony's shift to impressionism a few years later was sparked by the arrival of Childe Hassam (1859–1935), Willard Metcalf (1858–1925), and others. Their vibrant impressionist style soon dominated the Lyme Art Colony. Even after Miss Florence's death in 1937, the legacy of the Old Lyme artists continues with the establishment of her home as a museum, which is still in operation today, retaining hundreds of the artists' works—paintings that reflect the spirit of the place, "a land distinctly Lyme." — JCE


---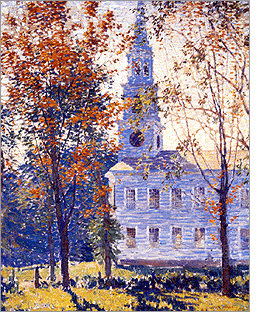 Everett Warner (1877–1963)
The Village Church
Oil on canvas, 32 x 36 inches
Gift of Hannah Coffin Smith in memory of her father; courtesy of Florence Griswold Museum.

The First Congregational Church of Old Lyme was a favorite subject of the Lyme Art Colony artists. The white steeple, set against a blue sky on a fall day in Everett Warner's version, represented to the artists the quintessential New England architectural character of the village—a kind of iconic American identity somewhat removed from its religious origins. When the church burned down in 1907, possibly by arson, Childe Hassam, who had painted the structure several times, declared that only the devil could have been responsible for destroying such an architectural treasure. The church was rebuilt in 1910, using photographs and paintings as guides.

Warner's The Village Church is part of the current exhibition Painter's Paradise: A Land Distinctly Lyme on view through November 25 at the Florence Griswold Museum, Old Lyme, CT. On May 18 and 19, the museum is holding A Tour of Creative Havens, featuring Lyme artists' homes and studios. For more information, call 860.434.5542 or visit www.flogris.org.


---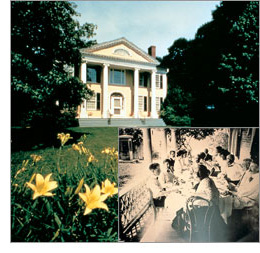 The Georgian-style Griswold home, built in 1817, was opened to artist boarders in 1899 and attracted premier tonalist and impressionist painters of the day, establishing Old Lyme as a major art colony. It is now the museum, a National Historic Landmark, and the Lyme Historical Society headquarters. Courtesy of Florence Griswold Museum.

[Inset] Artist boarders on the back porch of Florence Griswold's home, ca. 1905. A stay at Miss Florence's offered features found in the influential art colonies of France and Holland: a stimulating environment, artistic camraderie, affordable lodging, and picturesque scenery. As Childe Hassam put it, here was the perfect place for "high thinking and low living." Courtesy of Florence Griswold Museum.

---
Between 1904 and 1935, Bruce Crane rented several houses in Old Lyme, but for the last seven years he boarded at Miss Florence's. Crane's paintings focus on intimate views of nature in the tonalist style, which he, Henry Ward Ranger, and others explored and developed while in Old Lyme. Working from thumbnail sketches, Crane completed his paintings in his winter studio in Bronxville, New York.

Bruce Crane (1857–1937)
An Afternoon in Autumn
Circa 1900
Signed lower right:
Bruce Crane ANA
Oil on canvas
25 x 30 inches
Courtesy of The Crane Collection
Bruce Crane (1857–1937)
Grey Meadows
Circa 1910
Signed lower right
Oil on canvas
18 x 22 inches
Courtesy of The Crane Collection
---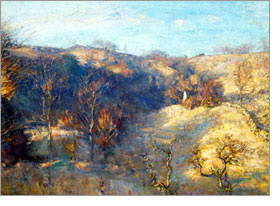 Charles H. Davis (1856–1933)
Afternoon Shadows, Mystic, CT
Circa 1910
Oil on canvas, 20 x 27 inches
Courtesy of Vose Galleries of Boston

While not part of the Lyme Art Colony, Davis worked just up the coast in Mystic, Connecticut, where he was a leading figure in the Mystic Art Colony, active about the same time as the Lyme colony.

Like so many of the Lyme artists, Davis painted in a soft, tonal neo-Barbizon palette that later evolved into a brighter, looser impressionist style. Davis became known for his brilliant depictions of expansive cloud-filled skies above the Connecticut countryside.
---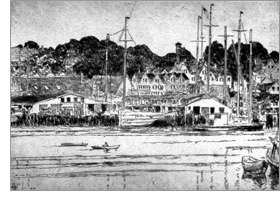 Childe Hassam (1859–1935)
Inner Harbor, Gloucester, 1919
Signed and dated in the plate
Signed with the cypher, imp
Cortissoz 226. Etching, 75/8 x 111/4 inches
Courtesy of Ernest S. Kramer Fine Arts & Prints, Inc.

In 1903, Hassam's arrival at Old Lyme shifted the colony's tonalist tendencies to a brighter impressionist palette. The influential artist hop-scotched among many art colonies and scenic regions, including Gloucester and Provincetown, MA; Old Lyme and Cos Cob, CT; Appledore Island, ME; Isle of Shoals, L. I.; and Brittany. "I am the Marco Polo of painters," he told Florence Griswold.

---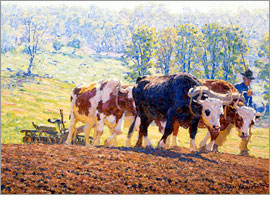 Edward Volkert (1871–1935)
Harrowing
Signed lower right
Oil on canvas, 24 x 30 inches
Courtesy of The Cooley Gallery

Born in Cincinnati in 1871, the son of a hat merchant from the Alsace, Volkert trained at the Cincinnati Art Academy under the influential Frank Duveneck (1848–1919).

His unique style combined Barbizon romanticism, the vibrant colors of impressionism, and Duveneck-inspired draftsmanship. After staying at Miss Florence's, Volkert became enamored with the bucolic surrounding countryside.

Volkert's farm paintings capture a rural America that was nearly extinct by 1922, the year he bought a house and settled permanently in Old Lyme. His romantic compositions of cattle and ploughman working in fields became his trademark subjects.


---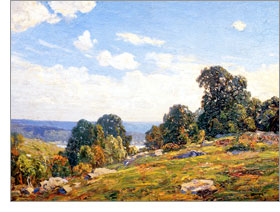 Wilson Henry Irvine (1869–1936)
Summer in Lyme
Signed lower right
Oil on panel
24 x 27 inches
Courtesy of Questroyal Fine Art, LLC

After painting quaint fishing villages along the French and British coasts, Irvine returned to the States, where he summered in Old Lyme from 1914 to 1917. Having established himself as a leading member of the Old Lyme colony of impressionism, he lived in nearby Hamburg after 1918.

---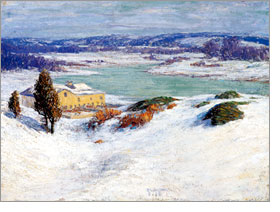 Harry Leslie Hoffman (1874–1966)
The Connecticut River, Old Lyme, CT
Signed and dated
Oil on canvas, 30 x 40 inches
Courtesy of Richardson-Clarke Gallery

Influenced by Willard Metcalf, Hoffman joined the impressionists at Old Lyme in 1902. He married Beatrice Pope, a fellow boarder at Miss Florence's, and the couple settled in Old Lyme permanently. Hoffman was extremely helpful to Miss Florence in her later years when she was faced with bankruptcy—he served as a treasurer and fund raiser in order to keep her in her home during her final years and to establish her home as a museum when she died. Hoffman lived to be 92 years old, the longest-lived of the Old Lyme artists