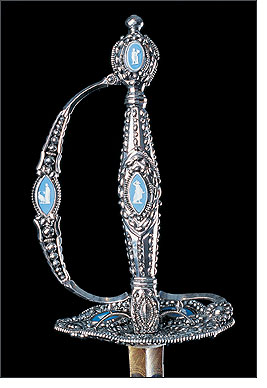 Peter Finer
Sold to the Higgins Armory Museum, Worcester, Massachusetts
A Fine English Small-Sword by Matthew Boulton (1728–1809)
England, circa 1790
Steel; iron; jasperware cameo plaques stamped Wedgwood (1730–1795)
Overall length: 36 in.;
blade length: 29 in.
Courtesy of Peter Finer

The hilt of cut steel pierced with open work and set with polished studs and beads. Mounted on the hilt are blue and white ceramic cameo plaques stamped Wedgwood. The German blade is blued, gilded, and etched with trophies and neoclassical figures.

This is one of a rare group of hilts produced by the famous English engineer and entrepreneur Matthew Boulton (1728–1809) in his Soho Manufactory established in the city of Birmingham. The cameo plaques decorated with neoclassical figures were made by the leading ceramic producer Josiah Wedgwood (1730–1795), who was supplying plaques for Boulton to mount from ca. 1776.

This small-sword represents a collaboration between two of the most famous English craftsmen of the late eighteenth century. Small-swords of similar form are in the collections of the Victoria and Albert Museum, London, and the Historisches Museum, Dresden.

A letter survives from Wedgwood to Boulton dated 14 June 1786, in which he writes, I have left a few sets of my cameo buttons to be mounted, and shall be glad to increase our connection in this way, as well in selling you cameos for your own trade, as in having them mounted by you for mine, both in gilt metal and steel, or in any other better way which your inventive genius may strike out. The mounting of cameos on sword-hilts was one of Boulton's more original ideas.