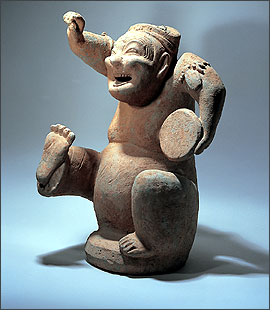 Priestley and Ferraro
Sold at the International Asian Art Fair, New York City, March 2001
A Sichuan Pottery Figure of an Entertainer
Eastern Han dynasty (A.D. 25–220)
Height: 20 1/2 inches
Courtesy of Priestley and Ferraro

The Chinese shuochangyong (talking and singing figures) entertainers would have been part of an ensemble that included actors, musicians, and dancers. From literary records we know that they would typically sing to the accompaniment of their own drum, while providing clown-like entertainment. Several representational pottery figures have been recovered from Sichuan tombs, some standing, some half-kneeling, and some, as here, with the foot kicking out. They are perhaps the most engaging creations of the Eastern Han potters.