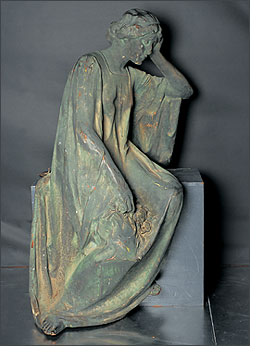 Jeffery Beal Henkel - Nancy Wells
Sold at the Philadelphia Antiques Show, April 2001
Seated Woman with Flowers
Artist unknown
Bronze, copper
Circa 1915–1930
Life-size
Courtesy of Henkel and Wells

By far the most popular object in our booth at the Philadelphia Antiques Show, this life-size garden statuary of a seated woman was purchased by the end of opening night. Sold to a private collector in the South, it will now adorn a lovely landscaped garden.

This statuary depicts a young woman gently resting her head on her hand as she meditates, with flowers almost slipping from her grasp as she relaxes: Such naturalistic renderings are rare.