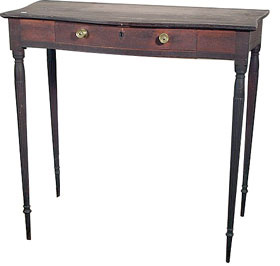 Wayne Pratt, Inc.
Sold at the Philadelphia Antiques Show, April 2001
A Very Fine and Rare Sheraton Mahogany Server
Portsmouth, New Hampshire,
circa 1810–1815
Height 33 1/2" Width 35 1/8"
Depth 17 7/8"
Courtesy of Wayne Pratt, Inc.

This table exhibits the elegant, slender proportions, tall stance, and serpentine-shaped top seen on the finest Federal furniture made in Portsmouth, New Hampshire. Also characteristic of furniture from this community are the delicate half-lozenge and double box-and-line inlays.

The table has survived in an astonishingly rare state of preservation, retaining a crazed dark, old, probably original finish and the original brasses. The table shows no evidence of breaks to the tall, extremely thin legs. A table of this quality is especially unusual and difficult to find.