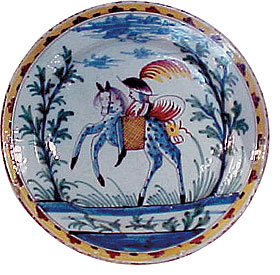 Norma Chick–Autumn Pond
Sold at Philadelphia's Navy Pier Antiques Show, April 2001
Polychrome Charger of a Figure on Horseback
Delft, Holland, circa 1710
Diameter 14 in.
Courtesy of Norma Chick–Autumn Pond

This rare polychrome charger was purchased from a private collection in Amsterdam. It depicts a boy on a spotted horse, supposedly representing William III as a child. An identical charger is illustrated in Christie's Pictorial History of European Pottery by Hugo Morley-Fletcher and Roger McIlroy (1984), p. 212. The charger is in wonderful cobalt blue, green, chromium yellow, and brick red.