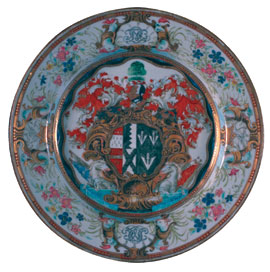 Julia & Matthew Lunn, Inc.
Sold to a private collector
Armorial Plate: Okeover Quarterly
Impaling Nichol
China, circa 1743
Diameter 9"
Courtesy of Julia & Matthew Lunn, Inc.

We are pleased to report the sale of a plate from the celebrated Chinese export porcelain service made for Leake Okeover, Esquire, and his wife, Mary Nichol, of Okeover, near Ashbourn, Staffordshire, England.

This sale adds a new chapter to the provenance of this plate, which began with its delivery to London in 1743 as part of a special order from China.

The Okeover family retains the drawing originally sent to Canton and copied onto the plates, as well as two original invoices for the service. One invoice, dated 1743 and signed by Joseph Congreve, commander of the ship Prislowe, reads, "From ye Jerusalem Coffee House, Change Alley, a consignment of fifty plates and four dishes with your arms."

Exemplary items of the China trade, these spirited rococo plates have brightened collections since the Okeover family first parted with them in 1975.