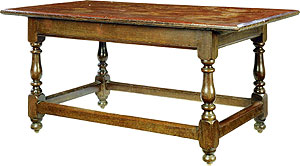 ESTATE ANTIQUES
Sold to the Museum of Early Southern Decorative Arts, Winston-Salem, North Carolina
Mahogany William and Mary Dining Table
Probably Charleston, South Carolina, 1711–1714
Height 29 3/4" Width 51" Depth 36"
Courtesy of Estate Antiques, Inc.

In June of 2000, our firm acquired one of the most important Southern dining tables still remaining in private hands. Until our primary inspection of the table, it was thought to be composed entirely of walnut; it is in fact composed of mahogany, and thus represents one of the earliest uses of this imported wood in the Southern colonies.

Notable for its size and condition, the table also has an interesting history. According to historical accounts, the table was made for Colonel Thomas Broughton, whose plantation house, Mulberry, was erected in Berkley County, South Carolina, between 1711 and 1714. The use of mahogany suggests that the table was made in Charleston, while the design and construction of the table suggest that the unidentified artisan was familiar with continental practices and was most likely of Huguenot extraction. There were a number of Huguenot artisans practicing their trade in early Colonial South Carolina, but unfortunately, few of the material manifestations of their labors remain today. This is indeed a rare survival.

Our firm placed the table with the Museum of Early Southern Decorative Arts in Winston-Salem, North Carolina—a suitable institution where the public may view the table among other important objects produced in the South before 1820. It was an honor and a pleasure to have the opportunity to handle such an important object and to place it where it will be appreciated and subject to further study and observation.