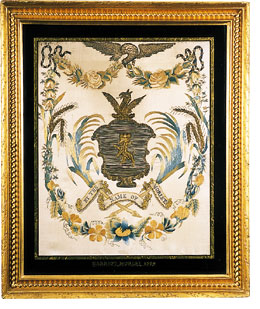 STEPHEN AND CAROL HUBER
Sold to a private collector
Very Fine Silk Embroidered Coat of Arms
Misses Pattens' school, 1808, Hartford, Connecticut
Silk, metallic thread, and ink on silk
17 x 13 5/8 inches
Courtesy of Stephen and Carol Huber

Embroidered coats of arms are a unique New England form of needlework. Ambitious and sophisticated, these fine pieces were prestigious decorations for the home and exhibited the accomplishments of the embroiderer. While most coats of arms were made at schools in the Boston area, several examples exist from the Misses Pattens' school in Hartford, Connecticut. Characteristic elements from the Patten school include the raised and padded eagle with garland, the bearded wheat, and the shape of the center shield.

This wonderful example also retains the original frame and a label reading: "Spencer & Gilmar, Looking-Glass Manufacturers, Main-street, Hartford, Keep constantly for sale, Looking-Glasses, Looking-Glass plates, Profile Frames, Picture Glass, &c. Embroidery, and Pictures of all kinds framed; Old Glasses, Pictures, &c. repaired on short notice; Profile Likenesses taken."