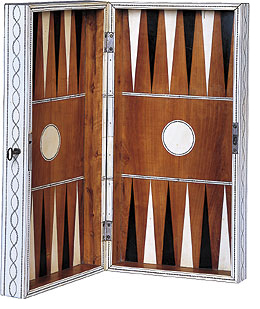 CHRISTINE CROSSMAN VINING
Sold at the Litchfield County Antiques Show, June 2001
Folding Engraved Ivory Gameboard with carved Ivory Chessmen
Vizagapatam, India, circa 1801
Ivory, sandalwood, ebony
18" square when open
Courtesy of Christine Crossman Vining

The exterior of the gameboard is inlaid withalternating squares of sandalwood and ivory. The interior is configured for backgammon with ebony and sandalwood triangles; both surfaces are bordered with delicate engraving. The intricately carved chessmen are of ivory and ebonized ivory.

This board is identical to the one bought by Lady Clive at Vizagapatam in 1801, now in Powis Castle, Powys, England. According to Amin Jaffer in Furniture from British India and Ceylon (2001), the Powis Castle board is the earliest documented gameboard from that region. Based on the similarities, the board illustrated here is associated with the same time period. It was sold to an enthusiastic young couple from New York to augment their Anglo-Indian collection.