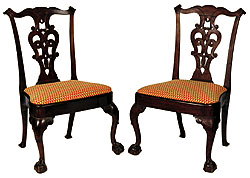 SAMUEL HERRUP ANTIQUES
Sold to a private collector
Pair of New York Chippendale Walnut Side Chairs, circa 1761–1763
Height: 38 inches
Part of a set made for Samuel Verplanck (1739–1820) of New York City
Courtesy of Samuel Herrup Antiques

These chairs, numbered XII and XIII, are part of a large set made for New York City banker and merchant Samuel Verplanck. The set was presumably commissioned between 1761, when Verplanck married his cousin Judith Crommelin, and 1763, when the couple moved into their new home at No. 3 Wall Street. Six of the chairs from this set are in the Verplanck room at the Metropolitan Museum of Art. See Morrison H. Heckscher, American Furniture in the Metropolitan Museum of Art (New York, 1985), pp. 66–67, pl. 24.