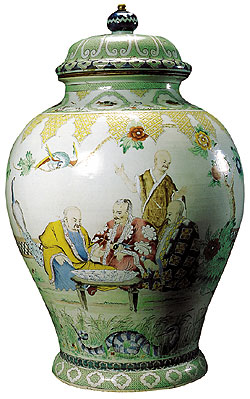 COHEN & COHEN
Sold to New Orleans Museum of Art
Urn and Cover, "The Doctor's Visit"
Qianlong period (1736–1795), circa 1736
H. 27 1/2 inches (70 cm)
Literature: See Jörg, Pronk Porcelain (1980), pp. 26–27, and Howard and Ayers, China for the West, vol. 1 (1978), p. 294, for a similar urn and cover.
Courtesy of Cohen & Cohen

According to Jörg in Pronk Porcelain, "The Doctor's Visit to the Emperor" was drawn by Cornelius Pronk for the VOC (Dutch East India Company) in 1735 and, like all his other renderings, portrayed a Western view of life in China. The design arrived in Canton in 1737 and presented a problem for the supercargoes responsible for placing the porcelain order—the designs were highly detailed and therefore very expensive to produce, especially in such large pieces as this urn. As a result, the supercargoes dared only to place a small order. (A second, slightly larger order was placed the following year.) In 1739 a less detailed version of the design that omitted the standing figure was sent to Canton in hopes of reducing the price of production. The records of the VOC show that a large order numbering over 1,000 dinner and tea wares was then placed. Strangely, pieces of the second design are now much less common than pieces of the first, despite having been ordered in far larger numbers.