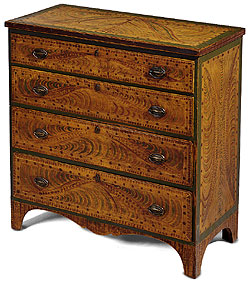 OLDE HOPE ANTIQUES, INC.
Sold to a private collector
"Matteson" Chest with Drawers
South Shaftsbury, Vermont, circa 1825
Height 39" Width 38 1/4" Depth 18"
Pine with original painted finish
Courtesy of Olde Hope Antiques, Inc.; private collection

Among the most desirable paint-decorated furniture from Vermont are "Matteson" chests. The association of Thomas Matteson of South Shaftsbury, Vermont, with chests of this form, which feature similar painted surfaces, is his signature on two examples; it is uncertain, however, whether Matteson was the maker or the painter of these fine chests.
As with most known Matteson chests, this example features a lift-top with two false drawers over two working drawers. The exuberant, freehand decoration in shades of green and sienna on a yellow ground is in excellent condition, and the extensive use of apple green is most unusual.

For more information on Matteson chests, see David Krashes, "New England Paint-Decorated Chests: Discoveries of Attributions," Folk Art, Summer 2000.