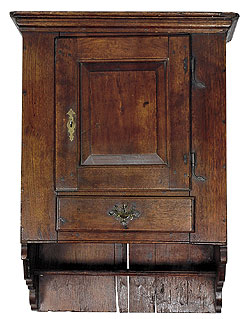 THURSTON NICHOLS AMERICAN ANTIQUES
Sold to a private collector at the Brandywine Antiques Show, May 2001
Rare Walnut Hanging Wall Cupboard
Southeastern Pennsylvania, circa 1760
Height 37 1/2" Width 25" Depth 13 1/2"
Courtesy of Thurston Nichols American Antiques

Wall cupboards were rarely owned in Pennsylvania, where patrons more frequently opted for less expensive corner shelves. The hanging cupboards were used in Protestant German households for storage of the family bible and other items important as religious or moral reminders. Cupboards were traditionally hung on the parlor wall opposite the entrance to the kitchen.

The exceptional simplicity of this cupboard is characteristic of the early German settlers' humble way of life. Fine craftsmanship is evident in the hand-wrought iron rattail hinges, well-developed cornice molding, scalloped sides, and bold, raised panel door.