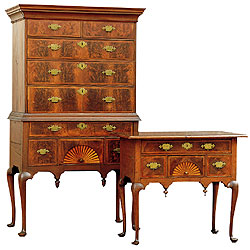 PETER SAWYER ANTIQUES
Sold to the Peabody Essex Museum, Salem, Massachusetts
Early Queen Anne High Chest and Matching Dressing Table
Probably Boston, circa 1740
Walnut, walnut veneer, and pine
High chest: Height 68" Width 35 7/8"
Dressing table: Height 31 1/4" Width 30"
Courtesy of Peter Sawyer Antiques

Often separated through subsequent ownership, matching high chests and dressing tables are an unusual find in today's antiques market. The rarity and early date of this pair caught the attention of Peabody Essex Museum decorative arts curator, Dean Lahikainen, who noted, "we didn't have a matching pair and they filled a gap in our collection. We felt it was a once-in-a-lifetime opportunity to purchase examples of such high quality."

The graceful, matching high chest and dressing table display excellent proportions, exceptional matched crotch walnut veneers, and superb inlaid fans. Both retain an old finish and their first set of engraved brass drawer pulls. A hidden drawer within the cornice molding of the high chest is an added refinement.