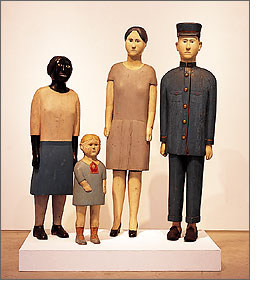 HILL GALLERY
Sold to a private collector
The Buckeye Family
Joe C. Lee, Overton County, Tennessee, circa 1925
Buckeye wood, paint, 3/4 life-size
Literature: Folk Sculpture USA, The Brooklyn Museum of Art and the L.A. County Museum of Art (1976); Robert Bishop, American Folk Sculpture (E.P. Dutton & Co., 1974).
Courtesy of Hill Gallery

The Buckeye Family is one of the most famous carvings in America as well as an icon in the field of American folk sculpture. Greengrocer Joe C. Lee of Overton County, Tennessee, carved the four figures about 1925. The Buckeye Family took three years to carve, and according to records kept by Mr. Lee, "over 65,000 people from every state in the Union and fifteen foreign countries visited his store in the mountains to view the carvings. Pictures of the Buckeye Family have appeared in several daily newspapers in Tennessee and sixteen national magazines." The figure of the little girl, called Shelby Jean, was Mr. Lee's favorite, and he referred to her in a very personal and human way. The figures recorded American popular culture of their time for future generations to appreciate.