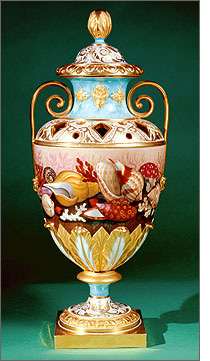 PAUL VANDEKAR
EARLE D. VANDEKAR OF KNIGHTSBRIDGE, INC.
Sold to a private collector
An Important Flight, Barr & Barr Worcester Shell-Decorated Vase & Cover
Worcester, England, circa 1820
Painting attributed to John Barker
Porcelain
H. 18 3/8" (46.6 cm)
Literature: Illustrated in Henry Sandon, Flight and Barr Worcester Porcelain, 1783–1840 (1992), p. 108.
Courtesy of Earle D. Vandekar of Knightsbridge, Inc.

This vase features an unusual continual frieze of colorful shells, coral, and seaweed against a ground that shades from tan to brown. The shells appear to be three-dimensional—each painted with superb skill and accurate to every detail.

This spectacular vase has become an icon for those who love shell painting on porcelain. Connoisseurs and scholars consider the vase to be one of the finest painted shell-decorated objects in the world.