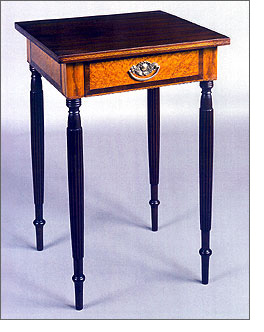 THOMAS SCHWENKE, INC.
Sold to a private collector
One Drawer Stand
Portsmouth, New Hampshire,
circa 1810–1815
H. 27 1/4", W. 18", D. 18"
Provenance: Acquired from a descendent of the original owner
Courtesy of Thomas Schwenke, Inc.

While numerous country one-drawer stands were made in the Federal era, their elaborate urban counterparts are more unusual, particularly in New Hampshire. This example displays decorative details that distinguish it as a fashionable stand from the seacoast town of Portsmouth. The top has finely checkered inlays around the edge, and the stiles above the legs are faced with flame birch veneers. While Portsmouth stands often feature mahogany sides, the craftsman who made this stand used bird's-eye maple instead. The legs are typical of many of the best Portsmouth Federal furniture of the period, having ring-turned and stop-reeded details and tall, turned feet. The table retains an old finish and the original stamped brass pull. For related details, see Brock Jobe, Portsmouth Furniture (SPNEA, 1993), plates 58 and 62.