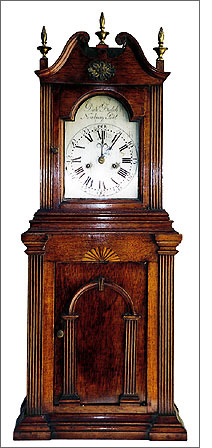 JOEL J. EINHORN
Sold to a private collector
Architectural shelf clock with movement by Daniel Balch, Sr. (1734–1790)
Newburyport, Massachusetts, circa 1785
Mahogany, lightwood inlays, brass
H. 29", W. 11 3/4", D. 6"
Courtesy of Joel J. Einhorn

The architectural case of this shelf clock represents the best in American shelf clock design. There are only eight other recorded examples of clocks that share this style of case and similar engraved brass dial, three of which are in museum collections (Winterthur, Sturbridge, and The Metropolitan Museum of Art). The dial of this shelf clock is engraved Dan'l Balch./Newbury Port and retains its original silvered finish. This is the only recorded example within this group of clocks with a dial signed by Daniel Balch. The others bear the names of David Wood, Daniel Balch, Jr. (both of Newburyport), and William Fitz (Portsmouth). The clock also has a two-day, weight-driven, brass movement with a striking mechanism, a rare feature in an eighteenth-century American shelf clock.