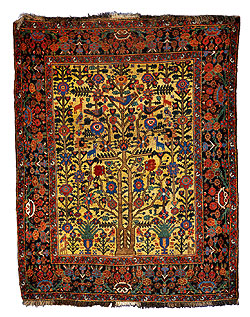 ORIENTAL RUGS LTD.
Sold to a private collector
Baktiari Tree-of-Life Carpet, circa 1880
Wool foundation/wool pile;
all vegetable dyes
5' 8" x 6' 9"
Courtesy of Ralph and Karen DiSaia/Oriental Rugs Ltd.

This unusual wool foundation Baktiari was woven in southwest Persia in the late nineteenth century. A marvelous example of a weaver's whimsy, it features a sturdy tree surrounded by many animals, each with its own humorous character—such as the animal with a bird on its head in the lower left corner. Figures were also seemingly conceived independently—there are enormous birds at the top of the tree along with tiny llamas and dogs. The colors are joyful, and the border is surprisingly floral and quite sophisticated for such a primitively motivated rug. This is a very rare form, and it is especially unusual to find a Baktiari on a wool foundation in such good condition.