by Gregg K. Dietrich


Fig. 1: James Bard (American, 1815–1897), Brother Jonathan, ca. 1851. Oil on canvas, 31 1/4 x 51 3/4 inches.
Dramatic naval engagements, bustling ports, and successful sea captains are maritime art subjects that have captivated collectors for centuries. The genre, made popular by Dutch artists, among them, Hendrik Cornelisz Vroom (1566–1640) and Willem van de Velde (1633–1707), began in the late sixteenth century with commissioned scenes depicting Holland's dominance at sea. Early patrons included aristocracy, monarchs, and merchants who desired visual records of historic seafaring events, vessels, captains, or trade activities. Later, in the nineteenth century, as part of the plein-air movement, paintings of coastal scenes were created to capture the beauty and majesty of the sea in all its moods.

For many, the primary draw of maritime art is the history and romantic beauty evoked by the sea. Picture J.M.W. Turner's Battle of Trafalgar with the triumphant English fleet coasting through billowing battle smoke, Winslow Homer's roiling surf accosting the rocky Maine shore, or Martin Johnson Heade's white sailboats racing for home as silver-black clouds envelop the pale light of afternoon—a few examples of popular artists who were drawn to the sea.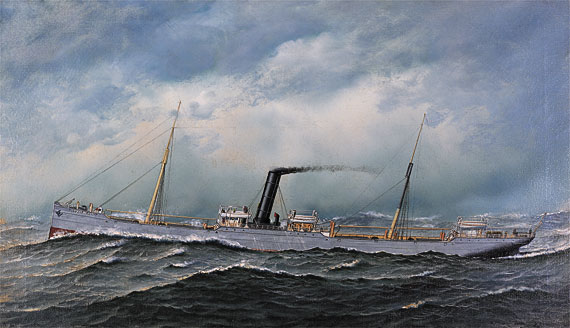 Fig. 2: Antonio Gasparo Jacobsen (Danish-American, 1850–1921), S.S. Melbourne, ca. 1899. Oil on canvas, 17 1/2 x 29 1/2 inches.


---
Market
Maritime art is enjoying a surge of interest among American collectors. In particular, new collectors are coming into the market with fervor. The maritime sale held in February 2002 at Christie's in New York City recorded 29 percent of registered bidders as new to the auction house and 54 percent of the bidders as new to buying maritime art.1 Gallery businesses specializing in the genre also are showing growth with new collectors, while the demand for top-quality examples by longtime collectors continues to be strong.

Collecting maritime art is not limited to paintings, and the possibility of enhancing a collection with a range of marine-related antiques such as ship models, nautical instruments, figureheads, sailors' valentines, wool-works, scrimshaw, and export porcelain, is enticing. Another motivation is the fact that a collection can be developed for a reasonable investment, as the maritime art market, it can be argued, remains generally undervalued in comparison to other art categories. Exceptions include "big name" nineteenth-century luminist painters such as Heade and Fitz Hugh Lane whose prices have, in the last few years, catapulted into the millions.2 Maritime art by collectible nineteenth- and-early twentieth-century British and American painters, such as the artists illustrated here, bring in the range of $9,500 to $250,000.


---
Definition
The term "maritime art" is usually used to describe paintings that feature ships as the subject. "Marine art" commonly identifies scenes with elements of land and sea, often with ships as part of, but not necessarily the entire subject. Maritime and marine art styles can be further broken down into three categories: ship portraits, historical scenes, and coastal scenes.


---
Ship Portraits
Fig. 3: James Edward Buttersworth (Anglo-American, 1817–1894), The Clipper Ship Vixen Hailing the Pilot Boat Kingfisher, ca. 1878. Watercolor on paper, 15 3/4 x 22 3/4 inches.
The ship portrait, considered to be the purest form of maritime art, depicts a detailed profile or view of an identified ship. Usually, the vessel's name is visible on the bow or stern; occasionally, it is inscribed at the bottom of the painting. The artists who painted ship portraits were sometimes called pier-head painters because they often worked at the ends of docks or piers in order to study vessels from various vantage points. Ship portraits were regularly commissioned by captains or ship owners, but were sometimes painted on speculation. Their detailed depictions, created from firsthand observations and sometimes enhanced by verbal accounts given by sailors and other eyewitnesses, document important ships in seafaring history.

The best-known American ship-portrait painters are James Bard (American, 1815–1897) and Antonio Jacobsen (Danish-American, 1850–1921). Bard, along with his twin brother, John (1815–1856), was devoted to portraying the steamboats that plied the Hudson River and the waters around New York and New Jersey. Until 1849, the two brothers worked together and signed their pictures J. & J. Bard. When his brother died, James continued on; the largest number of Bard ship portraits are by him.

The Bards were self-taught artists with the eyes of true mariners—it was said that their ship paintings were so meticulous that one could rebuild the ship from the painting. The profile view and precisely detailed rendition of the Brother Jonathan (Fig. 1), with the inscriptions at the bottom of the painting and the oversize flags indicating the ship's owner, are all classic elements of a Bard painting.

Jacobsen, another preeminent ship portraitist, emigrated from Denmark to the United States in 1873. After a brief stint as a concert violinist, he turned to decorative painting. While living in New York, he started decorating safes for the Marvin Safe Company. He was then "discovered" by Captain Adolf Ludwig King, a Swedish captain for the Old Dominion Line, who gave him his first ship portrait commissions.

In Jacobsen's early canvases, his vessels are often small and do not fill out the canvas. Later, from about 1880 to 1900, his ships, embraced by dramatic skies and surging seas, dominate the picture. Works from this period are the most sought after by today's collectors. After 1900, Jacobsen developed a formula for painting sea and sky, which was often undertaken by his children while he painted the details of the ship. The S.S. Melbourne (Fig. 2), an example of this later period, combines formulaic treatment of sky and sea along with reminders of his earlier style—dramatic atmospheric effects surrounding the ship.


---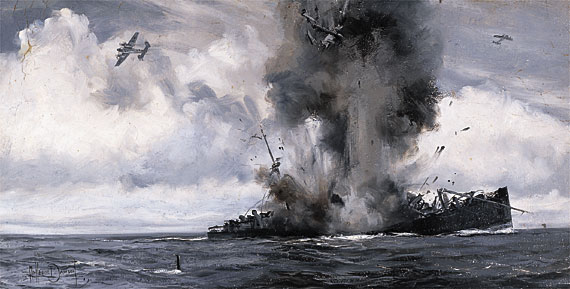 Fig 4: Montague Dawson, R.S.M.A., F.R.S.A. (British, 1895–1973), Submarine Versus Aircraft, ca. 1941. Oil on masonite, 10 x 24 inches.


Historical Scenes
Paintings of historical scenes include naval actions, yacht races, and other important events. Probably the best-known exponent is James Edward Buttersworth (Anglo-American, 1817–1894), whose work evolved directly from the British tradition of maritime painting. He studied with Thomas Buttersworth (British, 1768–1828), probably his uncle but often referred to as his father, and then immigrated to the United States around 1850. J. E. Buttersworth recorded the naval battle between the Kearsarge and the Alabama in 1864 and many more important events during the American Civil War. He also depicted the first America's Cup around the Isle of Wight in 1851, and all the subsequent America's Cup races that took place during his lifetime.

Buttersworth knew intimately the boats he painted—from the smallest dory to the largest square-rigged sailing ship. He studied the minutest aspect of ships, the details of their rigging, sails, and hulls, as well as their positions relative to wind direction and their movement under varying sea conditions. He lavished equal attention on the subtleties of atmospheric elements in the luminist tradition.


Buttersworth's The Clipper Ship Vixen Hailing the Pilot Boat Kingfisher (Fig. 3) was probably one of a number of watercolors painted by him as studies for the printmakers Currier & Ives. The Vixen varies from his oil paintings in that, while the ships are precisely painted, the sea and sky are rendered in a minimal and more spontaneous manner without the labor of creating a luminist effect.

Montague Dawson (British, 1895–1973) maintains a large following of collectors on both sides of the Atlantic. During his lifetime he was the highest paid artist after Pablo Picasso (Spanish, 1881–1973). His popularity has remained steady. While best known for his clippers in foam-tossed seas, he also created a dramatic series of paintings entitled The War At Sea (1939–1945), documenting World War II sea battles in grisaille, a technique utilizing a black and white palette (Fig. 4). The monochromatic result lends itself to the serious mood and drama of naval actions. In addition, the medium reproduced well in publications such as The Sphere, a British weekly news magazine. An example from this series, Submarine Versus Aircraft, based on the account of a British navy commander, dramatically portrays the unusual event of a submarine destroying both an airplane and a German transport ship in one salvo.


---
Coastal Scenes
Fig. 5: Thomas Birch (Anglo-American, 1779–1851), A Treacherous Cove, ca. 1830. Oil on canvas, 25 x 29 3/4 inches.
Coastal scenes include harbor views, beached or moored ships, figures on the beach, off-loading cargo, and waves crashing upon the shore. Thomas Birch (Anglo-American, 1779–1851), considered "the grandfather of American marine painting," was a prolific painter of coastal views. During the War of 1812, Birch painted naval actions acclaimed for their accurate detail, such as his battle scenes involving the frigates Constitution and President. In A Treacherous Cove (Fig. 5), Birch's technical skill is evident in the rendering of translucent waves along a rocky shore. The details of the wrecked and intact vessels reveal the artist's knowledge of ship construction and maintenance.

Fig. 6: Robert Salmon (British, 1775–1845), Shipping off the North Shields Lighthouse, ca. 1842. Oil on panel, 9 3/4 x 7 3/4 inches.



Robert Salmon (British, 1775–1845), whose work is avidly sought by collectors, is one of the earliest marine artists to paint New England harbors. Salmon came from England in 1828 with a reputation as a leading painter of maritime subjects and established himself in Boston. Salmon painted ship portraits and light-filled harbor views that were a departure from the coastal scenes he was known for in his native Britain. Shipping off the North Shields Lighthouse (Fig. 6) is typical of Salmon's coastal views, but shows the influence of American luminist painters such as Lane.

In this brief survey of British and American maritime painters, a common thread appears in the artists' dedication to accurately portraying their sea-bound subjects. Ships painted in wartime, or in economic or leisure pursuits, recall world history; they document the rise and fall of nations. Maritime paintings can also simply reflect the sea's majesty or embody the sense of adventure that accompanied an ocean voyage: revealing that artists—and collectors—are often sailors at heart.

Gregg K. Dietrich is President of North Star Galleries, the only gallery in New York City to specialize in maritime art and nautical antiques. Mr. Dietrich is also the maritime consultant for Christie's in the United States.
All illustrations courtesy of North Star Galleries.
---
Suggested Reading:
Archibald, E.H.H. The Dictionary of Sea Painters of Europe and America. Woodbridge, Suffolk: Antique Collectors' Club Ltd., 1980.

Grassby, Richard B. Ship, Sea & Sky, The Marine Art of James Edward Buttersworth. New York: Rizzoli International Publications, Inc., 1994.

Jacobsen, Anita. From Sail To Steam, The Story of Antonio Jacobsen, Marine Artist. Staten Island, New York: Manor Publishing Company, 1972.

Peluso, Jr., A. J. J. & J. Bard: Picture Painters. New York: Hudson River Press, 1977.

Ranson, Ron. The Maritime Paintings of Montague Dawson. Newton Abbot, Devon, England: David & Charles Brunel House, 1993.

Schaefer, Rudolph J. J. E. Buttersworth, 19th-Century Marine Painter. Meriden, Conn.: The Meriden Gravure Company, 1975.

Sniffen, Harold S., compiler. Antonio Jacobsen, The Checklist: Paintings and Sketches by Antonio N.G. Jacobsen, 1850–1921. New York: Sanford & Patricia Smith Galleries, Ltd., in association with The Mariners' Museum, Newport News, 1984.

Sniffen, Harold S. Antonio Jacobsen, Painted Ships On Painted Oceans. Newport News, Virginia: The Mariners' Museum, 1994.

The Mariners' Museum with Anthony J. Peluso, Jr. The Bard Brothers, Painting America Under Steam And Sail. New York: Harry N. Abrams, Inc. in association with The Mariners' Museum, 1997.

Wilmerding, John. Robert Salmon, Painter of Ship & Shore. Salem, Mass.: Peabody Museum of Salem and The Boston Public Library, 1971.


---
Notes:
The overall number of maritime-specific sales at various auction houses along the Eastern seaboard has increased to about a half dozen annually from just two 20 years ago. Christie's began maritime sales in New York in 1995 (in London since 1989). Maritime art can also be found in Americana, American paintings, European paintings, or China Trade-themed auctions.

Lane's The Golden Rule sold at Christie's, New York, May 25, 2000, for an auction record of $3.966 million.