by Michael James


Nearly a century after he opened his shop, few question why, in 1935, The New York Herald Tribune called Danish craftsman Georg Arthur Jensen (1866–1935), "The greatest silversmith of the last 300 years." Known for the spare elegance of his sculptural silver designs, Jensen had a highly developed sense of form and an eye for creating distinctive designs based in contemporary and historical sources. In an increasingly industrialized world, Jensen's work exhibited a devotion to fine craftsmanship, offering affordable objects of beauty and practicality (Fig. 1).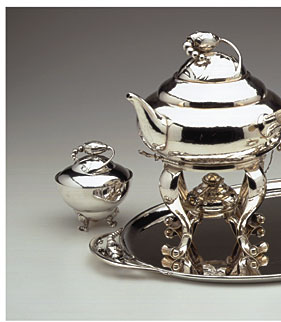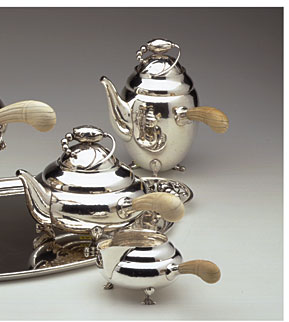 | | |
| --- | --- |
| A selection of silver by Georg Jensen (1866–1935): Fig. 1 (top): "Blossom" Magnolia tea service (ca. 1904); Fig. 2 (lower left): Goblet in "Grape" design (ca. 1919); Fig. 3 (lower right): Vegetable tureen in "Grape" design (ca. 1919); Fig. 4 (center right): Bonbonnier (ca. 1915). | |
| | |
| | |

Jensen's artistic sensibilities were applied early on when, as a young boy of fourteen, he apprenticed with a goldsmith in Copenhagen. His interests lay in sculpting, however, and he was accepted as a student of sculpture at the Royal Danish Academy of Fine Arts, graduating in 1892 at the age of twenty-five. Later, Jensen was awarded a Grand Tour of Paris, Rome, and Florence after a ceramic he had collaborated on with friend Christian Joachim Petersen won honorable mention at the 1900 World Exhibition in Paris; this type of cooperative venture would continue as Jensen built his reputation as the most influential silver designer of the twentieth century. Over the two years spent in travel, Jensen gained exposure to historical and contemporary artworks that would influence his future designs.

In the 1890s, Jensen opened a pottery business but the venture was unsuccessful and in 1904, he returned to the skills learned as an apprentice, opening a small silver shop in Copenhagen. Initially, most of his work was in jewelry, but once his growing clientele afforded him the ability to acquire larger amounts of silver, he began making the hollowware designs still popular today.


| | |
| --- | --- |
| | |
| | |
| A selection of silver by Johan Rohde (1856–1935): Fig. 5 (top right): Five-light candelabra in "Acorn" pattern (1920s). Fig. 6 (top left): Water pitcher (ca. 1920). A selection of silver by Harald Nielsen (1892–1977): Fig. 7 (lower right): Covered fish platter (1931); Fig. 8 (lower left): Teapot in "Pyramid" pattern (ca. 1928). | |
| | |

Readily identifiable, Jensen's hollowware celebrates the beauty of handmade objects and elevates what had been a craft to a new and distinct art form. His attention to composition resulted in a careful balance between form and ornament, one that gives his works a spare elegance and a great sculptural sense, enhanced, no doubt, by his training at the academy.


---

---

Jensen incorporated a holistic approach to his silver, combining elements and forms from the past with current stylistic influences. His preference for lightly hammered rather than the smooth surfaces preferred by later designers at his company reveals the influence of the Arts and Crafts movement, where details of craftsmanship were meant to be evident in the design. The hammering also gave his silver a faceted surface that reflected light in various directions, providing a more animated visual effect; however, much of this texture has been significantly worn down over the years and is sometimes nearly imperceptible. Jensen's signature motif, individually crafted clusters of grapes, reflected the naturalistic emphasis of the art nouveau. He often incorporated flowers and plants as well, either as applied ornament or as chased decoration. He combined these organic treatments with historical forms, evident in his grape goblet (Fig. 2), which emulates a sixteenth-century Danish cup with naturalistic motifs. Elsewhere his hollowware illustrates the influence of the Scandinavian baroque of the late seventeenth and early eighteenth centuries (Fig. 3). In other designs, he combined the swirling, asymmetrical elements characteristic of the Danish rococo style of the mid-eighteenth century with the lines of Japanese ceramics (Fig. 4).

Jensen's business grew to such an extent that in 1916 he formed the Georg Jensen Solvsmedie A/S (Georg Jensen Silversmithy, Ltd.), followed in 1919 by a joint venture to manage an increasing number of retail shops. The company is generally referred to simply by its founder's name and is now part of Royal Scandinavia Group. Though the size of his business expanded, Jensen maintained the importance of producing beautiful forms at affordable prices; it was his intent, for instance, that his silver be priced so that his employees could purchase Jensen silver on a monthly basis.



A selection of silver by Sigvard Bernadotte (1907–2002): Fig. 9 (top): Coffee pot (1930s); Fig. 10 (bottom): Six-light candelabra (1940s).


Besides his gift as a prolific designer, Jensen acted as mentor, encouraging other designers within his shop to create original silver designs, all the while overseeing production and training new employees. Perhaps more importantly, he gave designers full credit for their contributions in the company's success, and each designer's hallmark appears beside the Jensen hallmark on completed pieces. As a result of such support and encouragement, Jensen is lauded for helping Danish silver gain the international respect it continues to enjoy. In the decades since Jensen's death in 1935, many talented designers have continued to create jewelry, hollowware, and flatware for the company. This fact was underscored in the Smithsonian Institution's 1980 exhibition, Georg Jensen Silversmithy: 77 Artists, 75 Years.

During the twentieth century, the Jensen designers created silver that spanned from the art nouveau, popular at the start of the century, through the art deco period, and into the sleek modernism of the post-war years. Designers eventually created silver as beautifully devoid of ornamentation as Jensen's early pieces were celebrated for their abundance of robust elements.

The influences of industrial design were evident by the 1920s, when much of the Jensen hollowware downplayed ornament in favor of form and line. Johan Rohde (1856–1935), a designer with the firm from 1907 until his death, designed architectonic pieces (Fig. 5) that moved the company forward, opening the door to modernism. His water pitcher (Fig. 6), based on early-nineteenth-century neoclassical design, became an iconic bestseller; the Museum of Modern Art owns an example and considers it to be one of the most important designs of the twentieth century. Yet, in 1920, the form was considered so avant-garde that it was not put into production for five years.


Harald Nielsen (1892–1977), Jensen's brother-in-law and one of his closest colleagues, was active in the smithy from 1909 until 1962. Like Rohde, Nielsen designed hollowware with a minimum of ornamentation. His covered fish platter, (Fig. 7) introduced in 1931, is one of the most popular Jensen patterns. He is also known for his stylized dolphins, seen on Figure 7, and the pared-down functionalist style of the 1930s he championed. Characteristic of the art deco elements incorporated in his designs is his pyramid teapot (Fig. 8), which relies on the geometrically-based, simplified forms of the period. Nielsen once remarked of his work:

The ornament must never dominate. It is subservient to the harmony of the whole and does not exist for its own sake. It can stress the quietness and simpleness of outline but must never distract from it. Seeing the thing in its wholeness through simplifying and balancing ornament against plain surface is my basic principle in carrying further the spirit of Georg Jensen.1


A selection of silver by Sigvard Bernadotte (1907–2002)

Fig. 11 (middle left): Inkwell set (1930s);

Fig. 12 (lower left): Candlestick (1930s).


A selection of silver by Henning Koppel (1918–1981)

Fig. 13 (top): Fish platter (1950s);

Fig. 14 (lower right): Water pitcher (1950s).

In 1930, the second son of King Gustav VI of Sweden, Sigvard Bernadotte (1907–2002), attended the Stockholm Exhibition and decided then and there to become a designer. Over the next fifteen years he created more than 150 original hollowware designs and many unique presentation pieces for Jensen, designs that brilliantly expressed the streamlined (Figs. 9, 10), functionalist (Figs. 11, 12) aesthetic of the Swedish art deco. His 1939 flatware, called Bernadotte, is still a best-seller in Jensen stores around the world.

In a 1964 interview, Bernadotte made a statement that could easily have been a quote from Jensen himself:

What I wanted to do was design things that had a purpose, that could be used for something, not just an ornamental object that stood there on a shelf or on a table to be admired or forgotten. I wanted to try to give people attractive everyday objects for the home, kitchen, and office.2


Henning Koppel (1918–1981), one of the greatest designers associated with the Jensen silversmithy, joined the firm in 1945. His works signaled a bold new direction for the Jensen firm and attracted international acclaim. Koppel's post-war designs perfectly exemplify the energy, freedom, and nonconformist spirit of the 1950s and 1960s. Collectors are familiar with his sleek, curvaceous covered fish platter (Fig. 13) with its humorous fish "lips," but he is equally admired for a simplicity of design evident in his signature pregnant goose pitchers (Fig. 14). The fluid lines, subtle curves, and satiny surfaces of Koppel's hollowware reflect his affinity for biomorphic forms and are nothing less than functional sculpture.

The century-long appeal of the Jensen company's original silver designs cannot be overstated. Jensen silver has a special cachet, especially its signature hollowware created in the first decades of the century and the mid-century modern pieces that are still highly sought-after. With only a fraction of the original portfolio in production today, most collectors of Jensen hollowware find the pieces they want through dealers in the secondary market, often at antiques fairs in New York, Palm Beach, Dallas, Chicago, and San Francisco. Interest is fueled by the remarkable diversity of artistic creativity found in the range of Jensen silver, and in its timeless elegance.


Michael James co-founded The Silver Fund (www.thesilverfund.com), the world's largest dealer in Georg Jensen estate silver, in London in 1995. For two decades, James has been as a leading specialist in twentieth-century silver. He divides his time between The Silver Fund's London headquarters and its new store at 1001 Madison Avenue at 77th Street, in New York, 212.794.4994. The company has just published Georg Jensen Hollowware: The Silver Fund Collection (2002), written with David A. Taylor. David A. Taylor writes on traditional design and craftsmanship of European and American decorative arts of the late nineteenth and twentieth centuries. He is employed at the Library of Congress in Washington D.C.

All photography courtesy of The Silver Fund.


---
Notes:
Christian Ditlev Reventlow, "The Artists of Georg Jensen Silver." In Fifty Years of Danish Silver in the Georg Jensen Tradition (Copenhagen: Georg Jensen, Inc., 1954), 23.
Sigvard Bernadotte, The Designer's Responsibility to His Time. The Third Annual Reed & Barton Lecture, 1964. (Taunton, Mass: Reed & Barton, 1964).