by Susan Strickler


Fig. 1: Jasper Cropsey (American, 1823–1900), An Indian Summer Morning in the White Mountains, 1857. Oil on canvas, 39-1/4 x 61-1/4 inches.

On October 9, 1929, a few weeks before the stock market crash that sent a prosperous America plummeting into the Great Depression, the Currier Gallery of Art in Manchester, New Hampshire, first opened its doors to the public. Surprisingly, the Currier did not begin with an existing collection. Founding benefactors Hannah and Moody Currier, though interested in the arts, were not collectors, but they recognized the need for an active arts program in the industrial city. Moody Currier (1806–1898) was a man of modest origins who had risen to become a prosperous businessman, investor, and governor of New Hampshire. By 1929, the couple's bequest, made at the time of Hannah's death in 1915, had grown to about $900,000, enough to provide funds for a classical-style building and to cover operations and acquisitions. From the outset, the trustees and first director, Maud Briggs Knowlton (1870–1956), focused on developing American and European art collections.


The former mill city of Manchester is today distinguished by an institution frequently called "one of the finest small museums in the country." The Currier is noted for its outstanding collections of American painting, photography, and decorative arts as well as a small, but select, group of European paintings dating from the Renaissance to the mid-twentieth century.

Henry Melville Fuller (1914–2001) was a Manchester teenager when the Currier opened. Seventy-two years later he became the museum's most munificent donor with an astounding bequest of $43 million and a prized collection of sixty works by noted nineteenth-century American painters.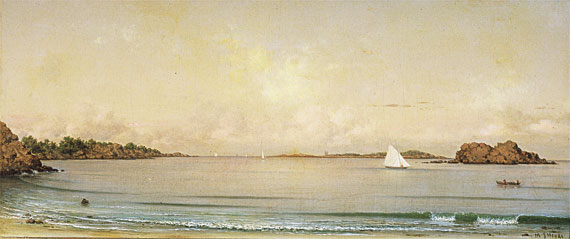 Fig. 2: Martin Johnson Heade (American, 1819–1904), Singing Beach, Manchester, Massachusetts, 1861. Oil on canvas, 11-1/2 x 25 inches.


Though it is unlikely that the young Fuller attended the museum's opening receptions (he was then enrolled at St. Paul's School in Concord), in later years he reminisced about boyhood visits there. Fuller was the fourth generation of his family on his mother's side to live in Manchester, a city that for a century was associated with the expansive textile mills of the Amoskeag Company along the Merrimack River. Sometime around 1854 Fuller's maternal great-grandfather, Aretas Blood, had arrived in the city to manage the Manchester Locomotive Works, then a division of Amoskeag. Blood subsequently became the company's owner and established the family wealth that his great-grandson later built upon.

Fuller's bequest in 2001 was the result of a close association with the Currier over thirty-seven years. Elected a trustee in 1964, he often brought American paintings to the attention of the museum directors. One notable example was Jasper Cropsey's salon-scale work entitled An Indian Summer Morning in the White Mountains, 1857 (Fig. 1), a scene inspired by the distinctive peak of Mount Chocorua, near Tamworth, New Hampshire. Fuller noticed the Cropsey on a visit to New York dealer Victor Spark. He also provided funds to purchase important paintings by the likes of Thomas Eakins, Severin Roesen, and Boston-school artist Edmund Tarbell.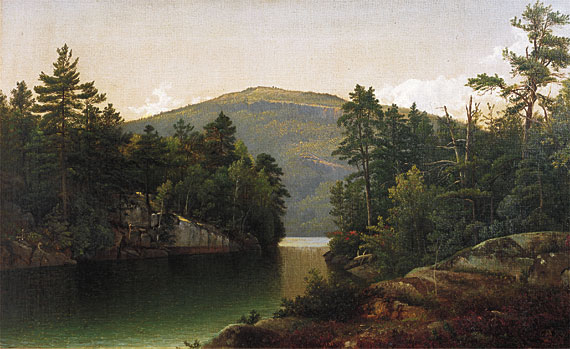 Fig. 3: David Johnson (American, 1827–1908), Harbor Island, Lake George, New York, 1871. Oil on canvas, 16-3/8 x 26-1/4 inches.


While a Wall Street stockbroker, Fuller assembled a notable private collection of nineteenth-century American paintings. Within a relatively brief period in the 1960s, he collected Hudson River school, White Mountain, and luminist works, often small scale and of a contemplative nature, appropriate for display in his New York apartment. He relied on his own "eye" and purchased almost entirely from such dealers as Hirschl & Adler, Vose Galleries, Victor Spark, Kennedy Galleries, and Spanierman Gallery.

Very much a man of nineteenth-century taste and manners, Fuller was drawn to coastal scenes and landscapes by Albert Bierstadt, Alfred Bricher, Frederic Church, Thomas Cole, Martin Johnson Heade (Fig. 2), David Johnson (Fig. 3), and Fitz Hugh Lane, among others. He also developed a more modest collection of nineteenth-century still-life paintings and genre scenes, the former represented by Robert Spear Dunning, John Francis, and George Henry Hall (a native of Manchester, New Hampshire), and the latter by Francis William Edmonds (Fig. 4), Eastman Johnson, and Lilly Martin Spencer.


Fig. 4: Francis William Edmonds (American, 1806–1863), First-Aid, ca. 1840–1845. Oil on canvas, 17 x 14 inches.


Fig. 5: Asher B. Durand (American, 1796–1886), A Reminiscence of the Caterskill Clove, 1858. Oil on canvas, 39-3/4 x 32-1/4 inches. Photography by Bill Finney.


In the 1970s, Fuller began to give the Currier works such as Asher B. Durand's A Reminiscence of the Caterskill Clove, 1858 (Fig. 5) from his private collection. In 1998, he donated a magnificent collection of 350 historic and contemporary glass paperweights reflecting a collecting interest he developed in the 1980s. With this gift, Fuller endowed the Currier with one of the top collections in the United States of this intimate art form.

Fuller's collecting passion and his devotion to his hometown are reflected by his generous bequest. Half of the $43 million he left the Currier is restricted to an art purchase endowment, and the other half supports operations. Fuller's intent was to make the best American art accessible in perpetuity to the people of Manchester and the state of New Hampshire, and to its visitors.


Susan Strickler is Director of the Currier Gallery of Art in Manchester, New Hampshire.
Select paintings from the Fuller Collection are now on view at the Currier. All illustrations are courtesy of the Currier Gallery of Art, Manchester, New Hampshire, gift or bequest of Henry Melville Fuller.