by Nicholas Vandekar


During one week in March, a visitor can cover just about every major style period and type of art at The European Fine Art Fair (TEFAF) in Maastricht, the Netherlands. While Maastricht itself is a wonderful old city worth a visit on its own, the fair, held March 8–17, proved once again to be the ultimate destination for international art lovers.

It is incredibly challenging to select just a few items to highlight from the 201 exhibitors who represented thirteen different countries. Especially popular with visitors was the Sweerts de Landas display of garden ornament and statuary that included a late-eighteenth–early-nineteenth-century Coade stone Medici vase.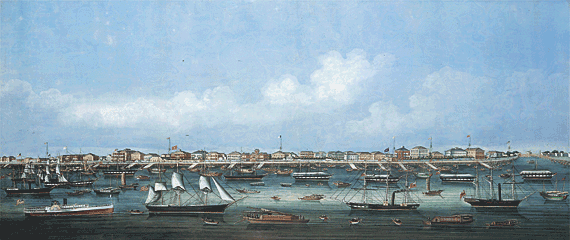 Unknown Chinese artist, Shanghai: The Bund, 1865. Courtesy of Martyn Gregory.


Of note at Martyn Gregory's stand was a fine 1865 gouache painting, Shanghai: The Bund, by an unknown Chinese artist. This highly detailed view of the port, shown above, includes two American ships in the foreground, the paddle steamer, Firecracker, and a clipper ship belonging to Frazar & Co. of Boston, Massachusetts.

The drawings firm of Colnaghi was recently purchased by Bernheimer Fine Old Masters. Their display included a very attractive 1886 painting, The Roman Forum by Veronika Maria Herwegen-Manini (German, 1851–1933). The painting pulls the viewer in with its depiction of intense Mediterranean light, encouraging one's eye to roam through scattered ruins and classical buildings.


Coade stone Medici vase. Courtesy of Sweerts de Landas.


Maastricht can be a point of departure by air or train (via the Chunnel) to London for a visit to the BADA (British Antique Dealers' Association) Antiques and Fine Art Fair on the grounds of the Duke of York's Headquarters in Chelsea.

With a strong representation of English furniture, but a good mix overall, sales were healthy at this year's BADA fair. J. Collins and Son from Bideford, Devon, sold several pieces to new American clients who had visited Maastricht and were on their way home via London. Jonathan Horne appeared to be making steady sales throughout the show, as did Raffety & Walwyn. Adams Antiques of Cheshire sold one of the most unusual pieces at the fair, a large, late-eighteenth-century oak Shropshire housekeeper's cupboard inset with a large clock, offered at over $30,000.

Just down the road from the BADA fair was the Chelsea Antiques Fair, held at the Old Town Hall. It's a small fair with a long history. Many exhibitors are BADA members and find it worthwhile to exhibit at both fairs. Wakelin & Linfield had marvelous displays of furniture at each. Other exhibitors included English folk art specialist Robert Young, who made his debut at the East Side Winter Antiques Show in New York City last January.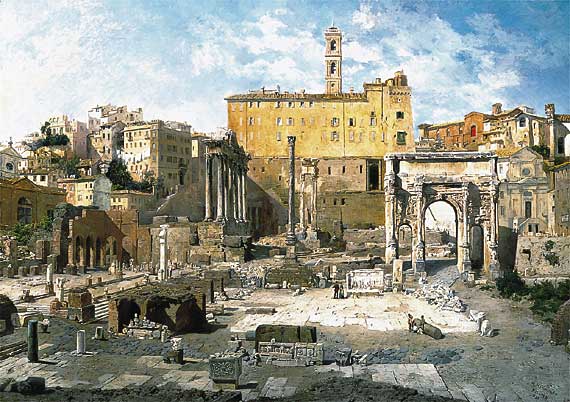 Veronika Maria Herwegen-Manini (German, 1851–1933), The Roman Forum, 1886. Courtesy of Colnaghi.


To plan for Maastricht next year, I recommend booking hotel rooms well in advance as it is a popular destination for collectors. Flights can be taken to Brussels or Amsterdam, with connecting flights to Maastricht. Next year's fair dates are March 14–23, 2003. The BADA fair will run from March 19–25, 2003, and the Chelsea Antiques Fair is scheduled for March 14–23, 2003. For more information, visit www.tefaf.com and www.bada-antiques-fair.co.uk.