by Margaret E. Connors McQuade


Fig. 1: Franz Mayer. Photograph by Inés Ewald; courtesy of Museo Franz Mayer, Mexico City.


At the dawn of the twentieth century, adventurous foreigners were drawn to Mexico by travel accounts and railroad advertisements that promoted it as an exotic and romantic retreat. By 1910, nearly 21,000 Americans resided in Mexico, which at the time had a population of 15 million.1 Among those who made the voyage from the United States was German-born Franz Mayer (Fig. 1). Mayer not only would become one of Mexico's most prominent citizens, but would also create one of the most important collections of Mexican colonial arts in the world, including perhaps the largest and most impressive holding of ceramic ware (Fig. 2), known in Mexico today as talavera poblana, named after the colonial ceramic center of Puebla de los Angeles (commonly known as Puebla).

Franz Gabriel Mayer Traumann was born to a family of average means in Mannheim, Germany, on 22 September 1882.2 At the age of 19, Mayer traveled across the English Channel to work on the London docks and later as a clerk, exposing him to the world of financing. Mayer never received a university degree, yet with an insatiable curiosity and an uncanny ability to learn quickly and adapt to almost any environment, he realized a tremendous fortune that he dedicated to amassing a collection of art and literature. His success in business began when he moved to New York City in 1903. There he ascended the corporate ladder to become a stockbroker at Merrill Lynch. It was around this time that Americans began leaving for Mexico, promised by the Porfirio Díaz administration to be a developing country with plentiful investment opportunities for foreigners. Mayer was only 22 in 1905, when he was employed as a stockbroker by Cerretajes e Inversiones Bursátiles (today known as Bursamex) in Mexico City. He was considered a genius of finance and quickly became one of the great bankers in the country. His reputation eventually led him to form the Companía de Crédito Bursátil, which was later sold to the Bank of Mexico. Mayer frequently traveled abroad and even left Mexico to live in New York for two years during the Mexican Revolution (1910–1917) and to Germany in 1920, where his wife became ill and died two years later. Nonetheless, he always considered Mexico his permanent residence, and he even became a Mexican citizen in 1933.

Fig. 2: (below) Franz Mayer's house, showing part of his ceramics collection. Courtesy of Museo Franz Mayer, Mexico City.

Mayer made it his lifelong mission to collect fine and decorative arts, photographs, and rare books and manuscripts relating to Mexico. When not busy in the Mexican banking world, Mayer devoted much of his time and energy to making acquisitions. From early in his collecting career he had dreams of using his collection to educate the Mexican people about their rich artistic heritage. In fact, he would comment to his friends, "I made my fortune in Mexico, and it is here that I will leave it for the benefit of everyone."3 Upon his death in 1975, Mayer's collection and fortune were left in the care of the Bank of Mexico to open a museum in his name. In 1986, his wishes were realized with the inauguration of the Museo Franz Mayer in the former Mexico City Hospital of San Juan de Dios, the original structure of which dates back to the sixteenth century.


Fig. 3: (opposite page) Basin, maker unknown, Puebla, Mexico, 1650–1700. Tin-glazed earthenware. Photography courtesy of Museo Franz Mayer, Mexico City.

On the one hand, Mayer's collection is eclectic, covering a large stretch of time and space with works from Mexico, Europe, and Asia. On the other hand, Mayer applied his keen sense of history to focusing his collection on the development of Mexican art, incorporating many of the traditions that influenced artists during the colonial period. One particular area of the collection that stands apart due to its size, scope, and quality is the collection of colonial ceramics from the city of Puebla de los Angeles, which he appropriately supplemented with works from Spain, Holland, and China—so that, for example, Ming dynasty blue-and-white porcelain in his collection exemplifies some of the types of work that directly influenced Puebla artists at the height of production.


For over four centuries,the city of Puebla has been praised for its production of quality tin-glazed earthenware.4 The use of ceramic as a utilitarian and artistic medium in the Americas (the region of eastern and central Mexico, Guatemala, Belize, and Honduras) has a long history of quality work dating back millenia before the arrival of the Spanish in 1519. But it was, in fact, the Spanish who first introduced to area potters tin- and lead-based glaze, the potter's wheel, and the kiln. Production of tin-glazed earthenware in the New World first began in Mexico City, the viceregal capital of New Spain, in the second half of the sixteenth century. By the seventeenth century, however, the nearby city of Puebla, founded in 1531 as the second city of New Spain, had become the more important center of production, enjoying the widest distribution of any ceramic ware in the New World at the height of the Spanish Empire. For ceramists, Puebla was an ideal location: The climate is mild, the soil is fertile, and most importantly, there are extensive clay beds and sufficient deposits of raw sodium essential for glaze preparation. That the same area had captured the market for quality ceramics before the Spanish arrived is not a coincidence. Native potters must have played an important role in supporting the developing colonial industry.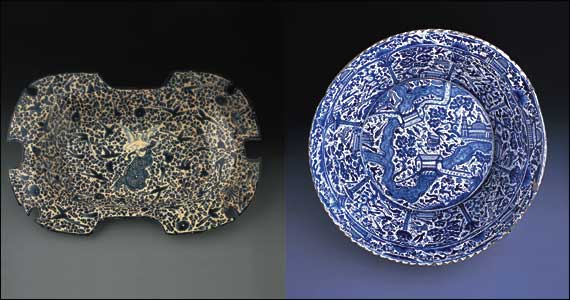 Fig. 4: Platter, maker unknown, Puebla, Mexico, late seventeenth century. Tin-glazed earthenware. Photography courtesy of Museo Franz Mayer, Mexico City.

Fig. 5: Basin, maker unknown, Puebla, Mexico, early eighteenth century. Tin-glazed earthenware. Photography courtesy of Museo Franz Mayer, Mexico City.


The early production of talavera poblana was primarily influenced by old-world traditions. Various European ceramic wares (from Spain, Holland, and Italy) were imported, serving as important sources of inspiration for resident ceramists. Potters themselves no doubt also influenced form and design. According to the potters' ordinances established in 1653, master potters were to be only of Spanish descent. Contrary to the ordinances, however, some masters were Italian-born and probably arrived in Mexico via Spain; there were also a few mestizo (of mixed native and Spanish parentage) ceramists who rose to become "masters." In Mayer's collection is an extremely rare polychrome example of talavera poblana combining Spanish, Italian, and even native traditions (Fig. 3). The polychrome elements typify the Italian palette that was particularly influential in southern and central Spain beginning in the sixteenth century, and the motifs reflect those popularized at the Spanish ceramic center of Talavera de la Reina in central Spain, where Italian potters are known to have worked. Yet the careful rendering on the top left side of a turkey, which is native to the Americas, marks the piece as distinctly colonial.


Fig. 6: Jar with an iron lid (chocolatero), maker unknown, Puebla, Mexico, early to mid-eighteenth century. Tin-glazed earthenware. Photography courtesy of Museo Franz Mayer, Mexico City.

Among the most important cultural traditions that early Puebla potters integrated into their designs were those of Islamic origin. The horror vacui (fear of empty decorative spaces) is one Islamic convention that proved to impact a variety of styles. In fact, one clause of the potters' ordinance stipulates the use of a dotting technique referred to as aborronado.5 The platter in Figure 4 illustrates the affinity for decorating an entire surface with small dots that is typical of this aesthetic. The large, deep, and flat-bottom basin with steep, slightly flared walls is an Islamic form that became particularly important in Puebla, where the form was commissioned as baptismal fonts and wash receptacles (Fig. 5).

While a variety of techniques and decorative motifs traveled across the Atlantic from Europe, another conduit of influences opened from the Pacific. With the settlement of the Philippines as a Spanish colony in 1559, the Spanish Empire established a trade route that connected its territories across three continents. From 1565 to 1815, the ships commonly known as the Manila galleons, or Naos de la China, transported luxury goods including highly prized Chinese porcelain to the Mexican port of Acapulco for further shipment to other colonies. Some pieces are known to have been kept in Mexico, while others were transported across land to the port of Vera Cruz for shipment to Europe; on this route northward from the Pacific to the Gulf, transporters undoubtedly passed through Puebla. Ming dynasty porcelain proved to be a particularly important source for a variety of patterns and motifs featured on Puebla ware, and Franz Mayer collected a number of these prime examples. The division of surface decoration employed on this early- to mid-eighteenth-century jar (Fig. 6) reflects the influence of Chinese porcelain, especially the type known as Kraak, after the Dutch form of the name for a Portuguese galleon once captured by the Dutch, in which the porcelain was transported from China to Indonesia. Similar to the Chinese ginger jar, these lidded jars were typically used for storing delicacies such as chocolate, vanilla, and valuable spices that required the safeguard of a lockable iron lid. In contrast to the crowded decoration characteristic of seventeenth-century wares, by the eighteenth century, Puebla potters were applying more restraint, symmetry, and balance of decorated and undecorated areas. The decoration of the jar in Figure 7 recalls Chinese works of the Kangxi period (1662–1722) of the Qing dynasty, although the figures in these medallions seemingly derive from European chinoiserie.6

Fig. 7: Jar, maker unknown, Puebla, Mexico, early eighteenth
century. Tin-glazed earthenware. Photography courtesy of Museo Franz Mayer, Mexico City.

By the first quarter of the nineteenth century, Puebla ceramists were using polychrome decoration with more frequency, marking a sharp departure from the blue-and-white decoration of fine-grade ware that predominated for over 150 years (Figs. 8 and 9). Of the pastel grounds employed, perhaps the most popular was the pale-blue type known as azul punche after the candy of the same color made in Puebla for the day of the El Día de los Muertos (Day of the Dead) celebrations. Although the Chinese style still lingered, potters were by now also turning to French Rococo decoration and, in particular, the ceramic ware of Alcora, near the Mediterranean coast of Spain, where the French styles had a profound impact.

Today, Mayer's collection of Puebla ware totals over 726 pieces, making it the largest of its kind in the world, and in his lifetime earning him the local recognition as "the crazy man who exchanges old things for new ones."7 Although Mayer was perhaps the most aggressive collector of talavera poblana, he was not alone in his endeavors. In Mexico, others were also building collections. Among them were José Luis Bello y González (1822–1907) and his son, José Mariano Bello y Acedo (1869–1950), who sought the advice of Enrique Luis Ventosa (1868–1935), a Spanish artist living in Mexico believed to be responsible for reviving the ceramic industry in Puebla at the beginning of the twentieth century. The Bello collection of the famed ware is the largest in Puebla and today is housed in the Museo José Bello y González.8


Fig. 8: Inkwell, maker unknown, Puebla, Mexico, early nineteenth century. Tin-glazed earthenware. Photography courtesy
of Museo Franz Mayer, Mexico City.

Just at the time Mayer left New York for Mexico, Emily Johnston de Forest (1851–1942)—a New York socialite and collector of ceramics from Europe and North America—had begun to amass a significant collection of Puebla ware in the United States.9 Soon after, Edwin AtLee Barber (1851–1916), curator and later director of the Pennsylvania Museum and School of Industrial Art (now the Philadelphia Museum of Fine Art) had begun to collect and study Puebla ware for the museum, publishing the first catalogue on the subject in 1908.10 Both Barber and de Forest seem to have inspired New York hispanophile Archer Milton Huntington (1870–1955) to acquire examples of this fascinating tradition from Puebla for The Hispanic Society of America in New York City, which he founded in 1904. In fact, Huntington organized a temporary exhibition of de Forest's collection of talavera poblana in the society's galleries in 1911, only three years after the doors were first opened to the public.11 Interestingly, it was a visit to the Hispanic Society that partly inspired Mayer to pursue his dream of building a museum for his own collection.


Fig. 9: Jar, maker unknown, Puebla, Mexico, early nineteenth century. Tin-glazed earthenware. Photography courtesy of Museo Franz Mayer, Mexico City.
Today, Mayer's collection of talavera poblana is praised across the world not only for its vast number of pieces, ranging in date from the seventeenth to the turn of the twentieth centuries, but also for its quality and inclusion of a number of extremely rare examples. Although there are a number of individuals and institutions in Mexico and the United States that continue to build collections of talavera poblana, the sparse availability of quality examples makes it impossible to even conceive of achieving what Mayer realized nearly one hundred years ago.

The exhibition The Grandeur of Viceregal Mexico: Treasures from the Museo Franz Mayer is on display from 24 March through 4 August 2002 at the Museum of Fine Arts, Houston, with approximately thirty examples from Mayer's collection and an accompanying catalogue.

Margaret E. Connors McQuade is the Assistant Curator of Ceramics and Furniture at The Hispanic Society of America in New York City and is currently writing a dissertation on the colonial ceramic tradition of Puebla.


---
Notes:
Helen Delpar, The Enormous Vogue of Things Mexican: Cultural Relations between the United States and Mexico, 1920–1935 (Tuscaloosa: University of Alabama Press, 1992), p. 1.

For biographical information on Mayer, see Franz Mayer: Una Colección (Mexico City: Bancreser, 1984), pp. 8–17.

Ibid., p. 17.

See Margaret Connors McQuade, Talavera Poblana: Four Centuries of Mexican Ceramic Tradition (New York and Puebla: Americas Society, The Hispanic Society of America, and the Museo Amparo, 1999); Florence C. Lister and Robert H. Lister, Maiolica Olé: Spanish and Mexican Decorative Traditions Featuring the Collection of the Museum of International Folk Art (Santa Fe: Museum of New Mexico Press, 2001).
Enrique A. Cervantes, Loza Blanca y Azulejo de Puebla, 2 vols. (Mexico City: Privately printed, 1939), Vol. 1, p. 28.
See, for example, George Kuwayama, Chinese Ceramics in Colonial Mexico (Los Angeles: Los Angeles County Museum of Art, 1997), pp. 48–49.

Franz Mayer, p. 14.

See Melitón Salazar Monroy, Bello's Museum (Puebla: Editorial Salazar Monroy, 1945), p. 7.
See Margaret Connors McQuade, "Talavera Poblana: The Renaissance of a Mexican Ceramic Tradition," The Magazine Antiques, 156, no. 6 (December 1999): 824–831.
Edwin AtLee Barber, The Maiolica of Mexico, Art Handbook of the Pennsylvania Museum and School of Industrial Art (Philadelphia: Pennsylvania Museum and School of Industrial Art, 1908).
Edwin AtLee Barber, Catalogue of Mexican Maiolica Belonging to Mrs. Robert W. de Forest (New York: The Hispanic Society of America, 1911).