by Alexandra Alevizatos Kirtley


Fig. 1: Table by John (1777–1851) and Hugh (1781–1831) Finlay, Baltimore, MD, 1808–1815. Oak, pine, tulipwood, and maple. Leaf missing. H. 28 3/4", W. 36", D. 18". Private collection; photography by Gavin Ashworth.

Baltimore painted furniture has excited the eyes of antiques collectors and museum curators since the early twentieth century. The first exhibition to feature examples of painted furniture with Baltimore provenances was the 1947 Baltimore Museum of Art's Baltimore Furniture: The Work of Baltimore and Annapolis Cabinetmakers from 1760–1810. In 1972, William Voss Elder, III, collected an extraordinary number of painted pieces for his Baltimore Museum of Art exhibition, Baltimore Painted Furniture, 1800 to 1840, which showcased the tradition of early-nineteenth-century Baltimore painted furniture ornamenters. Gregory R. Weidman published research in 19931 on English-born Baltimore decorative furniture painters John (1777–1851) and Hugh (1781–1830) Finlay, whose painted furniture is greatly desired by collectors and academics alike. Ms. Weidman's work aimed to establish the Finlays' style of painting by considering their complete oeuvre of surviving pieces, which at that point numbered six groups. Some recent discoveries have brought that number to eight documented examples.


In early December 2001, Mrs. R. Carmichael Tilghman, the eleventh generation Lloyd proprietress of Wye House, the Lloyd family home in Talbot County on the Eastern Shore of Maryland, called me about a table her son had found on the second floor of a horse barn. In her characteristic humility, she exclaimed, "I don't know a thing, but it looks pretty good." After four years of working with her on the Lloyd family furnishings,2 I knew that any sentence she begins with "I don't know a thing, but…" is a surefire indication that something is about to unfold.

What greeted me the next morning was an object that I had only dreamed would emerge. John A.S. Tilghman had resurrected from behind stacks of trunks and chairs stored on the barn loft a painted card table (Fig.1), with one leg and the top leaf presently missing, that I immediately recognized as having been painted in the style associated with John and Hugh Finlay. After further rummaging, I uncovered a painted window cornice (Figs. 2, 2a).3 Surviving ledgers and receipts document that Edward Lloyd, V (1779–1834), had acquired furnishings from the Finlays on six occasions, and his mother, Elizabeth Tayloe Lloyd (1750–1825), had made one large purchase.4 The newly uncovered table and cornice correspond to the Lloyds' purchases from John and/or Hugh Finlay.5 Thus, this discovery increases the oeuvre of Finlay-documented work from six to eight.


The Lloyds' patronage of the Finlays began in 1808 when Elizabeth Tayloe Lloyd paid the Finlays $228.17 for furniture to outfit the Annapolis town house William Buckland had designed in 1771 for her and her husband, Edward IV (1744–1796). Elizabeth Tayloe Lloyd lived in the Annapolis town house from the passing of her husband until her death in 1825. Edward V's associations with the Finlays began when he was elected governor of the State of Maryland in 1809, the youngest governor ever at the age of 30. The Treasury of the State of Maryland paid numerous artisans for furniture and furnishings to decorate his official residence, including paying the Finlays $9.10. After his terms in Annapolis ended, Edward V continued his patronage: In 1812 he paid the Finlays $114.86, and three years later, another $24 for unspecified furniture.

The types of furniture received from the three remaining purchases are specified. On April 3, 1828, Edward V purchased two window cornices from Hugh Finlay for $7, plus an additional $.75 for boxing. The time frame of this receipt is consistent with the decorative style of the cornice recently discovered in the barn (though one of the pair is still missing), thus establishing the specific reference for the cornice. In 1833, John Finlay sold Edward V six fancy Windsor chairs for $7 total; one cane seat armchair for $3.25; and $3.75 worth of "cabbin stools" for the Lloyds' private schooner.




Fig. 2: Cornice by Hugh Finlay. Tulipwood. Bottom panel broken off. H. 8", W. 59", D. 9". Private collection; photography by Gavin Ashworth.


Fig. 2a: Detail of cornice in Fig. 2.Courtesy of the author.

As noted, the early ledger entries and receipts do not delineate the types of furniture purchased, which obligates us to date the table within the years 1809 and 1815 based on the style of the table. The card table form—with double-swung rear legs, medial brace for extra support, and round turned legs ending on tall spade feet—is typical of Baltimore-built card tables. The Lloyd table's decorative composition and motifs—thick gold-band ovals and spandrel arches on the apron, the flowering vine meandering up the legs, above the legs, and inside the gold bands on the apron, and the musical trophies on the curved sides and central roundel—are emblems found on other examples of Baltimore painted furniture associated with the shop of John and Hugh Finlay.

In the catalogue that accompanied his landmark Baltimore painted furniture exhibition, William Voss Elder, III, attributed furniture to the Finlay brothers that bears marked similarities to the Lloyd table. First, the John B. Morris family marble-topped pier table (Fig. 3), two settees, and ten armchairs now owned by the Baltimore Museum of Art6 (catalogue numbers 3, 4, and 5) exhibit the same floral meanders and thick gold bands. The trophies of music at the center of the Macgill family card table (catalogue number 11), though made of polychrome, appear to have been painted using the same design as the Lloyds'. The square form of the Macgill table, with ovolo corners on turned legs with high spade feet, exactly matches that of the Lloyd table. The shape of the Robert Gilmor, II, card table (catalogue number 13, now at The Maryland Historical Society, 1972.53.1) is also cut from the same template as the Lloyd and Macgill tables.7 Again, the ornamenter has used the same gold bands and meander to accentuate the lines of the table's form. The musical trophies are also used but vary slightly in design and execution from both the Macgill and Lloyd pieces. The Maynadier and Key family card table (catalogue number 14) is again shaped like the Lloyds' table but employs a completely different design objective that incorporates landscape and abstract neoclassical elements rather than the trophies of music.8

Fig. 3: Pier table attributed to John (1777–1851) and Hugh (1781– 1831) Finlay, Baltimore, MD, 1800–1810. Maple; painted black with polychrome and gilt and bronze decoration, marble top. H. 35 1/4", W. 47 1/4", D. 21 1/4". The Baltimore Museum of Art; gift of Lydia Howard de Roth and Nancy H. DeFord Venable, in memory of their Mother, Lydia Howard DeFord, and purchase fund. Courtesy of Baltimore Museum of Art. 1966.26.13


While the Lloyd table is a basic painted furniture form and exhibits decoration commonly associated with Baltimore and the Finlay shop, its cornice is shaped to conform to an architectural molding and is the only surviving painted Baltimore cornice known to this author.9 The painted emblems of exuberantly colored, classically inspired motifs are found individually on other painted pieces, but the cornice's amalgam of them is singular. The design of the ovolo-molded section is inspired by the ranceau and paterae illustrated by Thomas Sheraton in his Drawing Book, plate 56, "Ornament for a frieze or Tablet." An uneven break below the ovolo molding provides evidence of a straight lower panel of pink and white flowers tied with blue ribbons on a white ground. The height of this contrasting bottom rail of the cornice is not known. The quality of execution of the painted designs on the cornice is incredibly high. Of a unique form and combined with an overall composition that is not characteristic of other Baltimore work, the cornice is a supreme achievement and an extraordinary survival.


These two recent discoveries can now be added to the previously known six commissions noted by Weidman. The updated list includes the following:


Drawing room chairs and Grecian sofas for the White House, designed by B. Henry Latrobe, 1809 (destroyed in 1814). Latrobe documents, Maryland Historical Society, 61.130.1 and 61.130.2.

Richard Ragan, Hagerstown, Maryland, merchant, 1815, chair at the Maryland Historical Society.

James Wilson (1775–1851), Baltimore, merchant, 1819, chairs and pier table at the Maryland Historical Society.

James Wilson, Baltimore, merchant, 1825, center table at the Brooklyn Museum of Art.

Humberston Skipwith, Prestwould Plantation, Clarksville, Virginia, 1819, card table and Grecian sofa at the Prestwould Foundation.

John Carnan Ridgely (1790–1867) and Eliza Ridgely (1803–1867), Hampton, Towson, Maryland, 1832, fourteen chairs, sofa, scagiola-topped pier table, and center table at the Hampton National Historic Site.

Edward Lloyd, V (1779–1834), Wye House, Talbot County, Maryland, 1809–1815, table in a private collection.

Edward Lloyd, V, Wye House, Talbot County, Maryland, 1828, window cornice in a private collection.


Fig. 4: Settee by Thomas S. Renshaw (b. ca. 1780) and John Barnhart, Baltimore, MD, 1814–1829. Maple, tulip wood, walnut; with polychrome and gilt and bronze decoration, cane seat (not original). H. 35 3/8", W. 75 7/8", D. 23 3/8". The Baltimore Museum of Art; purchase as the gift of Robert G. Merrick, Mrs. D'Arcy Paul, J. Gilman D'Arcy Paul, Mrs. Alvin Thalheimer, and Mrs. Miles White, Jr. Courtesy of Baltimore Museum of Art. 1950.51

Since most examples of Baltimore painted furniture are not documented, associations can only be made as to the ornamenters. Attributing painted furniture to the Finlays based purely on motifs or painted technique can be misguided. John and Hugh Finlay did not operate the only fine fancy-painted furniture manufactory in Baltimore, therefore their names should not be associated with every piece of painted furniture bearing remote similarities to documented pieces. Directories and newspaper advertisements list the names of other ornamenters working in the city and environs. Edward Lloyd, V, purchased painted furniture from Finlay as well as from John Oldham (active 1790–1835); one extraordinary Baltimore settee (Fig. 4) is marked by Thomas Renshaw as the maker, and John Barnhart as the ornamenter. Barnhart was one of several ornamental painters, or "ornamenters," working in Baltimore at the time, and research into the life and career of Barnhart and artisans like him, as well as the shops of the Finlays and other fancy furniture makers, is desperately needed.


Furniture assumed to be from the Finlays' shop has been evaluated for its aesthetic merits, but a comprehensive study of their shop practice and journeymen dynamics is necessary to analyze properly the Finlays' and the Baltimore painted furniture trade. Although the eight examples previously listed are documented to the Finlays' shop, whether or not John and Hugh Finlay ever even touched a paintbrush is a valid question. John Henry Hill, in his still-seminal 1967 University of Delaware-Winterthur master's thesis titled "The Furniture Craftsmen of Baltimore, 1783–1823," documented that the Finlay shop was quite large in comparison to others. They indentured at least seventeen apprentices from 1799 to 1823 and employed itinerant ornamenters. These contract craftsmen may have both made and painted the furniture, while the Finlay brothers designed the furniture and marketed it to a demanding and far-reaching clientele. Ornamenters likely moved from shop to shop and possibly from city to city, thus at this point in time it is insufficient to rely on the painted technique alone as the hallmark of a city or shop of origin. Furniture documented to the Finlays, including the Lloyds' two pieces, represents the work of an untold number of furniture makers and ornamenters.

Lastly, the painted furniture tradition of Federal Philadelphia has been sorely overlooked perhaps as the result of local Baltimore pride that links all beautiful painted furniture to Baltimore (Fig. 5). My native city by the bay, in contrast to her brotherly love neighbor to the north, enjoyed a short-lived moment of furniture-making glory in the late eighteenth and early nineteenth centuries. Many would like to ascribe to Baltimore craftsmen a larger quantity of beautiful furniture than is historically reasonable or able to be documented. For example, Elias Haskett Derby, the exceedingly wealthy merchant and furniture fashion arbiter of Salem, Massachusetts, ordered his painted chairs from Philadelphia.10 The Derby chairs (Fig. 6) illustrate a sophisticated style and tradition dating to the last decade of the eighteenth century that far exceeds that of the Lloyds' table (1809–1815) and Ragan's 1815 pair of chairs, both documented to the Finlays. If such a painted tradition was functioning in Philadelphia at the turn of the nineteenth century, it is doubtful that it was abandoned. In my opinion, Philadelphia-made examples that have been incorrectly attributed to Baltimore include a table recently acquired by Winterthur11 and the Waln suite.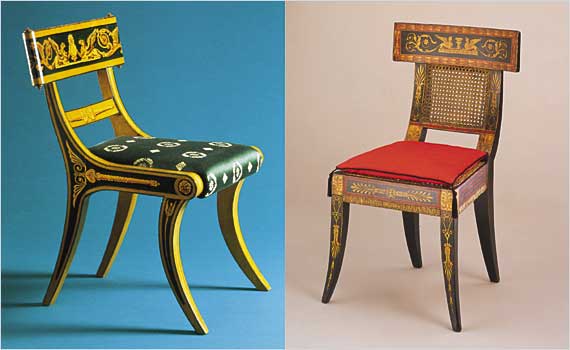 Fig. 5 (left): Chair, maker and ornamenter unknown, Philadelphia, PA, 1815–1825. Cherry, maple, tulip. H. 31 3/5", W. 20", D. 21 1/2". Courtesy of Winterthur Museum. 92.29.1

Fig. 8 (right): Side chair, maker unknown, Philadelphia, PA, ca. 1808– 1810. Possibly painted by George Bridport; designed by Benjamin Henry Latrobe. Gesso, paint, tulipwood, and maple. H. 32", W. 28", D. 27". Philadelphia Museum of Art; purchased with the gift (by exchange) of Mrs. Alex Simpson, Jr., and A. Carson Simpson, and funds contributed by Mr. and Mrs. Robert L. Raley and various donors. Courtesy of Philadelphia Museum of Art. 1986-126-4-6


Jack L. Lindsey, curator of American Decorative Arts at the Philadelphia Museum of Art, outlined in 1991 the documented commission for the parlor suite of Philadelphia merchant William Waln (1775–1826).12 Architect B. Henry Latrobe (1764–1820) designed the suite of parlor furniture and had them made in Philadelphia. Philadelphia carpenter Thomas Wetherill signed the pier table and possibly made the card table, but the chairs and Grecian sofa would have undoubtedly been made by a chairmaker in Philadelphia, where such craftsmen abounded.13 Despite a lack of documentary evidence and without investigation into the painting tradition of Philadelphia, several scholars have suggested that the suite was sent to Baltimore to be painted by the Finlays and was then returned to Philadelphia. The Waln suite's distinctive bellflower, academic composition, and shaded modeling are evident on a small group of painted furniture, such as the Winterthur table. Such sophistication never appears on documented Baltimore furniture and, in fact, is drastically dissimilar to it. The Waln suite (Fig. 8) may have been painted by London-born George Bridport (active 1794–1819), Latrobe's favored interior painter who worked primarily in Philadelphia but traveled with Latrobe to complete his commissions. Bridport painted the interior walls of the parlor for which the suite was intended after Flaxman's Iliad and Odyssey. Further research into the study of both the Finlays and the Philadelphia painted furniture tradition will serve to further the story of American painted furniture.

The discovery of two pieces of painted furniture that correspond to the Lloyds' Finlay purchases momentously brings to light two more documents of John and Hugh Finlay's shop. And yet, while considering the impact of the discovery of the table and cornice, it becomes clear that the craft of painted furniture—both of Baltimore and Philadelphia—needs to be fully revisited. Scholarship needs to address the movements of itinerant craftsmen, craftsmen in related fields such as decorative interiors painters, and surviving documented furniture. Until the research is undertaken and evidence brought forth, museum curators, collectors, dealers, and auction houses should reserve judgment and acknowledge that talented craftsmen other than the Finlays worked in Baltimore and Philadelphia.14


Alexandra Alevizatos Kirtley is Assistant Curator of American Art at the Philadelphia Museum of Art.


---
Notes:
See Gregory R. Weidman, "The Painted Furniture of John and Hugh Finlay." The Magazine Antiques, 143, no. 5 (May 1993): 744–755; Weidman and Jennifer F. Goldsborough, eds., Classical Maryland, 1815–1845 (Baltimore: The Maryland Historical Society, 1984), pp. 88–110.

Alexandra A. Alevizatos, "'Procured of the best and Most Fashionable Materials': The Furniture and Furnishings of the Lloyd Family, 1750–1850." Master's Thesis, University of Delaware, 1999.

Years of neglect in a barn whose micro climate changed with each season warrant the conservation treatment the Lloyds' Finlay painted table and cornice are receiving at present. Conservation will stabilize the surfaces and may reveal more significant materials analysis.

The citations for the Lloyds' purchases from the Finlays are as follows: 1808–Ledger, 1803–1820, Wye House; 1809–Ledger, 1803–1820, Wye House; 1812–Ledger, 1803–1820, Wye House; 1815–Ledger, 1803–1820, Wye House; 1828–Receipt, The Lloyd Papers, Maryland Historical Society, Baltimore, MS 2001, Reel 29; 1833–Receipt, The Lloyd Papers, Maryland Historical Society, Baltimore, MS 2001, Reel 30; and 1834–Ledger, 1803– 1820, Wye House.

The Lloyd family accounts are comprehensive. They document that during the period that Edward Lloyd, V, was the proprietor of Wye House, from 1796 to 1834, he purchased painted furniture from the Finlay brothers and painted chairs from Baltimore craftsman John Oldham (active 1790–1835). Besides the one entry for painted chairs from Oldham, all remaining painted furniture from this period was purchased from the Finlays.

The Baltimore Museum of Art, 66.26.1-13.

See Gregory R. Weidman, Furniture in Maryland, 1740–1940 (Maryland Historical Society, 1984), no. 150. Robert Gilmor, II (1774–1848), who was a social, political, and business ally of Edward Lloyd, V.

Edward Lloyd, V, was distantly related to the Maynadier family and maintained close political and social ties with the family. His sister, Mary Tayloe Lloyd (1784–1859), was married to Francis Scott Key (1779–1843).

The author thanks William Voss Elder, III, for sharing his deep knowledge of extant painted furniture.

Robert Mussey has found documentation that Boston merchant John Amory ordered similar chairs, from a named cabinetmaker, through the same agent in Philadelphia. This research will be published in a book on John and Thomas Seymour in 2003.

Winterthur Museum, 1999.9.

Jack L. Lindsey, "An Early Latrobe Furniture Commission." The Magazine Antiques, 139, no. 1 (January, 1991): 208–219.

On klismos-style chairs, the continuous rear stile that extends to the legs is a documented construction technique of Philadelphia chairmakers. With the exception of the chairs the Finlays made for President and Mrs. Madison after Latrobe's design for them, documented Baltimore chairs exhibit the more stable and practical design of separately turned legs that tenon into a seat frame.

The author is undertaking part of the necessary research on the Baltimore and Philadelphia painted furniture tradition and will publish it in a forthcoming issue of the Chipstone Foundation's American Furniture. A postconservation article on these two Lloyd pieces will appear in The Catalogue of Antiques & Fine Art.