Furniture Facts


by Jill Connors


William Savery is one of the most recognized names associated with Philadelphia furniture of the colonial period. He earned the attention of then present-day scholars and collectors in 1918, when one of his dressing tables became the first rediscovered piece of labeled eighteenth century Philadelphia furniture. Savery soon took his place among other noted Philadelphia cabinetmakers, a group that as a whole is known for producing some of the finest furniture in Colonial America. Today, Savery's furniture occasionally comes on the market—a labeled maple rush-seat side chair recently sold at Sotheby's for approximately $150,000.




William Savery (1721/1722–1787) apprenticed with a Philadelphia furniture maker named Solomon Fussell (ca. 1704–1762) at the age of 14, young by today's standards, but typical of the early eighteenth century. When in 1742 he turned 21, Savery opened his own shop on Second Street, where he continued to work for some forty-five years until his death in 1787. Both a chairmaker and a cabinetmaker, Savery produced a range of items for his clients. While making elegant dressing tables for patrons such as Benjamin Franklin, Savery also capitalized on the consumer need for affordable furniture by joining forces with his former master in developing an early system of mass-producing slat-back maple chairs. The need for chairs in Philadelphia was evident, at least during the peak years of Savery's shop in the 1750s and 1760s, when records indicate between eighteen and thirty chairs were owned in each of the nearly 6,000 Philadelphia households.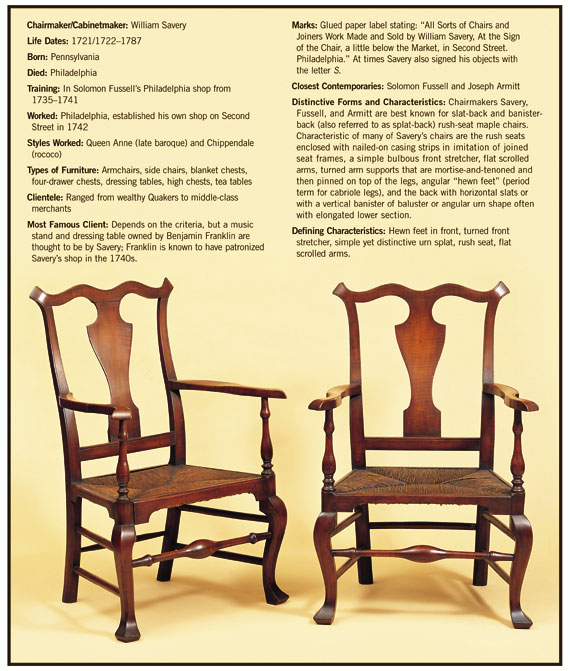 Antiques dealer Philip W. Bradley, who sold a rare pair of Savery armchairs at last year's Philadelphia Antiques Show, says, "There's a distinctive simple yet sculptural quality to Savery's work. His design success in relation to his finer chairs is in the paring down of form rather than in building it up with ornamentation." The simple, pleasing lines of Savery's armchairs, as seen here, also reflect the conservative taste of his many Quaker clients. As Bradley notes, "Savery was aware of and influenced by that ethic."

Jill Connors is a freelance writer who specializes in collecting, interior design, and decorative arts. Her freelance work appears in such magazines as Country Home, Interior Design, and This Old House.


---
Reference Books:
Jack L. Lindsey, Worldly Goods: The Arts of Early Pennsylvania (Philadelphia Museum of Art, 1999).



William M. Horner, Blue Book, Philadelphia Furniture (Highland House, 1935; reprint, 1988).