Fig. 1: Lily-of-the-Valley armchair, W. McHose Co., Dayton, Ohio, ca. 1875. Cast iron. H. 32 1/2 in. Photography by Sharyn Peavey.


In the early nineteenth century, the decoration of landscaped public and private spaces became a fashionable component of the popular culture in America and abroad. Ornamental cast iron answered the need to provide large numbers of durable, cost-efficient seating forms to furnish the increasing number of parks, gardens, and cemeteries. By virtue of the medium, cast iron's appeal was furthered by the fact that it could be molded into myriad designs and forms to suit the eclectic tastes that pervaded the century.

The competition to tap into and control the expanding cast-iron furniture market resulted in the borrowing of motifs and sometimes the outright pirating of entire patterns by companies in America from overseas firms, most specifically from Britain. For example, British and American Lily-of-the-Valley chairs are virtually identical (Fig. 1). However, other forms such as the rococo seat were adapted; most American makers opted to modify the straight rear legs of the Scottish version (Fig. 2) to the cabriole leg. Research shows that some designs are unique to certain firms and can easily be identified. For the most part though, as a result of a shared visual history, later generations are left with design overlaps that often make the garden furniture of Britain and America, even to an expert, virtually indistinguishable.


Fig. 2: Rococo settee, Carron Co., Edinburgh, Scotland, ca. 1846. Cast iron. H. 36 1/2 in. Photography by Daniel Delaney.


Among the reasons for making distinctions between British and American cast-iron seating furniture are connoisseurship—perhaps a collector prefers the products of a particular country—and valuation. Currently, the market for nineteenth-century American and British cast-iron garden seats differs considerably, with British examples of similar form and design generally demanding higher prices. For example, this past May, a Passion Flower-pattern garden seat marked by the British firm Coalbrookdale sold at an English auction for $23,000; an unmarked identical version attributed to J.W. Fiske or J.L. Mott, both of New York, sold for $12,000. As evidenced by this and other sales, the English market for garden furniture of local manufacture has been particularly strong recently. American sales of products by favored makers such as Fiske and Mott do not approach the same price levels. Interestingly, many of the strong sales in England have been attributed to American buyers; it appears that this clientele has a preference for British manufacturers even though the products are in most cases virtually the same.


Fig. 3: Diamond registration mark of the Designs Office, Great Britain.


How, then, does someone learn to identify the origin of garden seats? While similarities among certain forms may at times frustrate the chances of ever knowing for sure, there are distinctions that can help in evaluating the derivation of many cast-iron garden seats. Foremost is the mark of a recognized maker. If a seat is marked "C-B-DALE," it comes from the Coalbrookdale Company of Shropshire, England, for example; if marked "J.W. FISKE," it is from the Fiske Company of New York City. (It should be noted that companies did not always mark their products.) Furthermore, from 1842 to 1883, British metal products were allocated a diamond registration mark that conveyed manufacturing information and corresponded to a particular date (Fig. 3).1 Such marks are found only on British metal products. The provenance, or ownership history, can sometimes trace the origin of a piece, although bear in mind that companies had far-reaching distribution channels.

The construction of nineteenth-century cast-iron furniture appears to have been similar in both countries. Chairs and seats were cast in sections that were bolted together. Occasionally, a maker used distinguishing features such as the molded bronze nuts that secured the Coalbrookdale Company's finest pieces.2 Future generations may choose to compare the chemical composition of British and American cast iron to see if there is a difference (perhaps the British used a higher or lower carbon content than the Americans); current research does not include scientific data.

While cast iron was painted rather than left in its natural state, original paint rarely aids in establishing the country of origin. Likely driven by competition, the major American and British firms generally offered comparable selections of finishes. Both the Coalbrookdale and the Fiske and Mott companies, for example, provided a specialized bronze finish with a surface application of bronze powder. However, there were variations: Coalbrookdale recommended green or chocolate for most of their cast-iron chairs and seats,3 while the Fiske firm took orders in 1872 for seating furniture in the standard green but also for white, red, and blue.4 Further complicating the issue, many nineteenth-century cast-iron garden seats have been stripped and repainted, thus obliterating the primary coat and any information that might have established an attribution.

Without the aid of identifying marks, a distinct design, or a provenance, the scholar or collector is truly challenged to distinguish the cast-iron garden seats of Britain and America. The keys to learning any area of specialized collecting are exposure to the objects themselves, reading, and consultation with an expert. In a quest for connoisseurship in this field, one needs to recognize and accept the perplexing similarities between British and American cast-iron furniture.

Barbara Israel, Founder and President of Barbara Israel Garden Antiques, of Katonah, New York, is a dealer and scholar in the field of antique garden ornament. She is the author of Antique Garden Ornament: Two Centuries of American Taste (Abrams, 1999) and "The Metalwork of J.W. Fiske and Company," The Magazine Antiques, (March 2000).

All photographs and illustrations courtesy of Barbara Israel Garden Antiques except for "Renaissance scroll," © Mick Hales.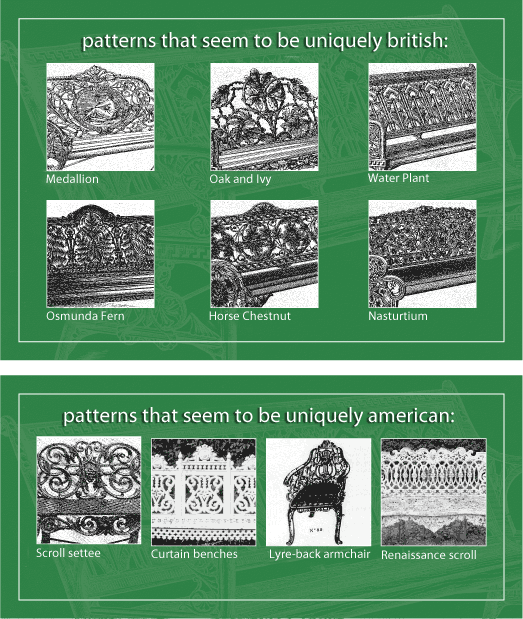 For code designations, which changed in 1868, see, John P. S. Davis, Antique Garden Ornament: 300 Years of Creativity: Artists, Manufacturers & Materials (Woodbridge, England, and Suffolk, England: The Antique Collectors' Club, 1998), pp. 243–44.

Davis, p. 259.

Coalbrook-dale Co., The Coalbrookdale Illustrated Catalogue, section III (London, Bristol, and Coalbrookdale: Coalbrookdale Co., 1875), pp. 249–55, 261–65, 269.

J. W. Fiske Order Books (May–September 1872), Winterthur Museum, Garden & Library.

Georg Himmelheber, Cast-Iron Furniture: And All Other Forms of Iron Furniture (London: Philip Wilson Publishers Ltd., 1996).
Ibid., p. 26.