Fig. 1: Detail of Charles and Mary Lamb, Mrs. Leicester's School, London, 1808. Full brown morocco binding by Riviere with two ivory miniatures by C. B. Currie, early 20th century.


In the first decade of the twentieth century, the London bookselling firm of Henry Sotheran & company introduced a type of binding that was decorative, had historic associations, and catered to the level of quality expected by connoisseurs at the time. Between 1902 and 1903, John Harrison Stonehouse (1864–1937), managing director of Sotheran's, created what came to be referred to as "Cosway bindings."1 Named for the celebrated eighteenth-century English portrait miniaturist Richard Cosway (1742–1821), Cosway bindings are distinguished by their attractive, finely painted miniatures on ivory that are protected by glass and inset into the covers or doublures (inside covers) of elegantly tooled books (Fig. 1).


| | |
| --- | --- |
| | |
| | Fig. 2: Nicholas Rowe, The Tragedy of Jane Shore, London 1714. Full brown morocco binding by Riviere with two ivory miniatures by C. B. Currie, early 20th century. |
Stonehouse's success with the bindings was due in part to his employment of skilled miniaturist, Miss C. B. Currie. It has been estimated that Miss Currie painted several thousand miniatures, recognized for their delicate rendering and precision, for over 900 bindings before her death circa 1940. For many of the more lavish Cosway bindings, Currie painted multiple portraits (Fig. 2). Occasionally, landscapes and other subjects adorn the covers or doublures, such as the scene from Alice's Adventures in Wonderland shown in Figure 3.

To enhance Currie's miniatures, Stonehouse arranged for the London firm of Riviere & Son to produce a variety of high-quality single-volume bindings. One of the best large-scale binderies active in the first quarter of the twentieth century, Riviere & Son integrated the miniatures into bindings for both previously published editions and new works. Stonehouse marketed Sotheran's finished Cosway-bound volumes primarily to booksellers in the United States or to American agents.

Fig. 3: Lewis Carroll, Alice's Adventures in Wonderland, London,1866. Full brown morocco binding by Riviere, with two ivory miniatures by C. B. Currie, early 20th century.


Before Sotheran's 1911 catalogue, in which they identified the miniature artist as Miss Currie, the miniatures are attributable only by their recognizable style. By 1913, the bindings are distinguished by a limitation statement on a colophon leaf (where a publisher's emblem or trademark is placed), which provides the number of the Cosway binding with facsimile signatures of Stonehouse and Miss Currie. The customary gilt-stamped signature on the turn-in is generally lettered: "Bound by Riviere & Son from Designs by J. H. Stonehouse" and "Miniatures by C. B. Currie."

Competitors, intrigued by the marketing potential of Sotheran's Cosway volumes, began copying the bindings soon after their initial introduction. Although the fashion for Cosway bindings diminished after World War II, the London binderies of Sangorski & Sutcliffe and Morrell continued to produce morocco-bound volumes with inset miniature paintings. Perhaps the most prolific follower has been the existing English firm of George Bayntun, who acquired the Riviere stock of binding tools in 1939.

None of the miniature paintings on the volumes produced by competitors match the quality of Miss Currie's artistry. Examples by other firms are known as "Cosway-style" bindings (Fig. 4). Fine Cosway bindings frequently appear for sale at prices ranging from $10,000 to $75,000, depending on the subject matter, edition, and scale of decoration. Cosway-style bindings are much less expensive.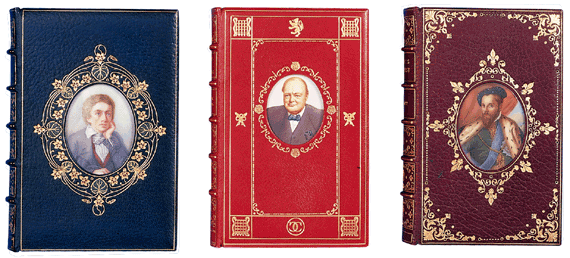 Fig. 4: A selection of Cosway-style bindings, London, mid-twentieth century.


Bibi Mohamed is the owner of Imperial Fine Books, Inc., NYC. Established in 1989, the company specializes in finely bound sets, single volumes, Cosway bindings, exhibition bindings, fore-edge paintings, children's classics, illustrated, first, and rare editions. Imperial offers custom bookbinding and color illustrated catalogues.

All images courtesy of Imperial Fine Books, Inc.

Know Your Antiques is a regular feature that offers insight into the world of decorative and fine arts.


---
The name "Cosway" was first associated with this style of binding in 1909. For this and other information relating to this article, see Marianne Tidcombe, "Bound Treasures: English 20th-Century Bookbindings," in FMR, vol. 79 (1996), and Michael Knies, ed. A Modern Renaissance Library: 200 Selections from the Collection of Edward R. Leahy (Scranton, PA: The University of Scranton Art Gallery, 2000).