Fig. 1: Parcheesi board signed by J. K. Musser, Muncy, Penn., ca. 1880. Unidentified softwood, with original polychrome decoration. H. 16, W. 16 in. Signed on verso: "J. K. Musser. Muncy Pa." Private collection; photograph courtesy of John Keith Russell.


Some of the most beloved icons of American folk art exhibit patriotic imagery, but surprisingly few books or articles have been devoted exclusively to the subject.1 Over the past thirty years, when patriotic objects have been published, the familiar "old friends" tend to be repeatedly reproduced or chosen for museum exhibitions.2

The purpose of this article is to enhance the cadre of known works by presenting a group of patriotic folk art objects that exhibit superior quality and have seldom, if ever, been published. To portray the illustrations in the largest possible context, they have been categorized as utilitarian, decorative, ceremonial, and commemorative. The common denominator among these seven diverse objects is a visual one, through the use of the American flag, shield, eagle, or other patriotic emblem as a focal point.

Utilitarian Objects

| | |
| --- | --- |
| | |
| | Fig. 2: Goddess of Liberty weathervane made by J. W. Fiske Ironworks (active 1870–1893), New York, NY, ca. 1880. Cast iron and molded copper, with original gilt and polychrome decoration. H. 21, W. 15 1/2 inches. Private collection. |
The spirit of American folk art is often best expressed in utilitarian objects. By virtue of the fact that such objects were intended for regular use, often in the outdoors, their survival is often remarkable, particularly if they retain their original decorative surfaces. Selected here are two items that illustrate the range of design and decoration found on utilitarian objects that today are considered folk art—a finely decorated Parcheesi game board (Fig. 1) and a colorfully painted and gilded weathervane (Fig. 2).

Although paint-decorated game boards were widely produced during the second half of the nineteenth century, only a few have been recorded with patriotic design elements such as flags or shields.3 The circa 1880 paint-decorated Parcheesi board with shield-decorated corners, illustrated in Figure 1, is one such example. Signed by J. K. Musser of Muncy, Pennsylvania, the board's finely painted decoration shows the hand of a skilled ornamental folk painter. Rarely were game boards inscribed with both the name of the maker and the place of origin, and to date, no other signed examples by J. K. Musser have been recorded.

Fig. 4: Seated figure of liberty goddess with shield and eagle from the packet ship Congress. Vicinity of Pittston, Maine, ca. 1832. White pine, with original polychromed decoration. H. 37 in. Photograph courtesy of Sotheby's.


The molded copper and cast-iron Goddess of Liberty weathervane illustrated in Figure 2 was made by J. W. Fiske Ironworks in New York City circa 1880.4 A favored nineteenth-century image representing the ideals of the country, this design was made by weathervane manufacturers A. L. Jewell, Cushing and White, and J. L. Mott Ironworks, to name but a few. Available in various dimensions to accommodate differences in building size, the 1883 catalogue of A. B. & W. T. Westervelt, for example, offered "GODDESS OF LIBERTY" weathervanes in 24-, 36-, and 48-inch increments.

Among the most coveted and significant of weathervane designs, this particular weathervane is the only known example of its type made by Fiske Ironworks that retains the original painted decoration over its entire surface. This weathervane is illustrated here for the first time.

Decorative

A purely decorative and ornamental object is the carved and painted eagle wall plaque illustrated in Figure 3. A form often associated with the coastal New England carver John Haley Bellamy (1836–1914), the magnificent carving of this circa 1860 example bears the signature of its maker painted onto the lower front edge of the shield: "HENRY N. SPENCER, CARVER." At present, little is known of Spencer other than that he was first recorded in the Boston city directory of July 1857 and again in 1861 as a "ship carpenter."

Of laminated white pine construction characteristic of related examples, this plaque demonstrates Spencer's talents as both a carver and an ornamental painter. Such eagles were often displayed in the front halls of the early-nineteenth-century homes of ship owners and captains. As such, this example was never exposed to the elements, and thus its pristine original painted and gilded surface is preserved. Found in a Boston antiques shop in 1918, this is the only known eagle by Spencer.

Fig. 3: Eagle wall plaque signed by Henry N. Spencer (active 1857–1861), Boston, Mass., ca. 1860. White pine, with original gilt and polychrome decoration. H.16, W. 37, D. 8 in. Signed: "HENRY N. SPENCER, CARVER." Private collection.


The seated Goddess of Liberty shown in Figure 4 is one of the most ambitious known examples of American folk sculpture. In addition to the sophisticated carving techniques, the goddess is depicted in a rare seated pose and wears the feathered headdress of an Indian princess. The combination of the allegorical elements of liberty with the personification of America as an Indian princess proved popular during the young republic of the early nineteenth century, as did the representation of the eagle, the symbol of the new country.5 Tradition maintains that the carving served as a decorative element for the packet ship Congress, built in Pittston, Maine, circa 1832. A priceless dimension of this object, particularly given its history onboard a seagoing vessel, is the retention of the original painted decoration with an unrestored surface. This is remarkable because very few examples of large-scale folk sculpture intended for outdoor use have survived with their original painted surfaces undisturbed.

Fig. 5: Cake board attributed to John Conger (active 1827–1835), New York, NY, ca. 1830. Mahogany. H. 14 1/2, W. 24 in. Private collection.


Ceremonial Objects

A splendid example of an object originally made for ceremonial purposes and now considered folk art is the 2-foot-wide mahogany cake board, carved with the image of George Washington and attributed to John Conger (Fig. 5). A professional carver working in New York City between 1827 and 1835, Conger is best known for a group of intricately detailed, carved mahogany cake boards, many of which bear his stamped name.

The large size and elaborate ornamentation of this board indicate its use by a professional baker. Scholarship has suggested that the large patriotic cakes produced by these molds were used for special holiday celebrations such as New Year's Day.6 With its array of patriotic and ornamental elements, this cake board
Fig. 6: Liberty Crown, New Orleans, Louisiana, ca. 1814. Paperboard overlaid with fine muslin, gold-foil paper appliqué, gold paint, and watercolor. H. 4 3/4, Diameter 7 in. Private collection.


is a superb example of its type. The central design features George Washington in full military uniform with a plumed hat flanked by Columbia, the Goddess of Liberty, with liberty pole and liberty cap, and Justice holding a sword and scales. A banner below is inscribed "WASHINGTON" in reverse, with a spread-wing American eagle above and a U.S. shield and banner inscribed "E. Pluribus Unum." Other representational figural elements include an American Indian with bow and arrow and an early rendition of Brother Jonathan, or Uncle Sam, surrounded by tulips and corn stalks within an elaborate starburst border.7

Another ceremonial patriotic folk object is the Liberty Crown illustrated in Figure 6. Made of paperboard overlaid with fine muslin with gold-foil paper appliqué and watercolor, it was crafted by a New Orleans schoolgirl about 1814. Historical evidence suggests that this crown was worn by a young girl of the Livingston family dressed as the Goddess of Liberty in a festival celebrating the victory of the battle of New Orleans at the end of the War of 1812.8 This crown is believed to be the only surviving relic from this historical event.


Fig. 7: Calligraphic specimen, American, ca. 1861. Ink and watercolor on paper. H. 71/4, W. 101/4 in. Collection of David A. Schorsch American Antiques, Inc.


Commemorative

The calligraphic specimen dated March 13, 1861 (Fig. 7), celebrates the inauguration of President Abraham Lincoln as the sixteenth and first Republican president of the United States. With the festivities occurring nine days prior to the recording of the "current event," this work presents a one-of-a-kind composition prepared by an individual captivated by the occasion. Featuring a spread-wing eagle above flags and centered by intricately drawn lettering, this penmanship exercise is reminiscent of the Pennsylvania-German technique of ornamental writing known as fraktur.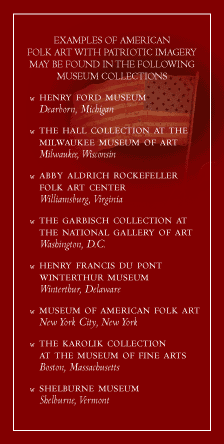 Whereas most calligraphic drawings are repetitive in terms of subject matter, almost exclusively depicting slight variations on the theme of animals, this penmanship exercise is unusual for its rare political content.9 Also remarkable is the use of polychrome watercolor for the flags and within the lettering; most calligraphic drawings are monochromatic in color.

Though rare and highly sought-after, significant examples of patriotic folk art continue to pass through the marketplace. To offer words of encouragement, all of the items chosen for illustration in this article were acquired by their current owners within the last ten years.

A collector since childhood, David A. Schorsch has been dealing in American antiques for twenty-five years. He is the author of eight scholarly articles and fourteen catalogues relating to various categories of American folk art and furniture, most recently American Decoys III: A Folk Art Tradition, with Eileen M. Michaelis. Unless otherwise indicated, photographs are courtesy of David A. Schorsch American Antiques, Inc., Woodbury, Connecticut.


---
Only a handful of books and articles have been devoted to Patriotic American folk art: Louis C. Jones, "Liberty and considerable license," in Jack T. Ericson, ed., Folk Art in America, Painting and Sculpture (New York: Mayflower Books, 1979), pp. 35–39; Elinor Lander Horowitz, The Bird, The Banner and Uncle Sam (Philadelphia and New York: J. B. Lippincott Company, 1976); Nancy Jo Fox, Liberties with Liberty (New York: E. P. Dutton, 1985); Martha Longenecker and Gerard C. Wertkin, American Expressions of Liberty, Art of the People, By the People and For the People (New York: Harry N. Abrams, Inc., 1997).

These familiar icons have been reproduced repeatedly in numerous publications and include the painted flag gate, over mantel "Situation of America 1848," and Statue of Liberty weathervane by J. L. Mott Ironworks in the collection of the Museum of American Folk Art; the weathervane pattern for the Goddess of Liberty carved by Henry Leach in the collection of the Shelburne Museum; the fraktur depicting "Exselenc George General Waschingdon and Ledy Waschingdon" by the "Washington Sussell" artist in the collection of the Abby Aldrich Rockefeller Folk Art Center, and the portrait of Captain Samuel Chandler by Winthrop Chandler in the collection of the National Gallery of Art.

Two game boards with rare decoration of flags have sold at auction within the last year, each commanding the record price of $46,000. See Northeast Auctions, Americana Collection of Virginia Ramsey-Pope Cave, August 5, 2000, lot 70; and Skinner, Inc., The Folk Art Collection of Peter Brams, Sale 2056, February 25, 2001, lot 1242.
Illustrated in J. W. Fiske 1893 Copper Weathervanes, Bannerets, Lighting Rods, Stable Fixtures (Princeton, NJ: The Pyne Press, 1971), p. 50, no. 87.
For additional information on this figure and its unique iconography see Sotheby's, Important Americana, Sale 6866, June 20–21, 1996, lot 548; and E. McClung Fleming, " From Indian Princess to Greek Goddess, The American Image, 1783–1815," in Milo M. Naeve, ed., Winterthur Portfolio III (Winterthur, DE: Winterthur Museum, 1967), pp. 37–66.
William Woys Weaver, "The New Year's Cake Print, A Distinctively American Form," The Clarion (Fall 1989): 61.
For related Conger cake boards see Robert Bishop, American Folk Sculpture (New York: E. P. Dutton, 1974), p. 160; and William Woys Weaver, "The Cook's Fancies," in 1995 Philadelphia Antiques Show Catalogue, p. 32.
A first-hand account of these celebrations are recounted in Major A. Lacarriere Latour, Historical Memoir of The War in West Florida and Louisiana in 1814–15, with an Atlas (Philadelphia: John Conrad and Co., 1816), pp. 198–199.
Most calligraphic drawings depict deer, horses, eagles, and occasionally lions, see Frank J. Miele, "Calligraphic Drawings, The Art of Writing," in The Magazine Antiques (September 1988): 536–549.