At the beginning of the twentieth century, early American tavern and inn signs still dotted the New England countryside.1 As a boy growing up in Hartford, Connecticut, Morgan B. Brainard (1879–1957) became fascinated with the fading images of lions, eagles, prancing horses, and other designs found on these signs (Fig. 1). Years later, as president of Aetna Life Insurance Company, he set about saving these relics of a bygone time: "In collecting, one thing leads to another, and, through some rather ridiculous feeling that if no one preserved these useless objects they would soon be chopped up for firewood, I proceeded to acquire them when opportunity offered."2 As word of Brainard's interest spread, long-forgotten signs emerged from attics and barns (Fig. 2), overflowing not only the family farmhouse outside of Hartford, but also the summer cottage at the Connecticut shore and Aetna's executive offices.

After Brainard's death, his extensive sign collection was donated to The Connecticut Historical Society in Hartford. Today the CHS collection of early American tavern and inn signs numbers sixty-six examples, forming the nation's largest assemblage of this fascinating genre. Highlights of the collection are currently showcased in the national traveling exhibition Lions & Eagles & Bulls: Early American Tavern & Inn Signs from The Connecticut Historical Society.

The earliest example in the CHS collection is the 1749 sign for Edward Bull's inn, from Essex, Connecticut (Fig. 3). Bull's sign illustrates the typical form of mid- to late-eighteenth century American tavern signs, where a joined frame of molded rails and turned posts holds a vertical signboard with a decoratively shaped pediment and skirt. The imagery on eighteenth-century inn signs typically featured a single stylized device (such as a horse, bull, rising sun, crown, or similar traditional motif) placed in the center of a plain-colored background. This arrangement reflected the heraldic, medieval origins of inn sign decoration. The same image usually appeared on both sides of the sign, which hung at right angles to both the inn and the road. For text, eighteenth-century signs often displayed innkeepers' initials (either a man's double initials or the triple initials of husband and wife), a date (usually the year an innkeeper was first licensed), and sometimes the word entertainment, which meant simply the provision of food and lodging for travelers. The words tavern or inn rarely appeared on eighteenth-century signs.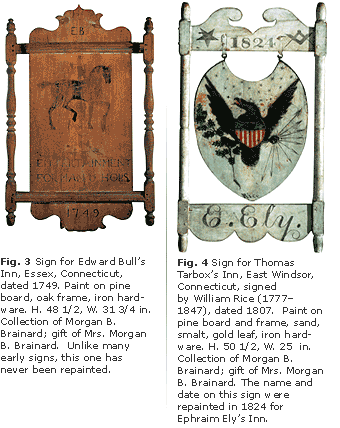 With the creation of the new American Republic came significant changes in the design and ornamentation of tavern and inn signs. By the 1770s, the rather complex baroque-inspired turnings and pediment shape on the Bull sign were generally replaced by simpler turnings and Chippendale-style swan's neck pediments. The 1790s saw the introduction of oval- and shield-shaped signboards, corresponding to the popularity of these neoclassical-inspired shapes in other decorative arts. After the adoption of the Great Seal of the United States in 1782, bald eagles based on this emblem proliferated on inn signs, becoming the single most common motif on early-nineteenth-century examples (Fig. 4).

During the second decade of the nineteenth century, a new and quite different format appeared, advertised by the prolific Hartford sign painter William Rice, in 1818, as "an entire new plan."3 The new format featured a horizontal rectangle with applied moldings instead of the earlier post-and-rail frames (Fig. 5). Typically larger than previous signboards, horizontal rectangles dominated inn sign production until the mid-nineteenth century. During the late 1820s and 1830s horizontal ovals provided an attractive alternative. The repertoire of figural motifs expanded rapidly, with sign painters regularly adapting imagery from coins, currency, popular prints, and other printed sources. Frequently seen motifs include allegorical figures, stagecoaches and other horse-drawn vehicles, dining scenes, drinking vessels and dinner plates, and Masonic emblems.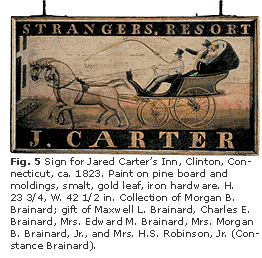 As the nineteenth century progressed, the relative importance of text and image gradually shifted. Lettering grew larger, more complex, and increasingly decorative. Pictorial elements were reduced to modest decorations or eliminated entirely (Fig. 6). After about 1850, the typical hotel or inn sign consisted of a simple band of text, usually gold against a black background, painted on one side only of a narrow, horizontal board mounted flush against a building wall. The colorful, two-sided tavern signs that had long adorned the roadsides became old-fashioned.

By the 1880s, the Colonial Revival movement was prompting renewed interest in early American tavern and inn signs. Antiques dealers and country inn owners led the way in resurrecting or reproducing old signs. By the 1920s, tavern and inn signs had become a staple category of both Americana and folk art collecting, their popularity recognized and documented in the Depression-era project, the National Index of Design.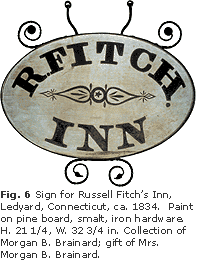 Today, signs remain highly popular collectibles. Examples predating 1850 are increasingly rare, however, with the majority of antique signs dating to at least the late nineteenth or early twentieth centuries. Given their histories of outdoor use, early signs can be expected to exhibit extensive weathering (often resembling low-relief carving), overpainting, or wood rot. Forgeries of early signs are not uncommon, often dating to the Colonial Revival era of the 1890s through the 1930s and presenting problems similar to those encountered in painted furniture and tin. Collectors and dealers alike recognize the rarity of masterpiece-quality early signs (particularly those with figural imagery), making valuation quite unpredictable.

More than any other genre, tavern and inn signs put early American art on public display. Today, Lions & Eagles & Bulls returns these fascinating objects to long overdue public attention through a book by the same name and an exhibition that will remain on view at CHS until June 3, 2001, traveling to four other venues through April 2004. For further information, contact The Connecticut Historical Society at 860-236-5621 or visit the Web site at www.chs.org.




Fig. 7 Sign for Caleb Grosvenor's Inn, Pomfret, Connecticut, ca. 1772–1786. Paint on pine board, unidentified hardwood posts, iron hardware. H. 47, W. 323/4 in. Gift of Benjamin Grosvenor, Mrs. John P. Grosvenor, Mrs. Florence G. Connell, and Miss Constance Grosvenor. This eighteenth-century sign was repainted by illustrator Augustus Hoppin in 1894 for the Ben-Grosvenor, a popular Colonial revival country inn in Pomfret.


Suggested Readings
Schoelwer, Susan P., ed. Lions & Eagles & Bulls: Early American Tavern & Inn Signs from the Connecticut Historical Society. Hartford, Connecticut, and Princeton, New Jersey: The Connecticut Historical Society in association with Princeton University Press, 2000.

Hornung, Clarence P. Treasury of American Design: A Pictorial Survey of Popular Folk Arts Based upon Watercolor Renderings in the Index of American Design, at the National Gallery of Art. 2 vols. in 1. New York: Abrams [1976].

Nolley, Scott W., and Carolyn J. Weekley, "The Nature of Edward Hicks's Painting," The Magazine Antiques 155, no. 2 (February 1999): 281-290.

Schoelwer, Susan P. "William Rice: At the Sign of the Lion," Folk Art Magazine 26, no 4 (Spring 2001): forthcoming.

Weekley, Carolyn J. "Ornamental Painter." In The Kingdoms of Edward Hicks. Williamsburg, Va., and New York: Abby Aldrich Rockefeller Folk Art Center in association with Abrams, 1999.

Zimmerman, Philip D. "Early Connecticut Tavern Signs in the Connecticut Historical Society," The Magazine Antiques 158, no. 6 (December 2000): 892-899.




Fig. 8 Sign for Vernon Stiles's Inn, Thompson, Connecticut, dated 1831. Paint on pine board and moldings, iron hardware. H. 44, W. 66 in. Repainted ca. 1902 for the Thompson Hotel.


About the exhibition
The Connecticut Historical Society, established in 1825, is located at 1 Elizabeth Street, Hartford, Connecticut 06105. The exhibition, "Lions & Eagles & Bulls: Early American Tavern & Inn Signs from The Connecticut Historical Society" will remain on view at CHS until April 30, 2001. Travel venues include: The Hood Museum of Art, Dartmouth College, Hanover, New Hampshire, June 30-September 16, 2001; the Long Island Museum of American Art, History and Carriages, Stony Brook, Long Island, New York, September 29, 2001-January 13, 2002; The Museum of Our National Heritage, Lexington, Massachusetts, April 13-October 14, 2002; and Colonial Williamsburg, November 2003-April 2004.

The catalogue accompanying the exhibition contains 263 pages of text, 82 color plates, and 95 half-tone illustrations. In addition to interpretive essays and catalog entries, each sign in the CHS collection is illustrated by a full-page plate, creating a visual timeline of early American tavern and inn signs. Available in both hardcover (Princeton University Press, @ $49.50) and softcover (The Connecticut Historical Society, @ $ 29.50).

The catalogue and exhibition were underwritten with grants from The Henry Luce Foundation, Inc.; Aetna, Inc. and Aetna Foundation; the Connecticut Humanities Council; the Kohn-Joselof Foundation; the National Endowment for the Arts; the Edward C. and Ann T. Roberts Foundation; James B. Lyon; Furthermore, the publication program of the J.M. Kaplan Fund; and the American Folk Art Society. Conservation of the signs was funded in part by The Getty Grant Program and the National Endowment for the Arts.

---
Susan P. Schoelwer is Director of Museum Collections at The Connecticut Historical Society, Hartford, and editor of Lions & Eagles & Bulls.
Images courtesy of The Connecticut Historical Society; with the
exception of Fig. 2, photography by Michael Agee.


This article is based on research, laboratory findings, and observations assembled in preparation of Lions & Eagles & Bulls: Early American Tavern & Inn Signs from The Connecticut Historical Society, edited by Susan P. Schoelwer (Hartford, Connecticut, and Princeton, New Jersey: The Connecticut Historical Society in association with Princeton University Press, 2000). Contributors to this project included Philip D. Zimmerman, Margaret C. Vincent, Kenneth L. Ames, Alexander M. Carlisle, Nancy Finlay, Catherine Gudis, Sandra L. Webber, Bryan J. Wolf, Kate Steinway, Richard C. Malley, and Aaron Wartner.

Morgan B. Brainard to Robert W. Carrick, associate editor of House & Garden Magazine, 7 May 1941, cited in Ellsworth S. Grant, "Morgan B. Brainard, 1879–1957, and The Brainard Tavern Sign Collection." In Lions & Eagles & Bulls, p. 179.

American Mercury (Hartford), 12 May 1818, reprinted in "Recent Museum Acquisitions," Connecticut Historical Society Bulletin 21, no. 4 (October 1956): 123.