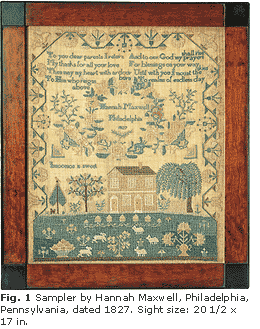 Many important American schoolgirl samplers were made in Philadelphia and its environs. This article provides details on some of the typical as well as the more unusual styles of samplers worked between 1785 and 1833 in Philadelphia and Southeastern Pennsylvania.

Hannah Maxwell, Philadelphia, 1827
This sampler worked by Hannah Maxwell in 1827 is a stellar example from Philadelphia (Fig. 1). It illustrates a body of work stemming from the English tradition that by 1827 was over a century old.

Representative of samplers worked in Philadelphia during the 1820s, Hannah's sampler is remarkably similar to another example wrought a year earlier by Sarah Elwell. Instructed by a yet unidentified teacher, both samplers feature the same decorative elements, including a three-quarter view of a house, strawberries, sheep, and an unusual pair of baskets set on the diagonal. Each girl also signed her name within a wreath of flowers, and the aphorism "Innocence is sweet" appears in the same location on both of these pieces.1



Victorine Delacroix, Mrs. Mundall's Seminary, Philadelphia, 1833
More unusual than the preceding example, Victorine's sampler is one of only three known from Mrs. Deborah Hicks Mundall's Seminary in Philadelphia (Fig. 2).2 Inscribed on to each of these samplers is the address of the school, which, according to the city directories, was in operation from 1828 through 1842. With upwards of a dozen similar schools, competition for students may have been the reason behind the inclusion of the address.3

Victorine's sampler is quite large, consistent with the other pieces from this seminary. Densely designed and worked in a variety of challenging stitches, the lower half of the sampler displays trees on hillocks, baskets of fruit, parrots, dogs, and a two-handled urn. The cartouche, which appears on the other samplers from the school, surrounds the name of the maker and date.

Sarah Lewis, Chester County, 1785
Established in 1682, Chester County was one of the original counties under the charter of William Penn. The region has long been revered for the furniture and decorative arts produced there during the eighteenth and early nineteenth centuries, among which are some of the finest Pennsylvania samplers worked between approximately 1780 and 1830.

Sarah Lewis's sampler, worked in 1785, is a most ambitious piece (Fig. 3).4 Rather than depict the willow trees, pairs of baskets full of apples, and pots of flowers typically found on samplers from this area, the pictorial format is quite unusual: Several birds and animals worked in rich detail perch on floral sprigs that float gracefully above a spectacular latticework basket, while two miniature unicorns and lions, motifs almost unheard-of in American sampler design, were worked into the field.

Making liberal use of the elongated archaic letter s, the sampler features two different classic sampler verses that proclaim the worth of education: "Look Well To That Thou Takest in Hand / For That Is Better Worth Then House or Land / When Land is Gone and Money Spent / Then Learning is Most Excellent" and "Learning is an Ornament / Virtue is more Excellent / She's Better Than The Silver Fine / And richer Than The Golden Mine." Typical of its era, Lewis's sampler also included a verse on the reality of death: "This work in hand / My friends shall have / When I am Dead / And laid in the grave."


Chester County is one of the few areas where elaborate frames were made to house needlework. The original mahogany frame of Sarah's sampler resembles that which would be found on Queen Anne period looking glass frames.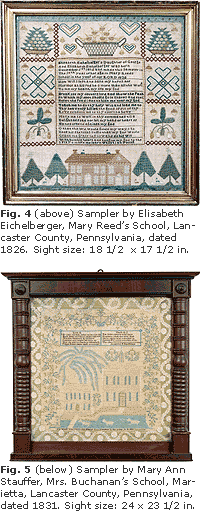 Elisabeth Eichelberger, Mary Reed's School, Lancaster County, 1826
One of a unified group of samplers made in several schools throughout the Susquehanna Valley, this example was worked under the tutelage of Mary Reed of Lancaster (Fig. 4).5 As with many samplers of its time, pertinent details are stitched into the linen by the needleworker as follows: "Elisabeth Eichelberger…was born December 1st 1816 and made this Sampler in the 10th year of her age in Mary Reed's School in the year of our LORD 1826."

The samplers from the Susquehanna Valley schools required exceptional skill as illustrated by the variety of difficult stitches. Many of these samplers share the specific compartmented format and designs, particularly in the inclusion of the house and evergreens with small birds found along the bottom. Other known examples from Mary Reed's school are in the collections of the Philadelphia Museum of Art and Winterthur Museum.6

Mary Ann Stauffer, Mrs. Buchanan's School, Marietta, Lancaster County, 1831
Mary Ann Stauffer's sampler was worked at another of the Susquehanna Valley schools, that of Mrs. Catharine Welshan Buchanan, who by 1825 was teaching in Marietta, Lancaster County (Fig. 5). Both this sampler and another made by Stauffer in 18307 at the same school share many significant characteristics: highly developed gathered-silk ribbon arrangements; signature willow tree; three-sided borders worked with the queen's stitch and joined by a bow knot; large house with spire; lawn with grazing sheep; and, of particular note, the use of both English and German text. It is quite uncommon, even from the Pennsylvania German communities of Lancaster County, to find German language used for verse inscriptions on samplers. This sampler also retains its original mahogany frame.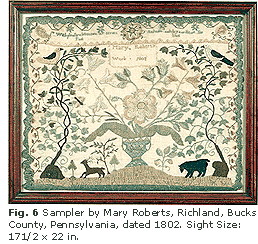 Mary Roberts, Richland, Bucks County, 1802
This is a rare sampler with an appealing sense of vitality and animation. Made in 1802 by 17-year-old Mary Roberts, it is a testament to her aptitude in the needle arts, a possible explanation for which was her age, beyond that of most samplermakers of the time (Fig. 6).8

The extravagantly pictorial nature of this sampler is striking. The trees, winding their way up either side and sprouting French-knotted berries, seem barely able to support the oversize birds perched on their upper limbs. The vase of flowers fills the center of the sampler, while a highly unusual scene of a bear lumbering after a prancing deer occupies the lower portion; it is the sense of whimsy that renders this piece most unusual.

---
Amy Finkel, President of M. Finkel & Daughter, has devoted almost twenty years to the study and purchase of antique American schoolgirl samplers and the genealogical research of their makers. The firm's printed catalogue, published twice yearly for nine years, and its Web site, www.samplings.com, are evidence of this interest.

All images courtesy of M. Finkel & Daughter.


Sarah Elwell's sampler is illustrated in Mary Jaene Edmonds's Samplers and Samplermakers: An American Schoolgirl Art 1700–1850 (Rizzoli, 1991), fig. 57.

Victorine Delacroix was one of five children born to Charles J. Delacroix, a professor of languages, and his wife, Mary, of Filbert Street in Philadelphia.

Mrs. Mundall's Seminary is mentioned in Betty Ring, Girlhood Embroidery, 1650–1850, vol. II (Knopf, 1993), p. 369, no. 16, and in Ethel Stanwood Bolton and Eva Johnston Coe, American Samplers (Mass. Society of the Colonial Dames of America, 1921), p. 386.

Sarah Lewis was born in 1770, one of the seven children of Thomas and Catharine Lewis of Upper Darby Township. She married John Cochran, and they raised at least four children in that area; she died in 1851.

Samplers worked at the schools of Leah Gallagher Maguire, Rachel Armstrong, Mary Walker, Catharine Buchanan, and Mary Reed in the Susquehanna Valley are described by Betty Ring in Girlhood Embroidery, vol. II, page 410, as "a wonderfully appealing and cohesive group of samplers…produced in Lancaster, York, and Dauphin counties between 1797 and 1838."
A sampler by Sophia Shindel in the collection of the Philadelphia Museum of Art (published in Girlhood Embroidery, vol. II, figure 462) is quite similar to the Eichelberger piece.
The 1830 sampler was in the Kapnek collection and is now in the Metropolitan Museum of Art. See A Gallery of American Samplers: The Theodore H. Kapnek Collection (E.P. Dutton, 1978), fig. 104.

Mary Roberts was born to an illustrious Quaker family from upper Bucks County. Thomas and Alice Roberts arrived in Philadelphia circa 1715 and settled 35 miles north of the city. Their third son, Richard Roberts, married Elizabeth Tyson, a young lady from a Philadelphia Quaker family, and their first child, Mary Roberts (born April 21, 1785), was the maker of this sampler. In 1804 she married William Green, a shoemaker and shopkeeper in nearby Quakertown.