Clark Lufgren, Lunarra bowl, sterling silver. In the 2001 exhibition. Courtesy of Providence Art Club.


Rookwood pottery, Gorham silver, and a Sidney Burleigh carved chest starred in an influential Arts and Crafts exhibition at the Providence Art Club a century ago. This fall, segments of the 1901 exhibition are re-created and on display with a major juried show of contemporary works by 100 artists at the historic Providence Art Club.

By the late nineteenth century, Providence was one of the largest industrial powerhouses in the country. The city was ripe for the artistic and social revolution of the Arts and Crafts movement, which called for quality-of-life improvements and the need to preserve individual craftsmanship at a time of increased mechanization.


Tiffany glass at the 1901 exhibition. Courtesy of Museum of Art, Rhode Island School of Design, Museum Archives.


In the highly acclaimed 1901 exhibition, over 600 objects were on display. A sampling of the leading artists and products of the day included imaginative Maxfield Parrish designs, quirky George Orr pottery, and the finest book decoration, printing, and binding in America. As Susan Otis Thompson noted in the 1987 Museum of Fine Arts, Boston, exhibition catalogue The Art that is Life, "Not since the Renaissance had the making of books assumed such importance as it did in the Arts and Crafts movement."

In the present exhibition, last century's graceful Tiffany favrile glass vases easily relate to contemporary Dale Chihuly's expressive glass chandeliers. This exhibition proves that artists/ craftsmen associated with Providence today still have a major impact on crafts worldwide. In addition, the continuing thread of fine design and craftsmanship that has developed over a century is commemorated with Celebrating Contemporary Crafts 2001: Centennial Arts & Crafts Exhibition, on view September 30 to October 26 at the Providence
Art Club, Providence, RI. Tel. 401.331.1114.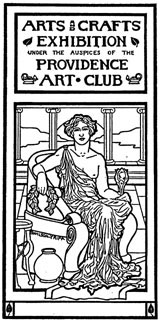 Free public lecture series are being held on consecutive Sundays at 2:00 p.m., Benefit Street Armory, one block from the Providence Art Club (for information, call 401.331.1114):

October 7~John Behringer, Vice President of Dansk International Designs, will discuss the role of contemporary craft in industry;
October 14~Gallery owner Catherine Bert will present Arts & Crafts Exhibition 1901 with a look at the impact of the exhibition on the local community and its relationship to the national Arts and Crafts movement;
October 21~William P. Daley, one of the leading ceramicists of his generation, will discuss contemporary ceramics.


Timothy Philbrick (b. 1952), small club chair, Rhode Island cherry and Italian calfskin. In the 2001
exhibition. Courtesy of Providence Art Club.


Homage to the Book, Thursday Lecture Series at 5:30 p.m., Providence Public Library (401.487.1777):
October 4~A panel discussion with three scholars who use rare books for humanities research will be moderated by Robert Whitcomb, an editor at the Providence Journal;
October 11~Brett Rutherford will introduce the important Arts and Crafts publisher Roycroft Press;
October 28~Philip Weimerkirsch presents Daniel Berkley Updike and England—Some Little-Known Connections.