Early 19th-century New England step-back apothecary cupboard. Courtesy of Elliott & Grace Snyder.


A fair field full of folk found I there.
— William Langland (ca. 1330–ca.1400)

For lovers of American antiques, Philadelphia is a springtime mecca. The City of Brotherly Love welcomed nearly 175 art and antiques dealers exhibiting at three shows that attracted upwards of 8,000 visitors throughout the week of April 6 to 11. The coexisting shows furnished visitors of every collecting taste and price range with an opportunity to buy—and sales were lively.

Living up to its tradition of excellence, the 40th Annual Philadelphia Antiques Show, held at the 33rd Street Armory, provided the chance to view (and purchase) the best of the best in American antiques, with a preponderance of great folk art pieces. Comprised of fifty-six prominent dealers, this diverse show revealed many gems among the varied offerings of American and English furniture and accessories, Asian art, oriental carpets, Native American art, jewelry, and fine art.


| | |
| --- | --- |
| | |
| | A suite of three George III tea caddies by William Grundy, London, 1768. Courtesy of Argentum–The Leopard's Head |
On opening night, collectors were quick to buy some fabulous examples of American vernacular and formal furniture. Elliott and Grace Snyder experienced swift sales including a Chippendale chest of drawers with a chocolate brown surface over a salmon color. The pinnacle of their booth, a remarkably preserved early-nineteenth-century New England apothecary cupboard, was described by Elliott Snyder as "extraordinary because it is both a real stepback cupboard and an apothecary" in its original red paint, shown left.

Adirondack Rustic Tall-Case Clock. Case, New York State (Adirondacks), ca. 1890–1900; works, ca. 1820, by Silas Hoadley (1786–1870), Plymouth, Connecticut. Courtesy of Hirschl & Adler Galleries, Inc.


First-time exhibitor Argentum–The Leopard's Head brought a fine selection of American and English silver that garnered interest from collectors and museums alike. English tankards were purchased as "decorative accessories," and two pieces by Philadelphia makers, a rare teapot made by the African-American silversmith Peter Bentzon and an unusual askos (wine) jug, delighted buyers on opening night.

"The Philadelphia Antiques Show is our showcase for which we accumulate things," remarked Americana dealer Allan Katz. Accordingly, Katz offered several exceptional items including a truly extraordinary and uniquely carved table with mermaid and horse ornaments and applied decoration, purportedly made for the Centennial Exposition of 1876 (Pennsylvania, circa 1876, priced at $95,000).
| | |
| --- | --- |
| | |
| | George Cope (American, 1855–1929), Hunter's Paraphernalia, 1887, oil on canvas, 45 1/2 x 32 1/2 in. Courtesy of Schwarz Philadelphia, exhibited at the Philadelphia Antiques Show. |
Collectors were eager to buy a monumental stoneware pitcher (see the Discoveries section in this issue) and a very rare Howard trotting horse weathervane, pictured opposite.

It's a good thing David Wheatcroft brought extra inventory for his booth, since folk art—including a Bellamy carved eagle—just about flew off his walls on opening night. Selling briskly were many small carvings and a plethora of wall art—frakturs, cutwork, paintings, and watercolors. Similarly, several weathervanes trotted out of Walters-Benisek, and Adirondack furniture, such as a rustic tall-case clock that listed for $45,000, sold well at Hirschl & Adler, shown left.

Active folk art sales carried over to the two other shows going on simultaneously in the city over the weekend. Philadelphia's Navy Pier Antiques Show, now in its fourth year, was held alongside some impressive warships at the Naval Business Center. Show organizer Frank Gaglio of Barn Star Productions related being "very pleased with the growing attendance" at the show and the evidence of strong sales of folk art.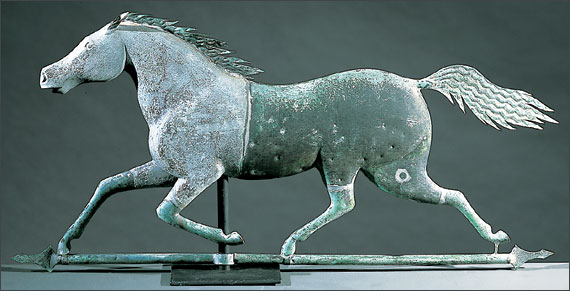 Howard Trotting Horse Weathervane. Courtesy of Allan Katz Americana.


Dealer John Sideli reported excellent sales of hooked rugs, Windsor chairs, and small carvings such as a colorful painted bird grouping, circa 1880, priced at $4,800. Early brass
candlesticks and a superb collection of mochaware, priced between $650–$9,500, in Mrs. Jerome Blum's booth were of particular interest to collectors, who bought several pieces. Another one of the sixty-eight dealers at the Navy Pier, Raccoon Creek, sold a lovely mocha bowl as well as an early-nineteenth-century New York jelly cupboard, smalls, and miniature decoys.

Detail of Dennis Malone Carter's (American, 1827–1881) The Sports of Sweet Auburn, dated 1855. Oil on canvas, 22 x 30 in. Courtesy of Julia & Matthew Lunn, Inc.,exhibited at the Navy Pier Antiques Show.


Eighteenth-century English pottery proved popular at Malcolm booth, who exhibited at the Center City Antiques Show, held this year at the 23rd Street Armory. A wide selection of American and English furniture, silver, and folk art was offered by the fifty assembled dealers, and while some exhibitors felt sales were a bit off this year, blanket chests seemed to sell particularly well.

Preshow jitters of an economic slump were somewhat settled by buoyant sales of folk art and top-tier items across the board, as in April remains the place for to fulfill the wise adage "buy the best you can." —JCE