Innishail, a Gaelic term meaning "Haven of Rest," is one of the grand summer cottages built in the 1890s that dot the New England coast. The gray shingles, weathered by the sea air, evoke the architectural character of the island.


A favorite retreat for weekend getaways, the small island of Nantucket is a haven for those who enjoy pristine beaches, sailing, and boutique shopping. Historically known for its whaling industry and literary fame in Herman Melville's Moby Dick, today islanders and visitors alike revel in Nantucket's quaint charm as they walk its cobblestone streets lined with historic homes. The relaxed pace and picturesque quality of this island, located off the coast of Cape Cod, Massachusetts, bring Bob Matthews, chairman of Matthews Ventures, a diversified holding company, his wife, actress Mia Matthews, and their two children, Miranda and Bianca, to this island retreat in the warm summer months.


View from the widow's walk: The American flag, the Matthews crest, and the flag of the U.S. Senators' Race blow in the breeze; the Congregational Church is visible in the distance. An avid sailor, Bob participates
in several yachting events each year, captaining the 1962 America's Cup champion boat, the Weatherly.


The lure of Nantucket first attracted Bob twenty years ago, prompting him to purchase a house in Madaket, which, as he says, "has since washed out to sea." Bob continued to spend several summers living both on the island and on his yacht, Grand Finale, moored off the coast. When he learned that the 1890s Colonial Revival shingle-style house known as "Innishail" was available, he quickly placed an offer. Purchased in 1993, the house was in need of renovations. Bob, who was single at the time, thought he would just strip the wallpaper and make some minor repairs—four years later, after extensive research and restoration of original features, the house was completed. In 1997 Bob and Mia were married at the residence, which they feel, as did the original owner, Mrs. Harriet Nevins, is their "Haven of Rest," the Gaelic translation of Innishail. "It's our favorite house, our little getaway," says the couple, who hope the home will remain in the Matthews family for generations to come.


"When I first saw these baskets I had a feeling they were the best," says Bob of this rare nineteenth-century set of eight Nantucket lightship-nesting baskets. "Wayne bought these right out of a house where they had been for decades," he says of dealer Wayne Pratt. "They were covered with a thick layer of dust. What a great discovery—this is what collecting is all about!" Also pictured is a chest-on-chest-on-frame attributed to the Dunlap family of N.H. cabinetmakers, and a Massachusetts Federal inlaid candle stand. [inset] Stamp of maker, R. Folger, a member of one of Nantucket's founding families.


The Matthews are committed to preserving the integrity of the house while creating inviting living spaces. Local Nantucket and Cape Cod antiques are blended with comfortable seating furniture and soft colors that reflect a relaxed island atmosphere. Working with decorators to create a personalized interior space, Mia notes, "we tryto create a home that can have museum-quality antiques, without making our family and friends feel like they are in a museum."


A collector for nearly twenty years, Bob has always thoroughly immersed himself in his passions; while newer to the collecting world, Mia shares her husband's enthusiasm. Their tastes run the gamut, but with a preference for high-style country pieces. Following
a philosophy to have fun with antiques, Bob and Mia see much of what they do as a treasure hunt—looking for just the right pieces for their collection and historic house. They accomplish this goal by focusing on antiques that relate to the island and surrounding region. The couple works with Nantucket and Woodbury, Connecticut, dealers Wayne Pratt and Marybeth Keene regarding their collecting needs and direction. Bob occasionally even joins Pratt on house calls to buy antiques—it is this personal one-on-one involvement that the couple enjoys most.


(Right) Bianca Matthews playing in front of a Massachusetts Federal inlaid maple card table. The small whalebone-inlaid mahogany sailor box with rope handles was found on Nantucket, as were the Nantucket lightship baskets. A circa 1950 Ralph Cahoon (1910– 1982) painting, Susan's Tooth, pays tribute to the famous scrimshaw teeth carved aboard the ship Susan.


A prime example of the Matthews's collecting focus is a Federal inlaid lady's secretary (below) that once belonged to Maria Mitchell, a Nantucketer and America's first female astronomer. Nantucket lightship baskets, arguably the most recognizable product of the island, are found throughout the house. Sailors first made these baskets in the 1850s to pass time aboard the lightships, anchored offshore to warn against the dangerous shoals. Of various sizes and shapes, some of the baskets are signed by recognized makers, while others are enjoyed for their unusual form or wonderful patina.

Despite his young age, this 40-something collector is a major player in the realm of antiques and has more recently become an avid collector of the work of Cape Cod artist Ralph Cahoon (1910–1982). "I started collecting his work in the early 1990s," says Bob, "and in part drove up the market, which is still very strong." Recognized for their whimsical depictions of mermaids and sailors, the paintings are crisply delineated in a clear, jewel-like spectrum of color. "I love them because they are upbeat; their appeal is their lightheartedness," says Bob. Mia adds, "we continue to collect Cahoons because we want to own things that will appeal to our children as well. The paintings add a playfulness to the house while stimulating the girls' imaginations." The couple's enthusiasm for the artist extends to his painted furniture, several examples of which they also own.


The living room captures the essence of Bob and Mia's decorating style—blending casual furnishings with antiques. The restoration of this room is nearly complete. Using period photographs of the house as a reference, the Matthews plan to reinstall the stained glass that once filled the Palladian-style window above the stairs. [inset] Mia, Miranda, and Bianca.
There are some spaces in the house that are decorated with particular people in mind—for instance, theme rooms for the children and the library for Bob. "This is my favorite room," he says. "This is where I read the paper, relax." Outfitted in warm, masculine colors, there is a custom-made chair for Bob and early-twentieth-century Hermes-leather covered lolling chairs and a sofa for his family and friends. There is even a hidden bar inspired by revolving bookshelves seen during a visit to Versailles. The connection with France, where Bob was born, is furthered in that the artist who faux-painted the room flew over from Provence to do the work as a favor. Artwork in the room includes two paintings by Thomas Chambers (1808– 1886), one of which Bob identified through research after its purchase, and a circa 1850 miniature painting on ivory of George Russell as a child by Mrs. Moses B. Russell (1809–1854), a noted Boston miniaturist.


(Left) A group of Nantucket furniture includes the Federal desk owned by Nantucketer Maria Mitchell, America's first female astronomer, along with a photograph of Miss Mitchell; a Windsor armchair of Nantucket provenance; a tilt-top candle stand, 1775–1810, identical to a table illustrated in "Nantucket Furniture," The Magazine Antiques (May 1988), p. 1168; and Ralph Cahoon's (1910–1982) Marriage, circa 1950.


As collectors, Bob and Mia have consistently purchased the best pieces they could find to fit their collecting focus. They have worked to create a collection that is sophisticated in its scope while retaining the casual spirit of Nantucket. By blending antiques with casual furnishings, the couple has created a flexible environment where their daughters can play, where Bob and Mia can either enjoy the company of their family and close friends, or where they can host charitable events. For many years the Matthews have been corporate underwriters for the annual August antiques show, which benefits the Nantucket Historical Association; this year the couple is hosting the underwriter's luncheon. As supporters of the show, the couple hopes to help spark the interest of other young collectors. Meanwhile, Bob and Mia will continue their search for great antiques, all the while enjoying the sea breezes of Nantucket.

"This room is all about Bob," says Mia, describing the comfortable setting where her husband goes to relax. A circa 1840 Lancaster County blanket chest, one of the few non-Nantucket objects in the house, is in the foreground.
(Left) While paintings by Cape Cod artist Ralph Cahoon (1910–1982) fill the house, the couple also owns works by other artists such as Charles Webster Hawthorne (1872–1930), founder of the influential Provincetown Art School, represented here by Morning Chocolate, a scene that exudes the relaxed atmosphere of island living.


(Right) Bob and Mia generously share their home with family and friends, often congregating around the nineteenth-century English walnut dining room table and enjoying meals in Federal-style shield-back chairs. A Federal giltwood mirror with Nantucket provenance hangs above a Massachusetts reverse-serpentine blocked-end chest of drawers. Erastus Salisbury Field's Embarkation of Ulysses (1842–1850), is mounted over the mantel. "When I first saw the painting it was filthy. As the dirt was removed I was full of expectation, like a kid who wants to find buried treasure—to me that sort of thing is very exciting."


(Left) Featured in the upstairs hallway is an important, untouched full-length portrait of Alice Algers of Bridgewater, MA, attributed to folk artist Asahel Powers (1813–1843), ca. 1836. Inscribed on the front, "AET 66 years."
The couple's bedroom, with a view of the ocean, is casually furnished with a Federal mirror and a chest of drawers from Portsmouth, N.H.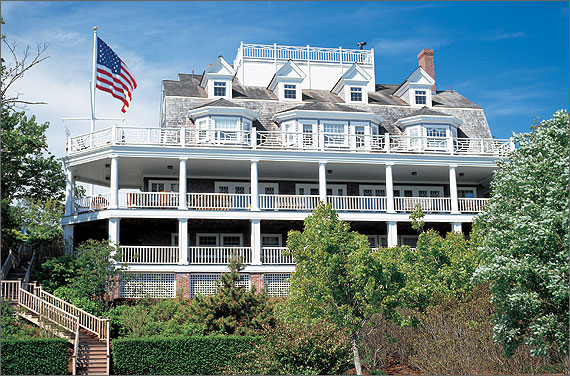 Three porches provide an ideal setting for many of the charitable events for which the Matthews open their home, such as the American Ireland Fund gala, which in 1999 hosted President and Mrs. Clinton as guests of honor.