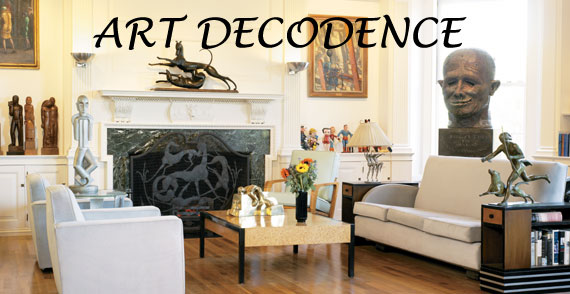 BOSTONIAN JOHN AXELROD'S HOME IS CHOCK-FULL OF 1920S TO 1940S AMERICAN PAINTINGS AND ART DECO FURNITURE AND OBJECTS D'ART...AND HE WANTS MORE
photography by Ellen McDERMOTT
---
There is not a collection to compare with John Axelrod's. In a few words, it is the best of its type. What is more, John is a well-read student of his material. He researches what he collects—he knows a great deal about the modern era and the artists whose work he owns. Is John a compulsive collector? Well, yes, in the best sense of the word, for he has a passion to own and to know.
—Jonathan L. Fairbanks, curator emeritus, Museum of Fine Arts, Boston1

---
A mixture of playful arrangements and serious works of art creates a dynamic atmosphere in the living room. On the right, Paul Manship's 1926 Indian Hunter and Dog resides near a monumental 1991 Robert Arneson sculpture of a man's head titled Crazy Nuke on a base inscribed with verses to the Hiroshima and Chernobyl disasters. A shelf displays ca. 1930-1945 pop culture dolls by the Ideal Toy Company. A ca. 1930 G. Thew "Rockettes" lamp rests on one of a pair of end tables made by Paul Frankl, ca. 1930–1932. On the left is a 1938 silver-painted plaster sculpture by Cesare Stea, Man Reading a Book, a WPA commission. The 1920s firescreen and the ca. 1925 Playing Greyhounds sculpture on the mantel are by Wilhelm Hunt Diderich. Men of Steel, 1933, an oil painting by Samuel L. Margolies, hangs on the right.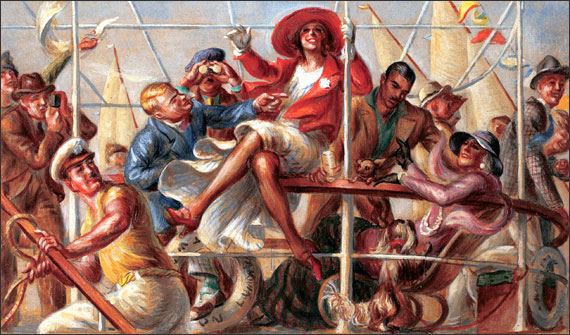 Regatta, 1935, by Paul Cadmus, hangs in the bedroom.


The era often referred to as "The Machine Age" following the First World War was marked by technological advance and urban development. Designers and manufacturers collaborated on the emergence of industrial design, but craftspeople also thrived in the postwar boom and ensuing economic depression. Between about 1925 and 1940, an amalgamation of sources—such as skyscrapers and speakeasies, a flourishing jazz scene, mass production, cubism, and machine aesthetics—contributed to the style now known as American art deco. Artists and designers employed bold colors and materials such as chrome in streamlined, aerodynamic applications rooted in geometric shapes and angles. This modern style is the focus of John Axelrod's collection of sculpture, ceramics, furniture, silver, glass, and paintings, arranged throughout his circa 1893 residence in Boston's Back Bay.


Alexander Archipenko's Silhouette, 1910, and Danseuse, or Negro Dancer, 1911, inhabit a mantel with a bakelite "Artist's Figure" by George Stanley, creator of the Oscar® award.


Every field of view yields a deco delight—from a 1930s "Rockettes" lamp in the living room to an enormous Paul Frankl mirror (that once belonged to Andy Warhol) in the bedroom. Mid-twentieth-century sculpture, Latin American art, and paintings by African-American artists are other categories strongly represented and artfully integrated into the interiors. There are surprises at every turn. One surface holds colorful ceramic stick figures by Richard Shaw, works described by Axelrod as "1980s California funk." A magnificent late-nineteenth-century Wooten's Patent desk, surrounded by art reference books, dominates his study.

Collecting art throughout his entire adult life has resulted in the culmination of hundreds of works that are either in storage, crowded in his apartment, or on loan to exhibitions. "I'm like a lending library to museums," says the 55-year-old Axelrod. On this particular day, the animated collector races about. He displays some of his art deco silver on the dining room table for a potential buyer to view, but thoughtfully excludes several favorite hand-forged pieces by Peter Müller-Munk and others. To the excitement of his two terriers, Axelrod's voice booms as he points out pieces in the collection. He then rushes to his desk for a phone call from Argentina; she's finessing a deal with the caller to sell his Latin American art collection, including 1930s social realist works and a unique collection of paintings by El Grupo Orion, one of the earliest surrealist artist groups in Latin America.


The hallway features a magnificent skyscraper cabinet by Paul Frankl, ca. 1928, and a Walker Hancock sculpture, Amateur Boxer, 1931. On the far wall, an early abstract expressionist work titled Every Atom Glows, 1951, by African-American artist Norman Lewis, hangs above a ca. 1930 console table by Walter Kantac.


"Every collector has an epiphany where he loads up the banana boxes for Brimfield," Axelrod says to explain his current cutting back. But don't race to the famed antiques hunting ground expecting to find his museum-quality collection—leading dealers, collectors, and museums will be the likely beneficiaries of a very selective dispersal, both as sales and as major gifts. The Museum of Fine Arts, Boston has already become the lucky recipient of his twentieth-century European glass and sculpture.

A sometime lawyer and businessman, with lucrative ventures in Sheraton hotels and fashion design to help fund his passion, much of Axelrod's time is now spent in the business of downsizing his massive collection. He aims to pare down his fine accumulations to a succinct group of North American works, representing the years between 1920 and 1946. He also plans to purchase aggressively but carefully in this area to augment what he already has. His ultimate goal is nothing less than to own the best private collection of American art deco furnishings and objets d'art and paintings of the period. Axelrod's collection may already approach this platform of significance. Dealer Greg Nanamura of Skyscraper in New York City emphasizes, "It's a broad, expansive market, and there are so few collectors on his level."


Martin Lewis's Leopard Skins, ca. 1928, hangs in the living room.


Just about every decorative element in the home dates from the between-the-wars era—from the lighting (silver luster Kurt Verson sconces) to the flower vases (deep purple George Sakier glass). But even with a serious collection, his home is not overly serious. Playful clusters of mid-twentieth-century toys, including Betty Boop and Superman, keep spaces alive with humor. A Buster Brown rug grounds a corner of the living room near a comic devil figurine, the 1930s icon for Hotpoint appliances. "It's interesting to think of a board of middle-aged executives dreaming up adorable devils and marshmallow men to brand their products," muses dealer Dennis Boses of Off the Wall Antiques in Los Angeles. "People in advertising today take themselves much too seriously." Boses, who specializes in twentieth-century design and "weird, humorous stuff," sold Axelrod the devil, among other figures.

Many objects and works of art in the collection speak of identity. Some pieces reflect an emerging American superpower and its culture; the ascendancy of American urban development can be seen in the strong vertical lines and staggered setbacks of a monumental Paul Frankl cabinet, anchoring the apartment's long hallway. Frankl's architectural look paved the way for streamlining, the minimal style of the 1930s. The cabinet, evocative of a Manhattan skyline, ties in with other urban-themed works including prints and paintings of New York scenes by Martin Lewis, Reginald Marsh, and Samuel L. Margolies.


On a 1930s Gilbert Rohde chest is a sculpture, Skyhook, 1940, by Max Kalish. The 1947 painting titled Environment is by African-American artist Eldzier Cortor.

Boris Lovet-Lorski's graceful Undine, 1922, balances Paul Manship's Baboon, 1932, which was also created on a large scale to flank the Bronx Zoo gates.

Most of the paintings in Axelrod's collection are figurative: elegant women shopping in leopard-skin coats, people in markets, alluring 1940s beauties, a raucous regatta party of muscular sailors and comely ladies. Hung salon-style in the bedroom are about two dozen noteworthy American works including: Window, ca. 1977, Market, 1949, and Dance, 1946, all by George Tooker; Shower, 1943, Regatta, 1935, and YMCA Locker Room, 1933, by Paul Cadmus; Windy Day, 1941, by Marsh; Murder, 1942, and Division, 1964, by Jared French; and Women's Locker Room, Coney Island, 1926, by Guy Pene du Bois. These major examples are a far cry from Axelrod's first art purchase, a modest Gloucester seascape. (It is not hung, but he says he keeps it around to remember his early collecting days).

While a student at Harvard Law School in 1969, Axelrod first became intrigued with art deco design when he spotted an exquisite Gene Theobold tea set for $45 (now worth a sight more). A dining room table by art deco master Gilbert Rohde and a tall lamp from Radio City Music Hall followed. But not before some serious study of the period—he read everything he could find on the subject. Today, he is quick to credit a number of mentors in the field including curators, other collectors, auctioneers, and dealers who have helped form his collection. For a long time, museums focused on acquiring and exhibiting American works that dated prior to Homer and post-Pollack, largely ignoring the middle part of the twentieth century. "Having an ego, I thought museums didn't understand my collection," Axelrod says with a smile, "and collectors like to have their eyes validated by museums." Thankfully, the tide has turned. These days Axelrod generously shares his knowledge and his collection with museums and others in the field. In the fall of 2003, Axelrod, who is an Overseer of the Museum of Fine Arts, Boston2, will underwrite a series of lectures at the museum on works by African-American artists, an area that he plans to continue acquiring in, along the lines of the best of the between-the-wars years. The Worcester Art Museum in Massachusetts is borrowing fifteen of his paintings for an exhibition on the Harlem Renaissance in 2003. Beginning next March, many works from the John P. Axelrod collection will be on view in the major exhibition Art Deco at London's Victoria & Albert Museum.3

Suggested Reading:

At Home in Manhattan. Yale University Press, exhibition catalogue, 1983.

Duncan, Alastair. American Art Deco. New York: Harry N. Abrams, 1986.

Hillier, Bevis. Art Deco. New York: Schocken Books, 1985.

Wilson, Richard Guy. The Machine Age in America, 1918–1941. New York and London: Harry N. Abrams, 2001.


---
1 Fairbanks is also editor-at-large of The Catalogue of Antiques & Fine Art.
2 Selections from the John P. Axelrod collection were part of a special installation at the Museum of Fine Arts, Boston from February to July 2002.
3 The exhibition will travel to the Royal Ontario Museum in Toronto, the California Palace of the Legion of Honor in San Francisco, and the Museum of Fine Arts, Boston.