Photography by Erik Kvalsvik


George Inness (1825–1894), Study for Heron Brook, 1854.

At Judi and Terry Vose's eighteenth-century Duxbury residence, guests might find it convenient to hang their hats on a ship's cleat. Over 200-year-old beams retain these charming reminders of the home's original purpose as a ship's shed or sail loft belonging to the legendary Captain Ezra Weston (1743–1822), known locally as "King Caesar" for his dominance in the international sea trade and shipbuilding. The circa 1770 structure was moved one third of a mile from the shore, attached to a circa 1880 barn, and then converted to living quarters around 1950.

When the newlywed couple went searching for a home in this southeastern Massachusetts coastal town a year ago, Terry was already familiar with the property, having played there as a boy with his twin brother, Bill. During their childhood, the barn was empty and provided a huge play space near the family's Powder Point home overlooking Duxbury Bay. Since the town's incorporation in 1637, Duxbury has been home to eleven generations of their maternal Peterson kin. Living in an important port and shipbuilding center, the family was naturally marine-oriented and included a few sea captains. A circa 1840 watercolor of a Peterson-commanded brig, the Lion, hangs in the entryway of this former ship's shed.


The Voses' home is a circa 1770 converted ship's shed attached to a circa 1880 barn. Local historians think the ship's shed may have been also used as Captain Weston's office, and then as a carriage house after it was moved. It stands on land once owned by Terry's mother's family, the Petersons, who included Duxbury sea captains in the nineteenth century.


Besides a seafaring heritage, Terry and Bill share a 160-year-old family art-dealing tradition. They are the fifth generation to operate Vose Galleries of Boston, the oldest family-run gallery in the nation, established in 1841.

As one might suspect, the art dealer's seaside residence includes a collection of paintings, mostly mid-nineteenth- to early-twentieth-century American works. And if the painting doesn't have a family provenance, there is usually a good story behind its presence in the house. For example, a Reynolds Beal (1867–1951) of Provincetown was discovered for $25 at a yard sale. The pastoral scene Heron Brook, 1854, by George Inness (1825–1894), considered the "father of American landscape painting," had the unfortunate fate of sitting in Vose Galleries' back room stock for twenty years because the late Leroy Ireland, an Inness expert, had deemed it "not right." But Terry had a good feeling about the picture, which is signed GI '54, and decided to take it "to the cleaners." The conservator who cleaned it then had a surprising revelation: He owned a similar painting, which turned out to be a study for Terry's picture. Each work was then determined to be by the artist's hand. Both paintings now hang in the Duxbury home and will be included in art historian Michael Quick's forthcoming Inness catalogue raisonné.

Judi and Robert C. Vose III (Terry) stand in front of a study for George Inness's (1825–1894) Heron Brook, 1854, and Cambridge Valley, Vt., 1941, by Loring W. Coleman (b. 1918), on the left.

Besides new finds and inherited pieces, there is highly cherished art created by relatives hung in nearly every room. Works by three generations of artists in Terry's family, such as Nantucket watercolors by his great-grandfather, Marshall Jones (active late nineteenth century), seascapes by his grandfather Abbot Peterson (active early twentieth century), and still lifes by his mother, Ann Peterson Vose (1912–1998), are interspersed throughout the home.

Judi's family also includes a remarkable artist. Her mother's cousin was Margery Eddy Nash Ludlow (1883–1967), a talented painter who also happened to be a writer, poet, mother, inventor, craftswoman, and intrepid traveler. Margery came from a family of illustrious inventors, including her grandfather Titus Eddy, who created the first indelible ink used for U.S. currency. He made the mistake of dying without writing down the secret formula. Margery herself patented and manufactured the "Easy-Reach Revolver Holder" for personal defense on motor trips. Her company's motto was, "Practically hands the gun to you."

Edwin Lord Weeks's (1849–1903) Crusader was collected by Terry's father, art dealer and scholar Robert C. Vose, Jr. A rose medallion umbrella stand holds family canes. The circa 1930 light switch plate was made by Margery Ludlow (1883–1967).

A gun holster for the car was not an off-base necessity for a woman like Margery, who had the spunk to drive cross-country alone, from New York to Altadena, California, annually during the 1920s and '30s. At her second home in Altadena, a hotbed of the Arts and Crafts movement, she created hand-hammered copper furnishings as well as commissioned works such as murals and bells. Not much is known about her artistic training except that she studied at the Peebles Art School in New York City in the 1910s.


Reynolds Beal (1867–1951), Provincetown Harbor, 1916.

Judi now delights in displaying Margery's works and belongings: Arts and Crafts style copper light switch plates, framed sketches exhibiting detailed draughtsmanship, and dramatic Munich School–inspired oil portraits adorn many rooms. In a guest bedroom, Margery's Edwardian-era dresses are draped next to antique bisque dolls on a nineteenth-century rope bed, and her revolver holder invention sits on a shelf with antique stoneware beer bottles—but her gun is tucked away.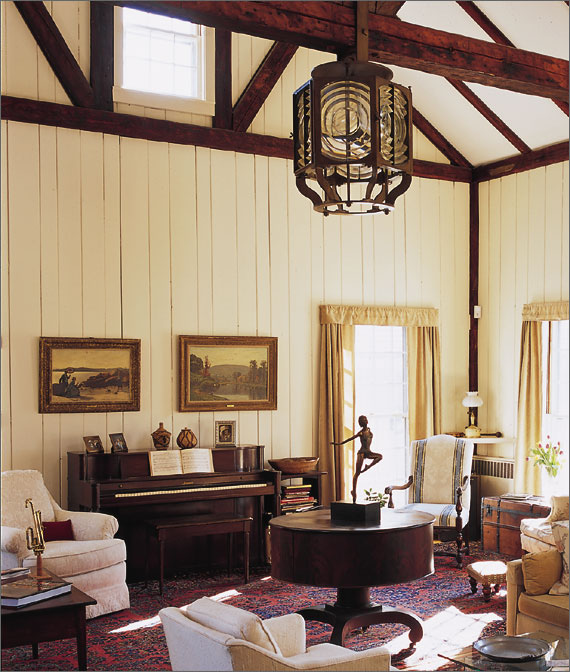 In the living room, formerly a barn, a circa 1880 English lighthouse lantern is suspended from over 120-year-old beams. The unusual circa 1900 drum table at the center of the room was made by Judi's great-grandfather, George Washington Eddy, inventor of the Eddy valve found on fire hydrants. The hand-hammered copper chest with elaborate vintage decoration, in the foreground, was made by the enterprising artisan Margery Ludlow, another relative. Above the piano, John J. Enneking's (1841– 1916) Blue Hill, 1879, hangs next to Sketching in New England, 1880, by Fred James (1845–1907).


An extensive collection of artwork and writings by the talented Margery Ludlow (1881–1967) was carefully preserved by Judi's mother, Roberta Clark, who is the artist's cousin.


Margery's artistic legacy is well preserved, but much more could be learned about this fascinating woman. What is known is that after her family's elegant Greek Revival home in Troy, New York, was given to a local college, Margery moved to Bennington, Vermont, where she operated an unusual farm with a re-created railroad yard. On both the East and West coasts, she kept busy creatively—from repairing broken antique pottery to reading her poetry on the radio. Margery, the mother of two girls, also climbed mountains in her later years; she didn't seem to confine herself to the societal definition of being a woman in the early- to mid-twentieth century. She wrote, "To take a meaning from the strangest dream/And reach a goal; To see the things that average men pass by/And add to life; To the mystic and illusive things that lessen strife/That is vision!" Presently, Judi has taken on the task of researching and organizing records for the Eddy Family Association; hopefully, more information on the daring and inventive Margery Eddy Ludlow will emerge.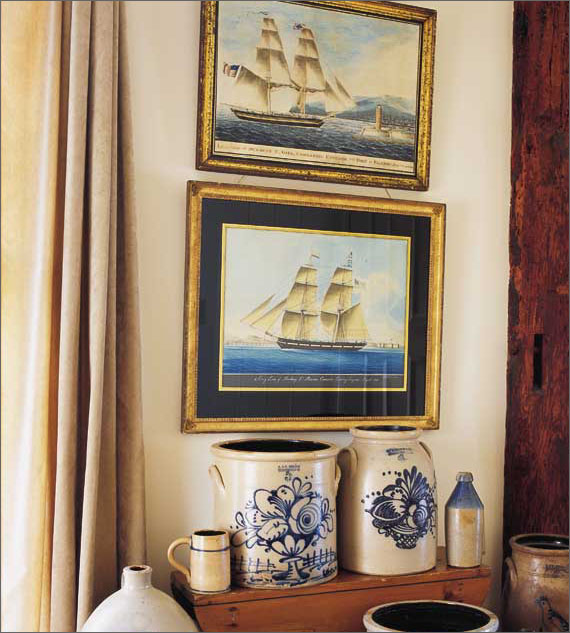 J.E. Norton stoneware, circa 1850–1859, is grouped together on an early-nineteenth-century workbench. Above are two watercolors relating to the family's seafaring history that goes back several generations. "Brig Lion of Duxbury LS Peterson Comander [sic] Entering Smyrna 3 Aprile 1840" is depicted by Rafaele Corsini, a Turkish artist active in Italy circa 1830– 1865. "Leander of Duxbury C. Gill, Commander entering the Port of Palermo June the 18th 1828" is above.


Judi and Terry, who met five years ago on a charity board, have equally adventurous streaks. They have each traveled worldwide, and reminders around their home, such as a Masai drinking vessel and a caricature of Terry diving for a Roman shipwreck off the Amalfi coast, speak of exotic journeys.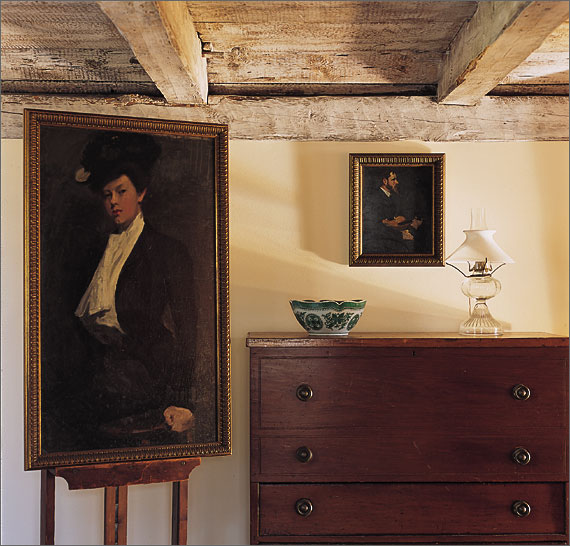 In the guest bedroom, Margery's circa 1915 self-portrait sits on her own easel. Above the mid-nineteenth-century New England chest is a portrait by Margery. The inherited Fitzhugh bowl was once part of a pair; Terry admits to breaking its mate as a boy.


The dining room features Joshua Shaw's (1777–1860) Watching the Sheep, 1846, and a few circa 1905 sunset paintings. The table is set with green-stemmed Venetian glasses used by Judi's family for over four generations of celebrations. A circa 1770 New England worktable displays more family silver. The wrought iron candelabra was presented to Terry's grandfather, Rev. Abbot Peterson, when he ministered to the First Parish churches of Duxbury and Brookline, MA, in the 1930s.


While on statewide road trips for the gallery business, Terry spent years searching antiques shops and shows for J.E. Norton, Bennington, Vermont, stoneware dating from 1850–1859. Unlike many collectors of this ware, Terry didn't get hung up on condition problems as long as the piece had an interesting design. Bird- and flower basket–decorated butter churns, jugs, and crocks especially appealed to him. "If I could do it all over again, I would focus on just four-gallon butter churns," he says, "to make the collection more specialized." He sold most of his 225 pieces at a Skinner's auction years ago. "My Gloucester condo was paid for by that sale," he recalls of his former bachelor getaway.

Alvan Fisher (1792–1863), Moving the Herd, Winter, ca. 1817.


Equal parts of inherited antiques, family artistry, and newly-sought treasures make the Voses' historic home an intriguing retreat. Captain Weston, who once stowed his sails and nets in this since-embellished shed, would probably be most surprised that it is now decorated with fine paintings owned by another captain's descendant.