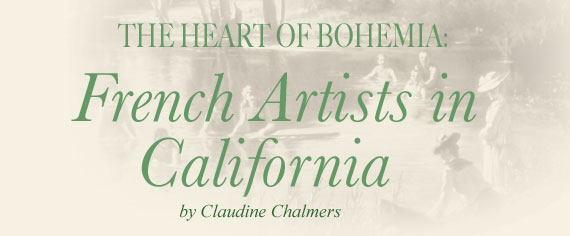 Jules Tavernier (1844-1889), Cover of The Argonaut (December 1879). Courtesy of the author.


In the 1870s, burgeoning wealth from the flow of mined Comstock silver and the new transcontinental railroad turned San Francisco into a promised land for artists.1 Prosperous patrons began avidly collecting art and the San Francisco Art Association and the Bohemian Club were created to encourage and support local talents.2

San Francisco hosted a strong Gallic community inherited from the 1850's California gold rush days when close to 30,000 pioneers arrived from France. The city reflected Frenchness from within, stemming from the influence of miners and residents of Gallic heritage who included prominent figures in the worlds of banking, real estate, trade, medicine, teaching, architecture, and the press. Eateries such as Poodle Dog and Jack's Rotisserie were a few of the city's many French landmarks that served the population. Besides the café life, a budding art scene found ready support among the Franco-Californian citizenry, and French artists, including Jules Tavernier and Ernest Narjot, achieved a high status.



It was characteristic of Jules Tavernier's (1844-1889) colorful life that he should land in San Francisco at that particular time. In 1874, the talented Paris-born artist, who trained with noted historical painter Felix Barrias (1822-1907), had just completed a remarkable coast-to-coast sketching tour of the United States on behalf of the New York-based Harper's Weekly magazine. The short, charismatic thirty-year-old, brimming with joie de vivre, fit naturally into San Francisco's young artistic milieu, where his versatile talent and unpredictable ways quickly turned him into a legend. He could paint in oils, watercolor, monochrome, and in pastel, and ably created everything from miniatures to scene paintings. Fellow artists described his work as a wonder of composition, draftsmanship, and color. Lorenzo Latimer (1857-1941) called him the "only man who ever painted redwoods with that divine feeling which they inspire." Tavernier was also an improvident enfant terrible with impulsive ways and a complete disdain for money and bourgeois standards: the press was quick to nickname him the "bohemian of bohemians." And in typical bohemian style, Tavernier was constantly in and out of debt.


Ernest Narjot (1826-1898), Self-portrait in the Artist's Studio, 1890. Oil on canvas, 38 x 26 inches. Courtesy of Garzoli Gallery.


Tavernier's greatest and most lasting impact on the San Francisco art scene, however, may have been his successful quest to recreate the productive ambiance of his former instructor Barrias' small, private Parisian atelier. This wanderer knew the value of a gathering point. In 1875, about 110 miles south of San Francisco, he opened Monterey's first studio, which marked the debut of a coastal art colony that endures to the present day.

After three years in the community, Tavernier managed to offend Monterey's citizenry with what they considered to be his unflattering depictions of the town. On his return to San Francisco, after a few unsuccessful attempts, Tavernier found the right place to set down his easel and gather his friends: a deserted courthouse at 728 Montgomery Street. It became a model artist's home and "infinitely suggestive of the charm and beauties of a bohemian life"...

The room is perhaps thirty by fifty feet with a skylight in the center and windows, heavily draped and so arranged with Japanese pictures as to look like stained glass from the outside. The floor is bare save for some worn buffalo robes, decorated with quaint geometric designs in bright mineral paints. The walls are adorned with carelessly but artistically draped pieces of Japanese and Chinese brocade and rich embroidery, with here and there a pelican's outstretched wings, a wildcat's skin, beaded moccasins and belts or full buckskin suit. A suit of armor stands at one side, looking grimly down on the bleaching vertebrae of bygone whales. The long-horned skulls of Texas cattle are fastened to the cornice of a high cabinet. An old hat on a fencing mask and a pair of foils hang near some elegant draperies. Horrible Japanese idols leer from the top of a heavy black walnut table loaded with foreign art journals, and pieces of elegant porcelain peep through the rounds of a tall stepladder in the rear. A magnificent warrior's wampum bristling with eagle feathers hangs beside a lady's soft changeable silk, and on a line across the room great lengths of gold brocade and other rich hued cloths are flung. A magnificent peacock, the subject of Brooke's latest success, is astride the disused office stove.3


Jules Tavernier (1844-1889), The Pioneer, 1877. Oil on canvas, 31 x 48 inches. Courtesy of the Society of California Pioneers, San Francisco.


Often referred to as "the heart of bohemia," Tavernier's studio was a place where artists could meet, take classes, exhibit their work, and celebrate; and where luminaries such as epicurean Joe Tilden, violinist Henry Heymann, and playwright Oscar Wilde were entertained.


Tavernier used this studio for three years before heading west again; this time to Hawaii, where he became a key figure in the Volcano school of Hawaiian painting. The Montgomery Street address remained an artists' rookery for the next seventy years, hosting a string of talented California artists such as Charles D. Robinson, Theodore Wores, Emil Carlsen, Arthur Mathews, Josephine Hayes, Nellie Hopps, Xavier Martinez, Maynard Dixon, Gottardo Piazzoni, Ralph Stackpole, and Armin Hansen. In 1959, its new owner, attorney Melvin Belli, cleared the building for his own use.

One name that never seemed to be associated with Tavernier's large entourage is that of Ernest Narjot (1826?1898), another Frenchman and a Forty-Niner to boot. A native of the port of Saint-Malo on the northwestern coast of France, Narjot was twenty-three when he was swept up by the excitement of the gold rush and left his homeland never to return. After a short stay in the northern California mines, the young Breton embarked on another adventure: a French filibustering expedition to Sonora, Mexico. The expedition failed, but Narjot remained in Sonora where he married a local woman, purchased a ranch, bred horses, dabbled in mining, and produced numerous renderings of border life in the Mexican province.


Emperor Maximilian's overthrow in 1867 chased Narjot and his family out of Sonora. Returning to San Francisco, he opened a studio on Clay Street, doing newspaper and book illustrations, portraits, landscapes, figure and genre paintings, and fresco work; much of it was intended for French patrons. While the stellar Tavernier associated with the brilliant crowd at the Bohemian Club, Narjot worked closely with the San Francisco Art Association where he began teaching in 1885. Quietly, steadily, over the next thirty-three years Narjot earned himself a respectable place among California artists. A bit of a vagabond like Tavernier, he traveled widely throughout California for commissions or in search of new subjects.

The mythic lore of his native Brittany influenced Narjot's portrayal of idealized women like Andromeda, Ophelia, druid priestesses, and Indian maidens. But his lasting legacy is probably his vision of the gold rush days, an epoch he had witnessed firsthand, which he brought to life in nostalgic scenes of gold-panning and camp life that exhibit a great sense of camaraderie between miners.


Ernest Narjot (1826-1898), (left) The Horses Eagerly Quenching Thirst, Camels Disdaining and (below) The Search for Water, 1867. Each oil on canvas, 291/4 x 39 inches. Courtesy of Decatur House Museum, Washington, D.C.



The San Francisco art world's affection for Narjot was never demonstrated as strongly as when his eyesight was damaged and he became progressively blind. Thirty prominent California artists came to his aid with a benefit sale of their work. Among them were William Keith, Thomas Hill, Amédée Joullin, and Arthur Mathews, honoring the painter who became known in his old age as "the Dean of California artists."


Jules Tavernier (1844-1889), (left) Old Bloch's Farmyard on Dry Creek near Healdsburg, 1883. Watercolor on paper, 113/8 x 17 inches. Courtesy of Bancroft Library, Berkeley, CA. (right) El Rodeo, Santa Margarita, California, 1884. Oil on canvas, 36 x 60 inches. Courtesy of Arthur J. Phelan, Jr. One of the earliest visual documents of the cattle industry, this painting was commissioned by rancher General P. W. Murphy, who is shown mounted in the left foreground during a spring round-up.


The difference between the temperament and style of these two Franco-Californian artists is most vivid in their paintings of pioneer days. Tavernier's The Pioneer (1877), a gold rush scene, reveals his fondness for dark subjects--such as a windowless cabin or the dim depths of a redwood forest. He was thirty-three at the time, plagued with asthma attacks, and had never experienced the mining days.


Jules Tavernier (1844-1889), Camping in the Redwoods. Oil on canvas, 30 x 18 inches. Courtesy of Washington County Museum of Fine Arts, Hagerstown, MD.


It is perhaps this last fact that compelled Narjot, four years later, to paint The Forty-Niner as a counter to Tavernier's Pioneer. While Tavernier's composition is dark and executed in expressive, flowing lines, Narjot?s presents meticulous detail, a few odd perspectives, and the trick of his painter's trade when it came to gold rush scenes: a miner's red flannel shirt hanging on the clothesline. Narjot, then forty-five years old, was an outdoorsman like the stalwart, bearded miner in his painting. Where Tavernier expressed drama, Narjot responded with sentiment and an intimate knowledge of the subject.

Both of these artists inspired others. Especially influenced were those of French-Californian descent who, after training in France, returned to paint their native California, including Amédée Joullin, Jules Pages, Henri Roullier, Eugene Tanière, and Ernest de Saisset.
Amédée Joullin (1862-1917), in particular, honored his two mentors. He donated a full-length painting of a man in an Oriental costume to Narjot's 1897 benefit; it was described by a contemporary as one of his best works. In 1898, Joullin took over the studio at 728 Montgomery where he had studied under Tavernier for a few years. He kept it furnished in the true bohemian style, as his teacher had before him.

It was at Joullin's urging that a room in the Bohemian Club was painted a deep red, and subsequently became known as the city's new "heart of bohemia," a place where camaraderie and creativity were kept alive, in veritable French-bohemian fashion.


Ernest Narjot (1826-1898), Bathing at Glenn Ellen, 1878. Oil on canvas, 20 x 36 inches. Courtesy of Boggs Museum, Shasta, CA.


Dr. Claudine Chalmers, a graduate of the University of Nice, France, is an independent scholar with a special interest in California's French heritage. This article draws from her recent book Splendide Californie, Impressions of the Golden State by French Artists, 1786-1900 (Book Club of California, 2001), winner of a silver medal award from the Commonwealth Club of California. The related 2001 exhibition Splendide Californie, presented by the California Historical Society, was voted best exhibit of the year by the Sacramento Bee. Dr. Chalmers is presently working on a biography of Jules Tavernier. Her work can be viewed online at www.FrenchGold.com.

---
1 Profits from the $400 million Comstock Lode in Virginia City, Nevada, found their way to San Francisco, the nearest town with a financial and banking system that could handle the trading of shares.
2 Established in 1872 as a gathering place primarily for the artistic community, the all-male San Francisco Bohemian Club is now dominated by members in the business and legal fields.
3 "Peeps into Bohemia," San Francisco Chronicle, 1881. Clipping from the files of the Betty Hoag McGlynn Archives at the Monterey Museum of Art, CA.