Photography by Terry Pommett


Alan and Janice relax in their den with their two Scottish terriers, Teddy and Tucker. The Titanic coffee table was a lifeboat prop from the 1958 movie, A Night to Remember. The paneling is from the Clough & Shackley apothecary shop, established in 1847, which once operated at 66 1/2 Beacon Street, Boston.


Maritime antiques are hot, and that suits Alan Granby and Janice Hyland just fine. Dealers in nautical materials for nearly thirty years, Alan and Janice, of Hyland Granby Antiques, Hyannisport, Massachusetts, surround themselves in their home on Cape Cod with reminders of their profession, which also happens to be their hobby. Ship models, figureheads, scrimshaw, sailors' whimsies, ship paintings, whaling scenes, navigational instruments, celestial globes—both for personal enjoyment and for sale—fill their seaside residence.

Janice and Alan originally embarked on a career path quite different from their current business. In the early 1970s they started out as elementary school teachers in Newton, Massachusetts. Both have doctorate degrees—Janice in library science and communication, Alan in media technology. When the couple met as teachers, Janice introduced her husband-to-be to the ocean, and this connection spurred his interest in nautical items. Soon the couple was buying maritime antiques as a hobby, and in the late 1970s, opened a weekend shop on the Cape in Dennis.

Alan was no stranger to antiques. His interest started at age six, when he attended auctions at Parke Bernet with his mother. By age ten he was trading stamps, bicycles, and baseball cards with friends. In college, he started buying antiques, dealing primarily in nineteenth-century photographs, expanding into twentieth-century images by the time he was twenty-one; he became so knowledgeable on the subject that he taught a course on the history of photography at Boston University.

---

A ship's wheel with glass top serves as the couple's library table—seating eight, it is often used for dinner parties as well. The books are from Alan's extensive collection of early nautical volumes. The carved bone prisoner-of-war ship on the left partly obscures a James Buttersworth (1817–1894) painting of the American ship Elissa. On the right is a model of the Thomas W. Lawson, built in Quincy, Mass., in 1902. While most schooners had two or three masts, or sometimes even five or six, this was the only seven-masted schooner ever built—its length proved its downfall, and the boat sank five years later in a storm off England's Isles of Scilly. The couple also own a 1906 painting by Samuel Finley Morse Badger (1873–1919) of the same vessel.


---
Primitive folk art boat models sail on the rafters in front of the Granby's second-floor bedroom window overlooking Nantucket Sound. Sailors are known to have built boat models during sea voyages, but they often undertook such detail-oriented projects while on leave or in retirement, usually basing their models on the vessels on which they served.


By 1983, the couple had decided to become full-time antiques dealers. They left Newton and moved to the Cape as residents of Dennis, purchasing the 1820 Federal-era house of sea captain Uriah Howe. Specializing in maritime antiques, they focused their attention on sophisticated items. As Alan says, "We chase masterpieces." They have developed their clientele to such an extent that they now sell exclusively through private sales and at major antiques shows across the Northeast.

The 1849 South Hyannis Light and adjoining keeper's house, a portion of the Granby's 12,000-square-foot compound, which has undergone a two-year renovation and three
subsequent additions.


Their studious natures come into play when they acquire an object. Janice does the cataloguing and record keeping, and Alan thoroughly researches each piece, only offering it for sale after he has found out all he can about it. Standing in his tremendous library filled with historic and contemporary volumes on maritime subjects, he notes, "The nerve center for any antiques dealer is the library." He'll soon put his library to further use while writing a book on an important private collection of nautical antiques.

Flooded with light, this south-facing view of the ocean is the perfect spot for relaxation and entertaining, combining comfortable contemporary furniture and antiques. Above the mantel is a large circa-1870 wooden half-hull architect's model of an American schooner around which the couple designed the fireplace. Over this, one of Alan's prized possessions: a stern board carved with an American eagle clutching a cannonball, circa 1790. This is one of the earliest known examples featuring these motifs. It belonged to Alan's mentor, Davenport West, Jr., a collector of American maritime antiques. A nesting set of eight circa-1870 Nantucket baskets rests on a painted bench. Rare in their number (most known sets are comprised of six baskets), these baskets are also labeled by maker Davis Hall (1828–1905). The circa-1870 astronomical telescope by James Parkes & Son, St. Mary's Row, Birmingham, England, features a weight-driven clockwork mechanism that moves with the rotation of the stars.


Alan and Janice make a point of buying the best of a form, and only what they would want to own themselves. "We buy for historical and aesthetic reasons, not for inventory," says Janice. "We have to love everything we purchase, because if we own something longer than a year, it automatically becomes part of our permanent collection. Even though we do our best to keep our personal and business collections separate, Alan loves the objects so much, he keeps dragging them into our house." "That is the fun of being a dealer," quips Alan. "I get to handle a lot of terrific material, and if I can live with it for a while, I will!"

Though nautical objects are the main component of their home, the interior is decorated with a comfortable combination of modern furnishings and antiques, some put to use in creative ways, such as the nineteenth-century ship's wheel that serves as a glass-covered dining table. Their marble kitchen counter, an 1880 oyster bar, was used by Janice's family in their Taunton, Massachusetts, fish market business.

This combination of old and new fits well in their home, a converted lighthouse and keeper's residence they have renovated three times since purchasing it in 1985. The South Hyannis Light, as it was once known, was built in 1849. One of eighteen lighthouses erected along the Cape over a hundred-year period beginning in 1797, it operated until 1929, warning ships of the dangerous shoals.

---

Above Left: This English mid-nineteenth-century mahogany trunk was probably decorated by the owner, George Chilton, and likely depicts the barque on which he sailed. Such trunks were often made by the ship's carpenter and were used to store private possessions as well as serve as a sailor's table or seat. Above Right: This circa-1840 scrimshaw panbone is engraved and inked with a scene of a "stove boat" that has been knocked out of the water by a whale.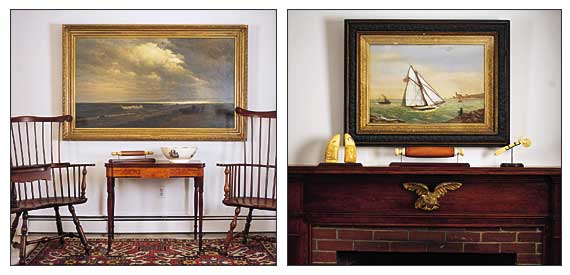 Above Left: One of Alan's favorite paintings, this 1877 image by William Edward Norton (1843–1916), depicts a husband recently arrived from the sea being greeted by his wife and child. Blending old and new, a Wallace Nutting writing arm Windsor sits opposite a period eighteenth-century Windsor, both flanking a Federal card table. Above Right: "More people have asked to buy this scene from us than any other object we own," says Janice of their highly prized three-dimensional shadow box. Titled on the back, Yacht Puritan off Beavertail, entrance to Newport, W.H. Green, Newport, R.I., this is a rare shadow box that depicts the Puritan defending the America's Cup title in 1885. It retains its original fancy period frame.


---
---

Placed over a China-trade desk is one of the centerpieces of this room, an Aaron Willard Jr. improved timepiece with alarm bell and eglomisé panel of the Salem Courthouse in Massachusetts. Alan traded for this clock over twenty years ago, as he did for the Queen Anne armchair with unusual carved splat. An Antonio Jacobsen (1850–1921) painting of the Lonestar hangs over a French Louis XV desk.


Now whitewashed and pristine, when Alan and Janice purchased the lighthouse and adjoining property, the place was "beyond belief," Janice says. "I fell through the floors of the residence on two occasions, it was so badly rotted. The property took two solid years to renovate. We saved as much as we could, even reglazing the period windowpanes." The couple now enjoys stunning views of Nantucket Sound from atop the refurbished lighthouse and from the floor-to-ceiling windows of their south-facing living room and bedroom. "This is the perfect place for entertaining—day or night," says Janice.

A selection of the Granbys' extensive scrimshaw collection, with one of a pair of painted American shields on the wall behind the display.


Janice oversaw each phase of renovation. "After the initial project, we made three additions to the house," she notes. "First we added the library and living room, then the den, and in the last eight years, we added our barn, which is climate-controlled and outfitted with 10-foot-high ceilings—it is where we keep our inventory and set up for shows. When we bought the house, we never anticipated doing all that we did."

Twentieth-century doorstops are placed playfully along the stairs, over which hangs a sailor's whimsy of a ship's wheel and chain. Carved from one piece of wood, this is the most complex whimsy of its kind Alan has ever seen. He and Janice found it in a box at a yard sale. A Jamie Wyeth (b. 1946) artist's proof of John F. Kennedy sailing his Wianno Senior, Victoria, is visually balanced by the framed nineteenth-century puzzles of ocean liners.


During the renovation, they reused some of the original windows and doors in the construction of a guest house, and integrated into the walls of their den the cherrywood-paneling from an 1847 apothecary shop once located on Beacon Street in Boston. "I wanted one room that was the same period as the house," says Janice. Alan adds, "We took the counter and turned it into the mantelpiece, and copied the pattern in the carving on to the glass doors that open up to the bar area."

Asked about current pursuits, Alan says that he is collecting maritime photographs once again. "You can still acquire major photographers and images starting at $500, though I have seen some sell for $10,000—the interest in collecting photography is steadily growing." The couple is also in the process of arranging their photograph collection for display in their Manhattan apartment, a view of which will have to wait for a future article.