It seems only natural for a professional photographer to collect prints of iconic images, which is precisely what Nathan Benn has done since 1972 when he started working for National Geographic Magazine.1 "It was a way to connect myself to the continuity of great twentieth-century photographers," he says. "In part, I also sought to emulate their work, so the photographs also served as a teaching tool." Nathan's collecting interest is shared by Rebecca, his wife of seven years, who is also a photographer.

A carved Federal bedpost frames a Boston blocked serpentine bureau with a Brassai "Transmutation" photograph above. Dealer John Walton bought the bed from a house on Chestnut Street in Salem, Mass., along with a faded late nineteenth-century photograph of the bed in situ. Photography by Ellen McDermott.



Photographs have been a constant presence in Nathan's career. In 1992, after being with National Geographic for nearly twenty years, he established the first on-line service to distribute and acquire digital images for publication, a medium now used by many industries. In 1997, Eastman Kodak acquired the company, now called picturequest.com. Thereafter Nathan took his position as director of the New York office of Magnum Photos, a cooperative agency founded in 1947, which boasts some of the most prestigious names in documentary photographers in the world as members.

Nathan is largely interested in architectural, historic works, and post-World War II studio photography, among them prints by Irving Penn (he believes they own three of Penn's most significant images), Eugene Atget, Berenice Abbott, Inge Morath, Aaron Siskind, W. Eugene Smith, Elliott Erwitt, Cornell Capa, and Brassai, among others. Rebecca focuses on women artists or women as subjects, acquiring images by Nan Goldin, Sally Mann, Andrea Modica, and Diane Arbus to name a few. "We have so many photographs that many are stored in our closets," says Nathan, "yet we are driven now by an informed impulse to continue to make purchases."
The impulse to collect is natural to Rebecca, whose parents, George Abrams and the late Maida Abrams, were major collectors of seventeenth-century Dutch drawings. They donated over one hundred images to Harvard University's Fogg Art Museum, where a curatorship is in their name, and where a selection of their donated works will be exhibited in the spring of 2003. Their collection is the finest of its kind in private hands, and has been shown in single-owner exhibitions at museums around the world. About her parents' love of art and scholarship, Rebecca says, "My father was an everyday person who had a passion for art. He and my mother found their niche, and over forty-two years helped define the field."


The combination dining room and library features a New York pier table with feet that match a suite Duncan Phyfe made for his daughter. The Classical Boston dining table, "is the most refined of the group, in my mind," says Nathan. It is surrounded by a set of New York curly maple Klismos chairs. Historic interiors decorator Ralph Harvard designed the bookcases. Photography by Celia Pearson.


Although she grew up surrounded by art, Rebecca wasn't familiar with the concept of furniture as art, only seeing it as something functional. In describing her husband's other collecting passion, she notes, "It wasn't until I met Nathan that I became familiar with this world. It was really quite shocking to see how furniture collectors get on their hands and knees, flipping furniture upside down. I had never witnessed anything like it in my life. This is such a tactile field," she adds, "I have had to learn to become comfortable with that. Nathan also introduced my parents to an entirely new vocabulary and appreciation."

Nathan's interest in furniture began in 1974 when he purchased a row house in Washington, D.C. "Initially I acquired cottage furniture, which to me was more attractive, had an historical
component, and was more affordable than new pieces." Nathan met Frank and Margaret King, dealers in Corning, New York, in 1976. They gave him a copy of Albert Sack's Good, Better, Best, and as Nathan recalls, "This introduced me to connoisseurship and changed my life forever." Nathan purchased a Boston Chippendale side chair from the Kings—the cornerstone from which his collection grew.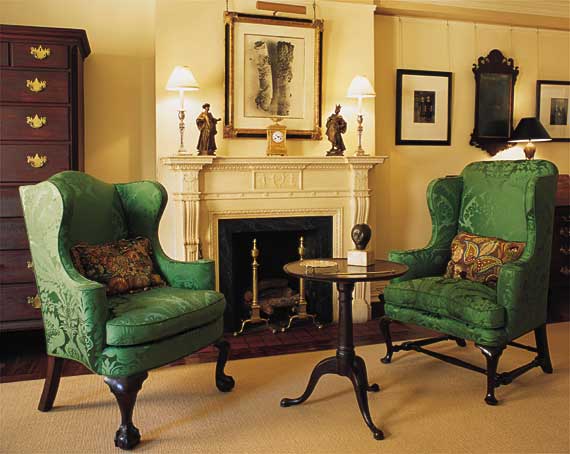 "If I could collect furniture from only one time and place, it would be colonial Newport," says Nathan. "Our Goddard tea table is very simple, no carving, three pad feet and an ionic column. It is so perfectly proportioned. I have owned it for twenty-five years and every time I look at it I get a charge." Also illustrated is a New York chest-on-chest of the type made by Samuel Prince and Thomas Burling, New York and Boston easy chairs (on the left and right respectively), engraved New York andirons, and an Irving Penn still-life photograph of cigarette butts. Photography by Celia Pearson.


Nathan refers to this Salem, Mass., secretary as "the William Appleton type, right out of Hepplewhite's Drawing Book. I have owned it for twenty years, but learned only a few years ago that this piece was in the 1924 Francis Bigelow sale." Photography by Ellen McDermott.


Within a few years, Nathan managed to purchase a Federal house, which he needed to furnish. Searching for a sofa for his parlor, he traveled from Maine to Virginia, and at the shop of dealer John Walton, finally found one made in either Boston or Salem, Massachusetts, dating from about 1810. "It took me nine months to pay it off, but of its type, I have never seen one that
I have liked better," Nathan says, adding, "I was in a vulnerable position being a novice collector, but John was always very good to me, leading me only to things that have proven to be correct as judged by today's experts." Although Walton died in the 1980s, he is still the single largest source of the Benns' furniture collection.

John Walton introduced Nathan to collectors David and Elizabeth Sapadin. "The Sapadins taught me about the importance of originality, authenticity, and the problems of restoration," he says, noting the importance of having mentors during the formative years, be they dealers or friends, who can help ease one into a field and share their knowledge. Nathan lists Albert Sack among his mentors. "In my most pecuniary days, I would enter his shop in jeans. Albert was so generous, very gentle, he never hurried or pressured me. It took me five years before I made my first purchase from that firm. My last acquisition from him was two years ago: a Chippendale easy chair from Portsmouth, New Hampshire."

One of Nathan's most recent purchases was at the Delaware Antiques Show, where he bought a New York Chippendale armchair from Tom Schwenke. He occasionally buys at auction, but when doing so consults with dealers, among them Sumpter Priddy. Nathan prefers the more deliberate purchase made directly from dealers, buying for example a demi-lune Salem table from Leigh Keno; a New York pier table, among other objects, from Guy Bush; a Philadelphia armchair from Michael Flannigan; and a New York chest-on-chest from Sam Herrup.


Among the living room furnishings is Nathan's first significant purchase, a Massachusetts Federal sofa, and a recent purchase, a New York Chippendale armchair. "This was a standard form as a side chair," he notes, "but rare as an armchair." The knee-carved tea table was made about 1770 in Canton, China, for export. Photography by Ellen McDermott.


Nathan is clear in his collecting philosophy. "I have always bought out of my earnings, which is a limiting factor in how extensively I could collect," he says, "and have always felt my purchases economically, therefore having to sacrifice in other areas." He adds, "I focus on an emotional and aesthetic response and try to be scrupulous about condition."

"Very early on I grew to appreciate old surfaces," he says. "Our things generally go from old and crusty to older and more crusty, to truly opaque." One illustration of his affinity for old surface is a Philadelphia quarter-column chest purchased from dealer Christopher Rebollo. "My wife dislikes the degraded nineteenth-century finish and wants to sell it, which I won't do because to me it's fun; this is still under discussion."

The scope of the Benns' furniture collection, which comprises about thirty pieces from the colonial into the Classical eras, is threefold, with New England coastal furniture from Portsmouth, New Hampshire, to Newport, Rhode Island; furniture from New York; and colonial Philadelphia furniture. This is not the result of a conscientious decision, but is based on appreciation of form, design, and yes, finish history. "If I could only collect furniture from one time and place, it would be colonial Newport," Nathan says. "It's the elegant simplicity that attracts me. The secret is Georgian masculinity combined with delicacy and refinement. The objects are so well balanced."


Illustrated is a Philadelphia four-shell William Savery type Queen Anne armchair in old finish, which Nathan notes, "doesn't really go with anything else in the collection, but is a great object. The Newport Chippendale serving board was acquired at the Sack sale at Sotheby's last year." Photography by Ellen McDermott.


The one constant, says Nathan, "is that our furniture is American but in the English taste." One exception is a claw-and-ball-foot tea table that at first appears as if made in Newport, but was in fact made in Canton, China, around 1770, for the export market. "I purchased this while walking through an antiques shop with Ralph Harvard (who has worked with the Benns on the interior design of their apartment). Ralph spotted it and I didn't hesitate in buying it."

Nathan's collecting includes other areas as well. About his English George I and II silver salvers and waiters, he says, "I made a decision to focus on one form, and I am enchanted by the variety within this small niche of silver. I can also collect lots of them without sacrificing any wall space!" Model electric trains are another interest. When set up, the tracks wind around the legs of chairs and tables and under the sofa in the living room, providing pleasure to both Nathan and his two-year old son, Tobias.

Offering advice to collectors, Rebecca says, "One of the keys to a great collection is to trust your instincts and follow your heart, rather than thinking about what you can resell five or ten years from now. For Nathan and my parents, collecting touches them in both an emotional and cerebral way; this is the way it should be." Nathan adds, "One needs to collect for great form and originality. You should be motivated not by the idea of investment but because you want your life enhanced."

Still on the lookout for great furniture, the couple is presently in search of a small Federal sideboard, and, they say, "We don't yet have a highboy in our collection!"


1. Nathan's work is featured in National Geographic On Assignment USA (1997); National Geographic: The Photographs (1994); Odyssey: The Art of Photography of National Geographic Magazine (1988). He has also published a book of his own photographs, A Voyage on the Mississippi River (Thomasson-Grant, 1985).