If you have ever wondered about the person behind the nation's two major design centers, and what his "country seat" is like? Look no further.


by Ed Kiersh photography by Erik Kvalsvik


Charles Cohen's rise to prominence in the commercial real estate world has largely been driven by his flair for buying "wrecks" and restoring these distressed properties to their former grandeur. Overseeing a portfolio of over 11 million square feet—which includes his most recent acquisition, the 36-story Swiss Bank tower that looms over Saks Fifth Avenue in New York—this relentless entrepreneur has employed an old-fashioned formula to revitalize and reposition such architectural showcases as New York's D & D Building and the Pacific Design Center in Los Angeles.

Since acquiring the D & D in 1996, Cohen has helped make this venue the distinguished home to over 130 of the design industry's premier showrooms for furniture, antiques, and art. "When I recreate a wonderful environment," says Cohen, "I don't write out a check and leave the work to others. I roll up my sleeves, and become very hands-on. Design defines me, so it's far more stimulating to give the creative process my own individual touch."


Cohen has created a sporting theme in his library. Matching sets of English Staffordshire spaniels take center stage, John Joseph Barker's (1824–1904) The Hunting Party hangs over the fireplace, and a steeplechase scene by Henry Alken (1785–1851) is above Cohen's desk.


Similarly engaged with the styling of his residences, this admitted perfectionist has spent the last few years meticulously furnishing a luxurious Manhattan apartment and a grand home in suburban Connecticut fashioned after an English country estate. Located on forty acres, this limestone sixteen-room mansion is surrounded by tennis courts, swimming pool, putting green, and manicured gardens. This opulent retreat was designed by both Cohen and noted "classicist" architect Allan Greenberg. Crediting Greenberg for fashioning "an intricate house with a lot of unusual geometry," Cohen requested the custom moldings and cherry woods that give many of the rooms a rich rustic look.

Though the interior decorative scheme was the work of the reputed Philadelphia design firm of Bennett and Judie Weinstock, Cohen's imprimatur is on display throughout the house. Charting his own treasure hunt to find furniture and paintings for his residence, Cohen's expeditions are invariably filled with "the mysteries and excitement of the unknown." Preferring European furniture and art, Cohen often visits antiques shops in London and Paris to furnish his dream house. As Cohen notes, "There's nothing more precious than a beautiful object that brings you pleasure, an object that distinguishes your environment. I might be an incorrigible shopper," he admits, "but acquiring beautiful objects is not necessarily about spending a lot of money. The investment value shouldn't be the priority. The real fun comes from the pursuit."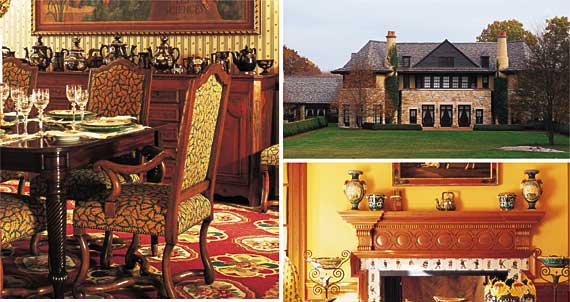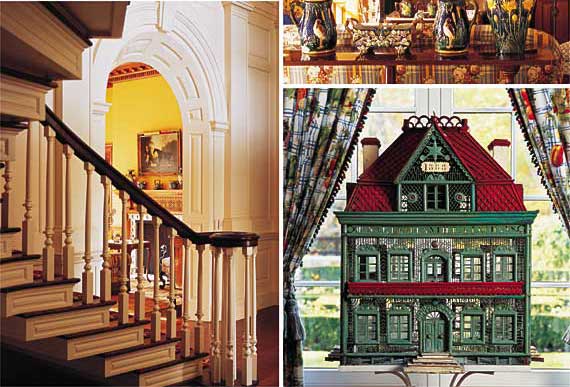 (clockwise from upper left): A collection of Measham pottery is displayed on the French country sideboard in the dining room. The back of Cohen's country retreat looks out over sprawling lawns, tennis courts, and a swimming pool. Cohen's majolica collection is displayed throughout the house, a portion of which is shown here in the living room. Cohen purchased the intricate birdcage, dated 1888, from Kentshire Galleries. It now overlooks the gardens from a glassed-in dining porch. A view of the living room from the stairhall illustrates the detailed interior designs of architect Allan Greenberg.


Children in various playful situations are depicted in three paintings by Francois Louis L'anfant (1814–1892) that hang in a hallway.


In the airy, inviting space of Cohen's library, with 13-foot finished ceilings and oak floor, Cohen has created a sporting theme. Hanging above his desk is a Henry Alken (1785–1851) steeplechase scene, and over the fireplace John Joseph Barker's (1824–1904) The Hunting Party, an acquisition from the Forbes Collection that evocatively depicts the slaying of a tiger by a red-uniformed British horseman and his retinue of dark-faced subordinates in Raj-era India.

Cohen says of the three Francois Louis L'anfant (1814–1892) paintings that he owns, "I enjoy his paintings because they are playful, fun, and consistent with my creating a comfortable home that my children (ages 14 and 18) and friends can enjoy. I want them to see this country retreat as a warm, inviting escape from the stress of urban life. I don't want a museum."

This theme of a relaxed environment is continued in the living room, which is enlivened by an array of colorful nineteenth-century majolica ceramics. They create "a cheerful, fun place that has a festive, lighthearted glow," says Cohen.

The dining room, on the other hand, is more formal. Always mindful of unifying themes, here again he has displayed his passion for ceramics by lining the fireplace with hand-painted tiles. A mahogany table evokes visions of sumptuous banquets, while a French country sideboard adds a measure of gentility. Displayed on the sideboard is Cohen's collection of Measham pottery (also known as Bargeware and Mottoware), purchased during expeditions to London. Hand-painted and whimsically designed, this treacle-brown glazed ceramic ware, dating from the mid- to late nineteenth century, often flaunts the name of the maker or owner, or is inscribed with verses (Cohen's earliest piece, by Richard England, dates to 1851). Of his collection of tea kettles, coffee pots, beakers, and other forms, Cohen enthuses, "One creamer says 'Sly Old Owl;' a coffee pot, 'A Present From A Friend.' I like them because they're extremely upbeat and very different."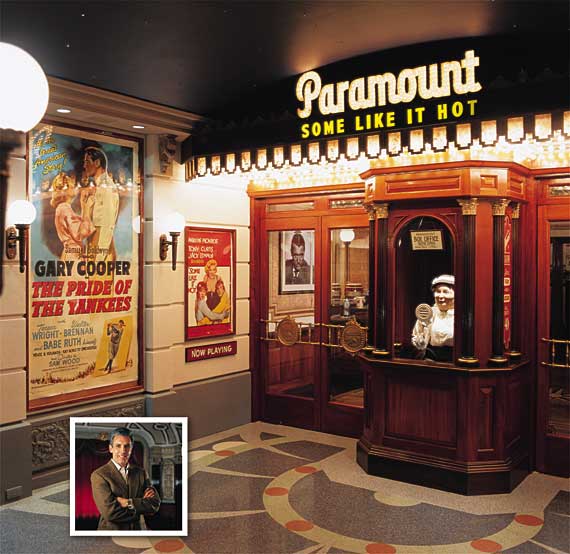 The entrance to Cohen's lavish 24-seat movie theater. Modeled after the old Paramount Theater in Times Square, architect Theo Kalomirakis even integrated some of the Paramount's original fittings such as the brass door handles. (inset) Charles Cohen in his Beaux Arts private movie theater.


While Cohen is committed to cultivating his children's future interest in art, he also recognizes that "they're still too young to appreciate old things." So, keeping their youthful sensibilities in mind—as well as his own—he decided to include a Beaux Arts "fantasyland" theater underground, which also satisfied his one-time ambition to be a director. With architect Theo Kalomirakis, Cohen created a lavish 24-seat movie palace modeled after the 1920's Paramount Theater that graced Times Square in New York. Intended to transport his guests "to another world filled with dazzling moments," this grand space, which features a coffered ceiling, fluted pilasters, tapestry side panels, a lobby marquee shimmering with bright lights, and of course plenty of popcorn and candy, is every kid's—big or little—dream come true.

Standing in the theater lobby, next to an assortment of vintage photographs and selections of movie posters from his collection of over 100 (including The Godfather and a 1930s Pride of the Yankees), Cohen says, "My focus has always been a liveable home, one that brings people pleasure. Putting a personal stamp on the décor is a long process, an ongoing love, one that continues to educate and excite me."


Edward Kiersh is a freelance writer who regularly contributes to luxury magazines such as Watch Time, Cigar Aficionado, The Robb Report, and to The New York Times.