by Colin B. Bailey


In Paris, during the final decades of the Ancien Régime—between the start of the Seven Years' War in 1756 and the beginning of the French Revolution in 1789—a new type of collector emerged: one devoted to the art of his patrie (fatherland). Into the first half of the eighteenth century the most prominent collectors had remained committed to the Italian masters of the High Renaissance and baroque, with a taste for seventeenth-century Dutch and Flemish cabinet painting gaining ground in the 1730s and 1740s. By the 1750s, a time of heightened patriotic sentiment, collectors began to acquire works by both living painters and old masters in order to represent native artists, collectively called l'École Françoise (the French school), in a comprehensive and encyclopedic fashion. Pioneering figures such as Ange-Laurent de La Live de Jully (1725–1779), Introducteur des Ambassadeurs (Head of Protocol) at Versailles, who was motivated by "the love that I have for my fatherland," made a dramatic departure from previous fashions in collecting in order to give pride of place to French painting and sculpture.


Fig. 1: Jean-Baptiste Greuze (French, 1725–1805), The Wool Winder, probably painted in 1759. Oil on canvas, 29-3/8 x 24-1/8 inches. Copyright The Frick Collection, New York City. Photo by Richard di Liberto.


The third son of an immensely wealthy and cultivated tax collector, La Live de Jully was part of a circle that offered material (and intellectual) support to the philosophes: Diderot was a guest at the family's château at La Chevrette; Rousseau was intimate with the collector's sister and sister-in-law. La Live's interest in the fine arts was clearly consistent with the sponsorship offered to writers and artists by various members of his family.

The very taste for French painting was attributed to La Live de Jully: "Before him, hardly any of our artists' works were to be seen in private collections, and such indifference served only to justify the lack of consideration in which they were held by our foreign neighbors," wrote the great connoisseur Pierre-Jean Mariette. In his widely-publicized Catalogue Historique, published in 1764—with entries on his pictures and biographies of the artists provided by Mariette—La Live explained that his collecting of the French school was designed "to bring honor to the arts in France." He referred to his picture cabinet, or private collection, as an example of le goût patriotique (the patriotic taste), a neologism that the enlightened collector coined.


A link between the patrician's patriotic duty and the ownership of certain luxury goods was forged in the enthusiasm that greeted La Live's endeavors. This form of nationalism would undermine the invective against picture collecting that the philosophes had incorporated, almost unthinkingly, in their diatribes against luxury before the revolution.

Works by members of the Académie Royale, many purchased at the academy's biennial Salons, predominated in the seven rooms that contained La Live's picture cabinet at his home on the rue de Richelieu. This enthusiastic collector went so far in his promotion of French painters that he had frames designed with the artist's name in their cartouches. "For it is quite possible," he noted, "to be a perfectly good connoisseur and yet not remember the name of the artist."


Fig. 2: Jean-Honoré Fragonard (French, 1732–1806), The Pursuit, the first wall panel in the series Progress of Love, 1771. Oil on canvas, 125-1/8 x 84-7/8 inches. Copyright The Frick Collection, New York City. Photo by Richard di Liberto.

Fig. 4: Jean-Baptiste-Simeon Chardin (French, 1699–1779), Lady with a Bird-Organ, 1751. Oil on canvas, 20 x 17 inches. Copyright The Frick Collection, New York City. Photo by Richard di Liberto.

Among La Live's favorite artists was François Lemoyne, the ill-fated First Painter to the King who had committed suicide in 1737 and so was long dead when La Live began to collect in 1752. Yet this pioneering collector gained the philosophes' warm approval for his early support of Greuze (Fig. 1), the most progressive genre painter of his day, whose compositions explored the domestic rituals of a prosperous-looking peasantry with a drama and high-mindedness previously reserved for subjects from history, myth, and religion.

La Live de Jully is perhaps better known today as the patron who commissioned Louis-Joseph Le Lorrain's innovative suite of furniture in the goût grec (the Greek taste). The writing table and filing cabinet executed by Baumhauer and Caffiéri around 1757, now in the Musée Condé, Chantilly, France, is the earliest example of the neoclassical style. With its self-consciously heroic motifs, the suite influenced Parisian fashion for the next three decades: "Everything in Paris is in the goût grec," observed Baron Grimm, an editor and friend of the philosophes. But La Live's decision to assemble a cabinet historique devoted to the art of his countrymen was an even more radical undertaking. His French focus consistently received good press and was gradually taken up by patrician collectors from various ranks of the nobility and high bourgeoisie.

In the 1770s and 1780s, patriotic collections following La Live de Jully's example were formed by such diverse figures as the abbé Joseph-Marie Terray (1718–1778)—the most hated finance minister of Louis XV's reign; the blue-blooded bachelor and venerable aristocrat, Louis-Gabriel, Marquis de Véri (1722– 1785), whose family could trace its roots back to the Crusades; the Parisian notary and banker, Charles-Nicolas Duclos-Dufresnoy (1733– 1794), guillotined during the Terror (his favorite artist, Greuze, was an enthusiastic onlooker); and the dashing courtier Joseph-Hyacinthe de Paule de Rigaud, Comte de Vaudreuil (1740– 1817), intimate of Marie-Antoinette, boon companion to the comte d'Artois, and lover of the portraitist Elizabeth-Louise Vigée-Lebrun.

Patrons like the royal mistress Jeanne Bécu, Madame Du Barry (1743–1793), who, through her architect, commissioned Jean-Honoré Fragonard's greatest decorative series, The Progress of Love (Figs. 2, 3), offered a striking contrast in her extravagant public image to the lesser known figures mentioned above, whose claim to cultural distinction came to rest upon their longstanding commitment to the French school. Madame Du Barry eventually rejected Fragonard's resplendent panels, which were painted around 1771, in favor of Joseph-Marie Vien's more fashionable and "stylistically correct" neoclassical variants for the gaming room of her château at Louvenciennes, west of Paris.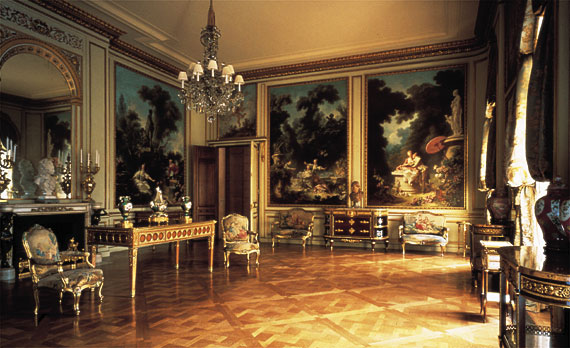 Fig. 3: The Fragonard Room at The Frick Collection includes four rococo wall panels from Fragonard's magnificent Progress of Love series and eighteenth-century French furniture. Copyright The Frick Collection, New York City. Photo by John Bigelow Taylor.


What sort of paintings did La Live and other patriotic collectors commission or acquire from dealers and auctions and at the Salons? From the meticulous sales catalogues of the period that were either compiled when a collection came to be auctioned or an estate inventoried, we are remarkably well-informed about the contents of these collections, even to the point of knowing in which room certain pictures hung: religious works, for example, were often displayed in bedrooms, contrary to what might be expected of boudoir pictures. From this documentary material it also emerges that collectors in the patriotic taste made little distinction between the different genres that comprised the Académie Royale's prescribed hierarchy (with history painting at the top and still life at the bottom rung of the ladder). Scenes of everyday life by Chardin (Fig. 4), Greuze, or Fragonard were likely to hang nearby religious or mythological subjects by De Troy, Boucher, or Vien, for example.

Had La Live de Jully not lost his mind in his mid-forties—his descent into melancholia and madness after 1765 effectively put an end to his collecting—he doubtless would have also been attracted to the emerging neoclassical painting style prized by other patriotic Parisian art collectors and championed by Vien and his most gifted pupil, Jacques-Louis David. A little more than a decade after La Live de Jully's death, the pictorial language that David and his generation created went on to glorify the aspirations of the French Revolution, which ironically put an end to collecting in the patriotic taste.


Colin B. Bailey is Chief Curator at The Frick Collection, New York City. He is also the author of Renoir's Portraits: Impressions of an Age (New Haven and London: Yale University Press, 1997).

Read more on the subject in Colin B. Bailey's recent publication, Patriotic Taste, Collecting Art in Pre-Revolutionary Paris (New Haven and London: Yale University Press, 2002). The 346-page hardcover with 150 illustrations, 60 in color, is available at select bookstores or may be ordered through The Frick Collection (212.288.0700; www.frick.org) or www.yalebooks.com.