by Jean M. Burks


Fig. 1: Swan soup tureens, Chelsea Factory, West London, England, 1755; one marked underneath with a raised red anchor. Soft Paste Porcelain. H. 18, L. 20 in. Courtesy of Shelburne Museum. 31.4-1.

Challenged to describe the unique and eclectic museum she had created, Shelburne Museum founder, Electra Havemeyer Webb (1888–1960), coined the phrase "a collection of collections."1 Daughter of distinguished fine art connoisseurs Henry Osborne and Louisine Elder Havemeyer, Electra was guided by her eye and drawn to collect pieces that reveal her fascination with materials, surface, and scale. Her appetite for antiques was voracious and she filled every possible space in her three households in Long Island, New York City, and Shelburne, Vermont, with American and European antiques. "The rooms were over-furnished…then the closets and the attics were filled. I just couldn't let good pieces go by—china, porcelain, pottery, pewter, glass, dolls, quilts, cigar store Indians, eagles, folk art. They all seemed to appeal to me."2


Fig. 2: Mammoth jug, Staffordshire, England, ca. 1810. Inscribed under the spout: "John Potter's/ Staffordshire/Ware House." Transfer prints, silver and pink luster, and brass/copper lid (probably a later replacement). H. 24-1/2, W. 29 in. Courtesy of Shelburne Museum. 31.2-2.

In 1947, Electra realized a lifelong dream: the creation of a museum in which to share her collection with the public. Located in the Champlain Valley of Vermont, the Shelburne Museum today is home to thirty-seven buildings set within forty-five landscaped acres. Within the historic houses, trade shops, and gallery spaces are collections of furniture, glass, textiles, Impressionist and folk paintings, weathervanes, toys, tools, and other utilitarian and decorative objects that span three centuries. The 2003 museum exhibit at the New York Winter Antiques show features highlights from this "collection of collections," some of which are illustrated and described below.

In a speech delivered at Colonial Williamsburg in 1957, Electra remarked about these tureens (Fig. 1), "These two red anchor Chelsea swans were bought by me more than 45 years ago. I bought them not knowing what they were; I bought them because I thought they were beautiful, and it was only about six years ago that I discovered they were the only pair known, and I loved them so and wanted to put them in the museum."3


Fig. 3: Whale's tooth, unknown artist, ca. 1850. Incised and inked ivory. H. l6-1/4, W. 2-7/8 in. Courtesy of Shelburne Museum, photography by Ken Burris. Gift of George G. Frelinghuysen. 1964. 1964-79; 37.1-148.

The inspiration for these swan tureens likely stems from the designs of J. J. Kandler, the chief modeler at the Meissen porcelain factory in Germany, who, by the 1730s, had produced large-scale statuettes of animals and birds. He was responsible for the design of the famous swan dinner service—complete with sculptural tureens from which birds and fish emerge—made in 1737–1741 for the factory's director Count Bruhl. Imported Meissen ceramics served as design sources for English firms such as the Chelsea Factory, established outside of London in 1745. This inspiration is evident in this pair of tureens, which pay homage to Kandler's work while they celebrate the city's royal birds.

Unlike Meissen, very little is known of the Chelsea modelers and painters. Whoever the craftsmen were, they understood the anatomy of birds, for these swan tureens represent cygnus olor (the mute swan), distinguished from other species by its orange or pinkish red bill with a black knob. The feathers are rendered in white with remaining tufts of grayish-pink, which are the signs of an immature cygnet.4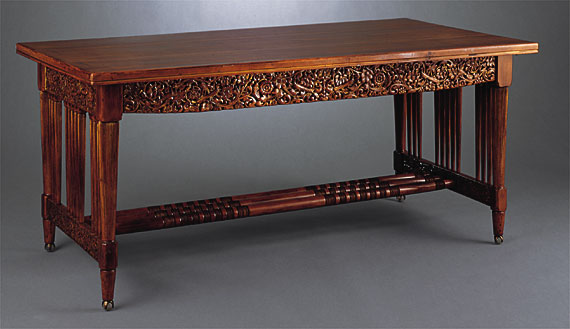 Fig. 5: Table, designed by Louis Comfort Tiffany (1848–1933), New York, ca. 1888. Ash. H. 29, W. 34-3/4, L. 65-1/2 in. Courtesy of Shelburne Museum. 3.6-104.


Measuring almost 25 inches tall, this mammoth jug (Fig. 2) reflects Electra Havemeyer Webb's fascination with scale, and is part of the nearly twenty others in the museum—the largest collection of its type in New England. With decoration drawn from life and imagination, mammoth jugs served as commemorative, advertising, and presentation pieces. Enterprising merchants such as John Potter, whose name is inscribed on this jug, saw the potential economic benefit of commissioning a mammoth jug for use as a trade sign in the public rooms or windows of his business establishment.

The body of this jug is decorated with pale green transfer printed landscape scenes with riders and dogs, which would have appealed to Electra for its subject matter. The pastimes of hunting and riding as well as the breeding of prize-winning livestock and hounds represent an important aspect of the lifestyle she and her husband, James Watson Webb, so loved. This jug remained prominently on view in her home on Lake Champlain until she removed it to her museum for exhibition in the late 1940s.5

The museum's scrimshaw collection offers a wide variety of forms, including shipboard implements, kitchen and needlework tools, fashion accessories, and whale's teeth decorated with engraved scenes. While many designs on teeth were inspired by the experiences of the sailors who embellished them, this image of George Washington (Fig. 3) was taken from a popular Nathaniel Currier print Washington's Reception by the Ladies, dating from 1845. In the mid-1930s, this tooth, with its image of the first president above the emblems of the United States of America, was judged of outstanding artistic merit and included in the federal government's Index of American Design, a depression-era project that was created to record the finest examples of American craftsmanship.


When other collectors were stripping furniture of original paint, Electra Havemeyer Webb was preserving it, amassing in her collection all types of decorative finishes. Illustrative of the early eighteenth-century painted tradition, the chest in figure 4 (right) is one of a handful of similar case pieces from Massachusetts. Its decorative scheme emulating expensive "Japanned" furniture, a finish treatment inspired by oriental lacquer work and fashionable in colonial America during the William and Mary period (ca. 1690 to 1720).


Fig. 4: Lift-top chest, unknown maker, Essex County, Mass., 1700–1725. Pine with paint. H. 44, W. 38-1/2, D. 20-1/2 in. Courtesy of Shelburne Museum; acquired from Katharine Prentis Murphy. 1956-694.8, 3.4-2.

The red, white, and yellow painted decoration on this chest covers what appear to be five drawer fronts, though there really are only two. The stylized designs include a sunrise embellishing each drawer front, fanciful flowering vines resembling embroidery motifs, and stairways leading to nowhere. But it is the pair of two-storied brick-faced buildings with cupolas that draw the most attention. At one time, these architectural renderings were believed to represent buildings at Harvard College in Cambridge, Massachusetts, and for that reason, this and a handful of similarly painted chests became known as "Harvard chests." Closer study, however, has indicated that the design source for these particular edifices is more apt to have been the artist's imagination than any academic structure.

The Shelburne Museum collection includes rare examples of furniture that the Havemeyers commissioned from Louis Comfort Tiffany (Fig. 5). At the end of the nineteenth century, the society of the Gilded Age manifested an overriding concern with material goods, perceiving that it was through possessions that individuals could be judged by their peers. Thus, in 1888, Louisine Havemeyer engaged the Tiffany Glass and Decorating Company of New York to design the interior of the family's new residence at 66th Street and Fifth Avenue. Although the exterior was conservatively Romanesque Revival in style, she wanted the interiors to depart dramatically from the prevailing decorating idiom of their neighbors, the Vanderbilts and the Astors.

Instead of imitating European furnishings, the living spaces created by the firm incorporated a profusion of pattern, a feeling for texture, a concern for the display of collections, and a preference for exotic motifs. Each room had its own theme and unity that in turn worked with the adjoining spaces to create a larger, harmonious whole. Louisine's music room was decorated in references to Far Eastern designs. Among the furnishings was this table (and a chair also in the collection), part of a larger suite consisting of three settees, six arm- and side chairs, and various tables designed and made at Tiffany Studios. The suite embodies the prevailing art nouveau style in the intertwined naturalistic plant and flower forms executed in shallow relief, highlighted in gold leaf along the skirt of the table. According to Louisine Havemeyer, a piece of carved ivory inro "suggested the carving for the furniture."6 Today, the table and chair, which were given to the museum by Louisine's grandson, George Frelinghuysen, are reinstalled in the Electra Havemeyer Webb Memorial building, which houses furnished rooms from Electra's New York City home.


Jean M. Burks is Curator of Decorative Arts, Shelburne Museum, Shelburne, Vermont. She is author of Birmingham Brass Candlesticks (1986) and the co-author, with Timothy Rieman, of The Complete Book of Shaker Furniture (1994).


---
1 Shelburne Museum: A Guide to the Collections (Shelburne, Vermont: Shelburne Museum, Inc., 1993), 10.

2 Ibid, 12.

3 "The Shelburne Museum and How it Grew," unpublished speech, Colonial Williamsburg Antiques Forum, 1958. Shelburne Museum Archives, p. 3.

4 One other male swan of this size is in the Cecil Higgins Museum at Bedford, England, and a female exists in the Victoria and Albert Museum in London (see Emily M. Manheim, "The 'Bird Royal' in Chelsea," The Magazine Antiques [June, 1954]: 465). This pair was perched on the windowsill of Electra Webb's Park Avenue home.

5 Julie Eldridge Edwards, "The Evolution of Electra Havemeyer Webb's Country Estate: The Brick House 1913–1947" (Masters thesis, Cooper-Hewitt National Design Museum and Parsons School of Design, 2002), 25.

6 Alice Cooney Frelinghuysen, "The Havemeyer House." In Splendid Legacy: The Havemeyer Collection (New York: The Metropolitan Museum of Art, 1993), 186.