by Jill Connors


Woven in the Orient for thousands of years, handmade rugs have been coveted by everyone from European nobility to wealthy Boston matrons. Their appeal shows no signs of wearing out. Indeed, the market for antique Oriental rugs in this country has steadily increased since the 1970s when aggressive collecting by Europeans awakened an awareness among Americans. Today, one of Oriental rug specialist Peter Pap's favorite categories within the dizzying variety of Oriental rugs is nineteenth-century Caucasian village rugs.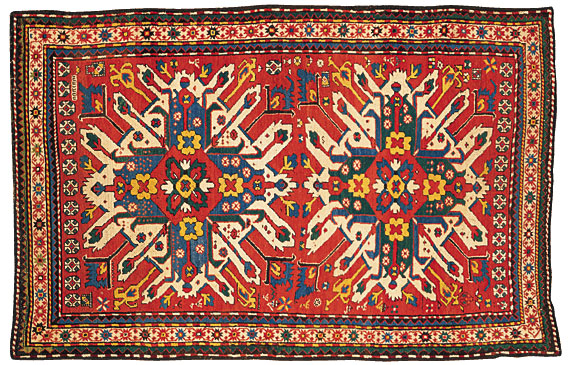 This late nineteenth-century example of an "Eagle Kazak" rug woven in a village in the mountainous Southern Caucasus is quite collectible, with a value of about $15,000. Explaining why it is less valuable than the carpet illustrated below, Peter Pap points out "This example is later, more stylized, more folksy, more busy, and in the more common background color. It also has a thicker pile and coarser weave." Measuring 4 ft. 3ins. by 7 ft., it is one of thousands of examples of this type that were woven in the late nineteenth century, although many are not nearly as well executed or in as good condition as this one.


The Caucasus mountain range stretches from the Caspian Sea to the Black Sea in the area of modern-day Azerbaijan and southern Russia, and it is in the villages of these mountains that some of the most highly collectible rugs originated. Pap's interest in rugs and carpets from this area are those made between 1800 and 1900. "The late nineteenth century is the last hurrah for village and nomadic rugs," says Pap. "By the early twentieth century, they no longer use natural dyes, and the designs and weaving are much less appealing."

The best nineteenth-century Caucasian village rugs exhibit the inventiveness of the cottage-industry weavers who created stylized versions of traditional design elements and used local materials to their best advantage. During this time, the use of natural dyes was still a practiced art, resulting in vivid colors. Design motifs such as sunburst medallions, dragons, and temple arches appear in many of the best village rugs. "This started as very small-scale village production in the late eighteenth and early nineteenth century," says Pap, "and in the mid-nineteenth century, production exploded because of increased demand from wealthy Europeans."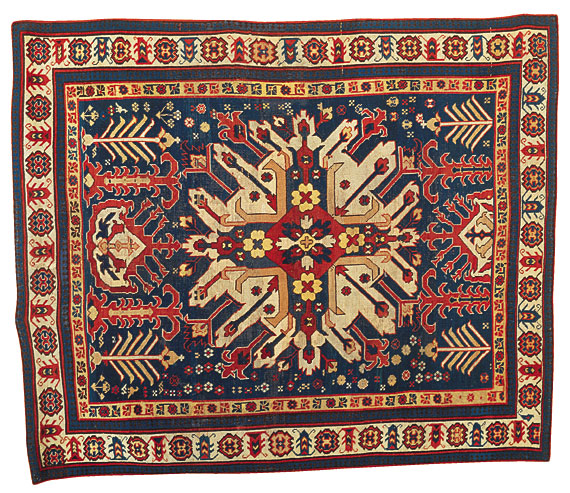 This circa-1800 "Eagle Kazak" rug is one of the most recognized of Caucasian village designs. The design is based on a sunburst medallion that was a secondary motif of classical seventeenth-century carpets. In the hands of village weavers, the sunburst medallion became the dominant motif throughout the nineteenth century; rugs with a single medallion from the early part of the century are quite rare. This example serves as an important link between classical workshop and village cottage-industry rugs. The value of this rug is further enhanced because of its blue background, a ground color rarely used in rugs from the Southern Caucasus rugs in this time period. "The regional preference was for red, which likely related to the easy access to local dye stuffs," says Peter Pap, "whereas indigo had to be imported." There are only four other single-medallion rugs of this vintage known to have turned up in the marketplace at this point. Measuring 4 ft. 11 ins. by 5 ft. 10 ins., this rug could bring upwards of $60,000 or more.


Collectors today will find that the market price for nineteenth-century Caucasian village rugs ranges from $5,000 to $60,000 or more, depending on rarity and condition. "Older is almost always better; it almost always translates into rarer," says Pap. Another factor affecting value is what the rug's design is based on. For example, one of the reasons a rare "Eagle Kazak" from circa 1800 is more valuable than a later "Eagle Kazak" (see illustrations) is that even though both designs derive from sunburst medallions seen on seventeenth-century classical rugs, the original design inspiration is much clearer in the earlier of the two rugs. As for condition, worn rugs bring a lot less money, but, Pap adds, "Restoration is not the kiss of death. It is acknowledged that these items have been walked on."

Supply and demand tend to be a little more in favor of the buyer these days. "There's more selection now than a few years ago, because antique village rugs are coming into the market from estates and private collections." Among buyers, there are two distinct groups: those who are furnishing houses and those who are seriously collecting rugs. The latter generally hang their rugs on walls or store them. To the former, who use the rugs as functional items, Pap advises, "Sitting areas or low traffic areas are best for Caucasian rugs." Both groups benefit from a basic fact of the current antique rug market: "Rugs still remain undervalued relative to other antiques," says Pap. The magic of the carpet continues.


---
All images courtesy of Peter Pap Oriental Rugs.