by Gail F. Serfaty


William Penn's Treaty with the Indians, after Benjamin West, date unknown. Oil on canvas. 25 x 29 in. Depicts William Penn's meeting with the Delaware (Lenape) Indians in 1682. Funds donated by Mrs. Benjamin Commander Russell in memory of her husband. 1975.0042.

The Diplomatic Reception Rooms of the Department of State fulfill a vision first articulated a mere forty years ago: to provide U.S. secretaries of state with an environment of rare beauty and civility in which to host official diplomatic events. Today, those responsible for carrying out America's foreign policy proudly preside over formal dinners and ceremonies, casual meetings and quiet conversations in rooms of classical balance and dignity; their guests - kings and presidents, diplomats and foreign ministers - readily sensing the American spirit in these spaces. The traveling exhibition and accompanying publication, Becoming a Nation, offer a glimpse into this elegant yet home-like, very American milieu.
The objects selected for the exhibition represent the cream of the collection. Each piece is a superb example of American design—redolent with important historic or diplomatic associations. Each has been acquired entirely through the generosity of patriotic donors—private citizens, corporations, or foundations—and meant to be in the public domain so that people from around the country and around the world can enjoy them.

The State Department's collection is considered one of the three finest in the country. Its purpose, though, sets it apart from the great collections at Winterthur Museum and the Metropolitan Museum of Art. These examples of the American craftsmanship from the eighteenth and early nineteenth centuries are in daily use at the State Department. Probably nowhere in the United States, not even in the White House, is entertaining done as often for so many amid such a fine collection. One hundred thousand guests are entertained here annually and public tours worked in among these engagements draw an additional sixty thousand visitors a year.


Mahogany bombé desk and bookcase, signed and dated Benjamin Frothingham, Jr., 1753, Charlestown, Massachusetts; 98 x 44 x 24 in. First documented piece of bombé-shaped furniture made in America; Gift of Mr. Dana C. Ackerly and Mr. Earle S. Thompson, estate executors, in memory of Mrs. Bell McKerlie Watts and Mr. Samuel Hughes Watts. 1970.0094. Photography by Will Brown.

The current exhibition is an outgrowth of Treasures of State, a volume that proved a key step in bringing the collection to the attention of a wide audience.1 Becoming a Nation, guest curated by Jonathan Fairbanks, goes beyond that initial publication, sharing not only the printed word with the general public, but for the first time ever the collection will be accessible outside Washington, D.C. It will be shown at museums across the country that do not have their own major decorative arts collections, and in the process, bring Americans an enhanced understanding of the work of the State Department.

Becoming a Nation skillfully weaves the objects on display into the different stages of early American history—discovery, colonial growth, revolutionary change, federal consolidation, and westward expansion. The development of the Diplomatic Reception Rooms somewhat echoes these stages in that, like our republic, the collection began with a brilliant, implausible idea, then quickly grew from its small beginnings to great things.

When the State Department headquarters were built in 1960, the eighth floor suite allotted to official diplomatic entertaining was devoid of dignity. Clement Conger, who later became the legendary first curator of the reception rooms, looked at these vast, sparsely furnished rooms and envisioned civilized spaces for civilized discourse. He believed that if it were furnished with the finest examples of American artistic ingenuity, the eighth floor would provide an optimum environment for advancing foreign policy. Clem was then special assistant to the director and secretary of the Arms Control and Disarmament Agency, but he volunteered to form a Fine Arts Committee. I was straight out of college with a full-time job in another section of the State Department. For a number of years, Clem, my colleague Patricia Heflin, and I, propelled by optimism, naiveté, hard work, and resourcefulness born of lack of money carried out the work of the Fine Arts Committee on the weekends.


Carved wood American eagle wall plaque, possibly by John Haley Bellamy, Portsmouth, New Hampshire, ca. 1860– 1880. H. 23, W. 40, D. 5 in. Funds donated by Mr. and Mrs. Ashley H. Priddy. 1982.0030. Photography by Will Brown.

Through Clem's extraordinary vision, courage, enthusiasm, and with the support of both the Fine Arts Committee and of the Diplomatic Rooms Endowment Fund, the Diplomatic Reception Rooms gradually became, like our nation, self-sustaining, independent, sure of their mission, successful, and solvent. Though the project moved along in sometimes halting stages of acquisition and refinement, it grew to encompass 42 rooms with 5,000 objects worth over $100 million. The first of their kind in the country, the Diplomatic Reception Rooms are now among the most beautiful public spaces in America.

With such a large area to fill, the first task was simply to try to furnish unpromising spaces. This gathering of resources was, I suppose, our colonial phase, and we did not realize quite where it would lead us. We needed sideboards for the dining room and chairs for the drawing room. Mostly, we needed donors willing to take a leap of faith, and we found them.


Classical mahogany sofa, New York, New York, ca. 1810–1820. Attributed to the shop of Duncan Phyfe, 35 x 73 x 23 in. With rare hairy legs and feet. Lent by Mrs. James Balling. L1980.0079. Photography by Will Brown.


Dealers, collectors, and scholars shared their knowledge in an enormously supportive way, and their gifts flowed into the State Department. Collecting and studying American decorative arts only began in earnest in the twentieth century, and it is still a young field. Its devotees have proved uniquely generous. When we did not own much and were dependent on loans to give the rooms a more furnished look, Benjamin Ginsburg was the very first dealer to help us out. Harold Sack of Israel Sack, Inc., was a great mentor to all of us, and to me, in particular. No one has been as generous as Richard Dietrich, a Fine Arts Committee member, who lent a hundred pieces of porcelain, silver, paintings and furniture from the Dietrich Americana Foundation.


Chippendale mahogany open-arm armchair, Phil-adelphia, ca. 1765–1780. H. 38, W. 26, D. 26 in. This chair represents the most expensive form of armchair made in America. Funds donated by Mrs. Golsan Schneider. 1976.0044. Photography by Will Brown.

Family pride also emerged as a strong impetus for giving. We received an extraordinary gift of silver by well-known eighteenth century Long Island silversmith Elias Pelletreau. The important portraits of John Quincy Adams and his wife, Louisa Catherine Johnson Adams, were the gift of three Adams descendants. We have also purchased many objects directly from families. Most commonly, though, we have acquired objects from dealers or at auction, often with funds that were donated by small family foundations.


Silver sauceboat, one of a pair, by Jacob Hurd, Boston, ca. 1740–1746. H. 4, L. 6-13/16 in. Gift of Jane Bortman Larus in loving memory of her parents, Mark and Llora C. Bortman. 1971.0124.074. Photo- graphy by Will Brown.


After almost ten years of collection-building, the mahogany furniture, fine clocks, Chinese export porcelain, and the images of our founding generation needed an appropriate setting. In 1969, we enlarged our Revolutionary phase and began to change the motel environment of the rooms with major architectural improvements. One by one, the rooms began to blossom architecturally in a somewhat haphazard pattern until the last one was completed in 1985.


Now when guests step off the elevator, they enter a splendid, thirteen-foot-high room with pilasters and cornices, and paneling inspired by the drawing room at Marmion, a great colonial house in Virginia. Guests move through the entrance hall, lined with some of the finest examples of colonial furniture made in Boston, Newport, and Philadelphia, and into the suite of adjoining rooms. The furniture, silver, and porcelain date from 1740 to 1825. Paintings on view extend beyond the era of colonial portraiture in order to include the great American landscapes of the nineteenth century.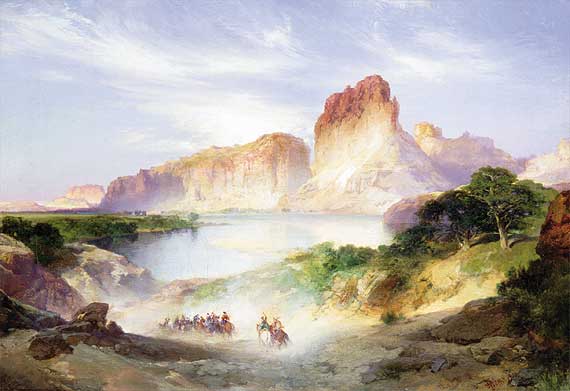 The Cliffs of Green River, Wyoming, Thomas Moran, 1900. Oil on canvas. 20 x 30 in. One of more than thirty paintings of this subject painted by Moran over a forty-year period. 1987.0026. Photography by Will Brown.


Bronze mantel clock, Paris, France, ca. 1795–1820, Louis Mallet. 25 x 7 x 7-3/4 in. Sculpture of Benjamin Franklin, the most popular American figure abroad. Funds donated by Mrs. Patrick D'Orsi in memory
of her husband. 1970.0027. Photography by Will Brown.


Beginning with Dean Rusk in 1961, all the secretaries of state have actively involved themselves in the project to furnish the rooms with Americana, with Secretary of State Colin Powell the most active champion of the cause. They are, after all, responsible for more official entertaining than any other public figures in the United States. Several, including Secretaries Rogers, Kissinger, Shultz, Vance, and Baker have supported the rooms financially with personal gifts. Secretary Rusk also had the idea to name each room after a secretary of state who went on to become president, making one exception in Benjamin Franklin, who, though neither secretary nor president, was one of the most beloved ambassadors to serve our country abroad. The period of great founding statesmen—among them Adams, Jefferson, Monroe, and Madison—fortuitously coincides with the golden age of American cabinetmaking, which is the period from which much of the furniture for the rooms were selected.

Initially the secretaries used the gradually evolving reception areas only for formal occasions. Now, between five and twenty-five times a week, the secretary of state, assistant secretaries, the vice president, and members of the Cabinet use the rooms to host dinners, receptions, press conferences, and ceremonies that are international in nature. With the completion of the rooms, we had arrived at our federal period. Our identity was established. We had achieved an ambiance suitable for statesmen to create and promote American foreign policy.

It is hoped that guests feel as if they are visiting a fine eighteenth-century American home, though we do not mean to suggest that any American family ever actually lived with such a quantity of high-style furniture, chandeliers, and fine rugs. What guests see are the taste, optimism, self-reliance and self-confidence of both the twentieth-century Americans who generously donated these objects and our immigrant forebears who first crafted or commissioned them.


Chinese export porcelain plate, ca. 1805– 1810. 1 x 9 in. Possibly owned by Sylvanus Thayer, Superintendent of the U.S. Military Academy at West Point Funds donated by Mrs. Alexander O. Vietor 1968.0011.042. Photography by Will Brown.


Now that the rooms are furnished, and the last of the architectural changes have been made, our primary mandate is to maintain the collection and build an endowment fund. Yet, there remains a need to raise funds for acquisitions, particularly for pieces that relate to early U. S. diplomatic history or are unique to America. Early scenes of American cities, portraits of Dolley Madison and Elizabeth Monroe, and a Boston japanned high chest are being sought. The idea has remained constant that the Department of State should show the best there is of America's cultural heritage. With this exhibition, the collection enters its westward expansion phase that may in time extend to international outreach. Wherever the collection may travel, we hope visitors will come away with a deepened appreciation for the objects and their role in American history.

Becoming a Nation, organized by the Trust for Museum Exhibitions, Washington, D.C., will open at the Portland Art Museum in Oregon, on April 11 and run through June 8, 2003. It will travel to seven other museums across the country, with a final destination at the Portland Museum of Art in Maine (October 28, 2004–January 2, 2005). Guest curated by Jonathan Fairbanks, the catalogue is edited by Gerald W. R. Ward and features contributions from nearly twenty scholars. The 232-page catalogue features lavish color illustrations and is available from Rizzoli for $45 hardcover; $35 softcover. This article is adapted from the preface by Gail Serfaty.


Gail F. Serfaty is Director of the Diplomatic Reception Rooms, U.S. Department of State, Washington, D.C.


---
Clement E. Conger and Alexandra W. Rollins, eds., Treasures of State (1991).