by Thomas R. Ryan


About this time I had a family with three or four children, and had not the courage to relinquish the coppersmith and become the painter. To support my family as a painter was out of the question, I divided my day between both. Part of the day I wrought as a coppersmith. The other part as a painter.1


Fig. 1: Self-portrait by Jacob Eichholtz (1776– 1842), 1825. Oil on canvas. 29-1/2 x 24-1/2 inches. Courtesy of Lancaster County Historical Society, Lancaster, Pennsylvania. Gift in memory of Mom and Dad (Henry and Joyce Dubbs) from Joan C. Dubbs, Barbara Hall, June MacLennan, and Mark Dubbs.


Jacob Eichholtz (1776–1842) inhabited several worlds, or so his letter to fellow artist and historian of early American art, William Dunlap would suggest. Trained as an artisan, he successfully entered the world of fine art (Fig. 1). Born and raised in the small town of Lancaster, Pennsylvania, he was most at home in cosmopolitan Philadelphia. His is an American story and his success at navigating a path through his rapidly changing worlds brings America's past into sharper relief.

Eichholtz enjoyed widespread contemporary acceptance as a professional artist, producing more than 800 works of art over a thirty-five-year career. Yet, like many successful professional artists of the early nineteenth century, Eichholtz's work is often eclipsed by the leading lights of his day, such as Gilbert Stuart, Thomas Sully, and Charles Willson Peale. Still, it was artists like Eichholtz, Chester Harding, Charles King, John Neagle, and many others who brought the fine art of portraiture into the homes of most Americans. Reassessing Eichholtz's work and restoring him to the pantheon of nineteenth-century American art adds to our understanding of early American art and culture.


Fig. 2: Copper measure by Jacob Eichholtz (1776–1842), 1802– 1815. Copper. 4-3/8 x 3-1/4 inches. Courtesy of Heritage Center Museum of Lancaster County, Lancaster, Pennsylvania.
At age 11, Eichholtz was enrolled, with his brothers John and George, in the newly opened Franklin College in Lancaster, a school established to teach boys of German heritage both the English language and academic skills deemed essential for success in the young nation. Eichholtz's parents, Leonard and Catherine, were second-generation Pennsylvania Germans who had achieved a high degree of commercial and social success as tavern keepers in their native town of Lancaster.2 By attending Franklin College, their children were on a trajectory to success in a world much larger than Lancaster and a culture far different from that of their German roots.

Though trained as a copper and tinsmith, Eichholtz was determined from an early age to be an artist. In a letter to William Dunlap he wrote: "At the proper time I was put apprentice to a coppersmith, (a wretched contrast with a picture maker), when still my predilection for drawing showed itself in the rude sketches of my fellow apprentices pictured on the walls of the shop with a charcoal. After the expiration of my apprenticeship, I commenced the coppersmith business on my own account, with pretty good luck; still the more agreeable love of painting continually haunted me" (Fig. 2).3


Fig. 3: Jacob Eichholtz by James Peale (1749– 1831), 1808. Oil on canvas. 28-7/8 x 24 inches. Courtesy of Lancaster County Historical Society, Lancaster, Pennsylvania. Gift in memory of Mom and Dad (Henry and Joyce Dubbs) from Joan C. Dubbs, Barbara Hall, June MacLennan, and Mark Dubbs.

By the age of 29, Jacob Eichholtz had secured a respectable trade, created a viable business, and married a young widow, Catharine Hatz Michael. Although his business was devoted to metalsmithing—he made thousands of copper and tin items between 1800 and 1813—he found a way to combine his metal craft with painting: in painted tinware. Although no signed pieces of painted tinware survive, according to a pseudonymous letter by "Russel" in the Philadelphia literary magazine The Port Folio, "The pots and kettles which he then offered for sale, were generally ornamented with some fanciful painting of his own."4 The author of the letter went on to state that painting tinware did not provide sufficient satisfaction to Eichholtz, evidence of his deepening devotion to the world of art.

In 1808, artist James Peale visited Lancaster from Philadelphia and captured on canvas a reflective and confident Jacob Eichholtz at age 32 (Fig. 3). This is a portrait of youthful success and leisure, with no specific references to his business in copper and tin. Perhaps this is because Eichholtz saw himself as an entrepreneur, having already expanded beyond his craft. According to his daybook, at this point, he was providing services as a gilder, glazier, wholesaler in raw materials, an occasional retailer of glass and china, and, ever increasingly, a painter—of banners, fire buckets, Masonic aprons, signs, and musical instruments (see top of page 194).5 Such diversity of output is implied in Peale's portrait of Eichholtz as a man projecting the respect he garners in his community—real or hoped for.

At the time this portrait was completed Eichholtz had begun to redefine himself yet again; in February and March of that same year he advertised that he "executes Portraits and Profile paintings."6


By May 1809, while still very much the coppersmith, Eichholtz was also recording profile portraits in his daybook. In September of that year Andrew Ellicott, a Revolutionary War officer, almanac publisher, astronomer, surveyor, mathematician, and member of the American Philosophical Society, sat for Eichholtz to have his profile painted (Fig. 4). Ellicott's profile is one of only thirteen profile paintings Eichholtz recorded in his daybook between 1809 and 1817, yet more than eighty profiles are attributed to his hand. Some are signed, others have convincing provenance, and a few are of questionable attribution.7 This discrepancy suggests that the artist chose not to record all his commissions, or just as likely, kept a second account book, now unknown. Ellicott's profile, like the majority of profiles by or attributed to Eichholtz, is 9 inches by 7 inches on a wooden panel, probably poplar, about three eighths of an inch thick.8


Fig. 4: Andrew Ellicott by Jacob Eichholtz (1776– 1842), 1809. Oil on wood panel. 9 x 7 inches. Collection of The New-York Historical Society, 1916.3.

Eichholtz's profiles were his painterly stock-in-trade during his early period, roughly 1808–1811. These small oil paintings, with their sharp linear quality devoid of subtle gradations of light and color, were simple likenesses intended for household display. Their size and portability call to mind the more intimate miniature tradition. It was likely some of these profiles that Thomas Sully saw and commented on when he visited Lancaster in 1808:
I was employed …to go to Lancaster, and paint a portrait of the new chief magistrate of the State. Eicholtz was then employing all his leisure hours, stolen from the manufacturing of tin kettles and copper pans, in painting: his attempts were hideous. He kindly offered me the use of this painting room which I readily accepted, and gave him during my stay in Lancaster, all the professional information I could impart.9

Sully advised Eichholtz not to leave the tinware business.10 This review from an established artist must have been strong medicine, even if dispensed in the gentlemanly fashion of the time.

Two years after Sully's visit to Lancaster, Eichholtz was still spending most of his waking hours in his copper shop, yet a self-portrait showing him with palette and brushes, circa 1810, creates the illusion that he was, first and foremost, a painter. In 1811, Eichholtz traveled to Boston, to the studio of Gilbert Stuart, America's preeminent portrait painter, where he spent several weeks learning from this master. He brought with him, as a demonstration of his ability, the recently finished portrait of Nicholas Biddle.11 Eichholtz later recalled:
Here I had a fiery trial to undergo. My picture was placed alongside the best of his hand, and that lesson I considered the best I ever received…I must do Stuart the justice to say that he gave me sound lectures and hope. I did not fail to profit by them.12


Stuart's influence on Eichholtz was apparent when Sully had an opportunity to view his colleague's work again. He commented "When I saw his portraits a few years afterwards…I was much surprised and gratified."13 Encouraged by his time in Boston, Eichholtz ventured to exhibit his work at the First Annual Exhibition of the Society of Artists in America in 1811, held at the Pennsylvania Academy of the Fine Arts. He continued to exhibit there for all but two of the next twenty-two years. By 1813, he had abandoned the tools of the coppersmith and turned his attention fully to painting. Between 1813 and 1822, he painted more than 250 portraits, the great majority of them half-length compositions approximately 30 inches by 24 inches.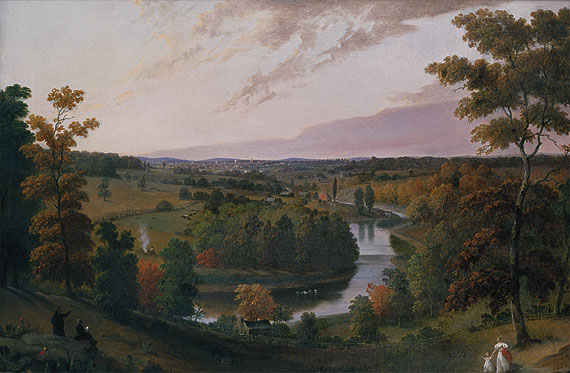 Fig. 6: Conestoga Creek and Lancaster by Jacob Eichholtz (1776– 1842), 1833. Oil on canvas. 20-1/4 x 30-1/4 inches. Courtesy of the Pennsylvania Academy of the Fine Arts, Philadelphia; gift of Mrs. James H. Beal.


His success secured in Lancaster, Eichholtz became discontented with his role as the borough's premier portrait painter. He traveled extensively, painting portraits throughout the mid-Atlantic region and spent portions of two years in Baltimore, Maryland. He explained to Dunlap: "My native place being to [sic] small for giving scope to a painter, I removed to Philadelphia [and maintained] an incessant practice of ten years, and constant employment."14

The City of Brotherly Love, from the time Eichholtz arrived there in 1823, until his death in 1842, is where his artistic spirit was most fully alive. Still the principal center of artistic and cultural life in the young nation during the 1820s, Philadelphia provided Eichholtz with the fellowship of kindred spirits. There he established himself as a major regional painter, was appointed, along with Bass Otis and Thomas Birch, to assist the directors of Pennsylvania Academy to hang their exhibitions, and executed more than 200 additional portraits (Fig. 5).15
During the last phase of his career, Eichholtz expanded his repertoire to include religious subjects, along with marine, landscape, history, and genre paintings (Fig. 6). He believed, as did some of his colleagues, that portraits were lower in the hierarchy of painting than these other forms, as illustrated in a letter to Sully in 1817:
What exquisite pleasure it would give me to hear you were engaged in some large work; my satisfaction would be augmented if it were a subject taken from the sacred scripture. It is certainly the wish of many of your friends that your talents be devoted to nobler subjects than portraits. I am aware that it is your wish also, and hope the time near which will realize those prospects…16


Fig. 5: Mrs. John Frederick Lewis by Jacob Eichholtz (1776–1842), 1827. Oil on canvas. 36 x 28 inches. Courtesy of the Pennsylvania Academy of the Fine Arts, Philadelphia. Gift of Mrs. John Frederick Lewis (The John Frederick Lewis Memorial Collection).

Yet portraiture remained at the center of Eichholtz's artistic endeavors. For the last ten years of his life, he returned to his native Lancaster, making frequent trips by rail to Philadelphia, where he maintained two houses and continued to paint and exhibit his work. In 1834, he confided to Dunlap: "I have been enabled again to remove to my native place, with a decent competence, and a mind still urging on for further improvement…It is a fire that will never quench."17

The Exhibition: The Worlds of Jacob Eichholtz, Portrait Painter of the Early Republic, brings together more than 100 paintings, decorative arts and documentary materials, to reassess the career of one of early Americas most successful portrait painters. Presented simultaneously at three venues, this exhibition is generously sponsored by the Richard C. von Hess Foundation. From Artisan to Artist, opening April 10, 2003, at the Lancaster County Historical Society, explores Eichholtz's Pennsylvania German roots while tracing his transition from the copper shop to the artist's studio. Jacob Eichholtz's Lancaster opening April 15, 2003, at the Heritage Center Museum of Lancaster County, delves into the early nineteenth century Lancaster community through the portraits and material culture of Eichholtz's subjects. The Artistic World of Jacob Eichholtz, opens at the Philips Museum of Art at Franklin & Marshall College, Lancaster, Pennsylvania, on April 25, 2003, and illustrates the artists who influenced and inspired his work. All three venues continue through December 2003. An accompanying book will be available in summer 2003. For more information, please call 717.392.4633, or visit www.lancasterhistory.org.


Thomas R. Ryan, Executive Director of the Lancaster County Historical Society, Lancaster, Pennsylvania, is curator of The Worlds of Jacob Eichholtz, Portrait Painter in the Early Republic.


---
Jacob Eichholtz letter to William Dunlap. William Dunlap, A History of the Rise and Progress of the Arts of Design in the United States, 3 vols. (1834; reprint with additions, Boston: C. E. Goodspeed & Co. 1918), 2: 385.


According to the 1800 Lancaster Borough Tax Returns, Leonard Eichholtz's taxable property placed him in the top one half of one percent of the borough's population.


Dunlap, 2: 385.


The Port Folio, New Series, 5, no. 4, (April 1811): 341.


Jacob Eichholtz Daybook, Historical Society of Pennsylvania.


The Intelligencer and Weekly Advertiser, Lancaster: February 23, March 1, 8, 9, 1808.


Rebecca Beal, Jacob Eichholtz, 1776–1842, Portrait Painter of Pennsylvania (Philadelphia: Historical Society of Pennsylvania, 1969), 74. Beal documented eighty-three profile paintings, seventy-nine of which she dates before 1817. Although some attributions may be argued with, overall, Beal's catalog is a solid documentation of Eichholtz's work and a thorough historical treatment of his sitters. Equally impressive is John Calvin Milley, "Jacob Eichholtz, 1776–1842, Pennsylvania Portraitist" (Master's thesis, University of Delaware, 1960)


According to Beal, thirty-one profiles are exactly the same size as Ellicott's 9 by 7 inch profile and another thirty-two are within one inch of either dimension.


As quoted in Dunlap, 2: 386.


William Dunlap, Diary of William Dunlap 1766–1839: The Memoirs of a Dramatist, Theatrical Manager, Painter, Critic, Novelist and Historian (1929, 1930 & 1931, reprint, New York: Benjamin Blom, 1969), 704.


Biddle was a lawyer and representative in the Pennsylvania House.


Dunlap, 2: 386.


Dunlap, 2: 386.


Dunlap, 2: 386.


Beal, xxvii.


Beal, 377.


Dunlap, 2: 386.