by Mary Ellyn Kunz


When William Penn (1644–1718) began building Pennsbury Manor in 1683, he had high hopes for his personal estate. Situated on 8,400 acres of prime land along the Delaware River, he envisioned a stylish house surrounded by carefully tended gardens. The land would be cleared and crops grown, but most of all it was to be a peaceful retreat for the Penn family 26 miles north of Philadelphia.


Bursting with idealism and energy, Penn directed the building of his country home even as he worked on establishing his budding new colony. The territory was bestowed upon Penn in 1681 by Charles II of England in payment for a debt owed to Penn's father. It was to be the laboratory for Penn's progressive ideas about government, the outcome of his experience with religious persecution in England after he converted to Quakerism. This experience, combined with his impressive connections, intellect, energy, and charisma, allowed Penn to realize his "Holy Experiment,"2 and establish a colony where there was religious tolerance, a fair judicial system, and equal representation by the people.

Penn actively recruited persecuted religious sects from Europe for his new colony, as well as craftspeople, merchants, lawyers, farmers, and any others who wanted to start a new life. The influx of European settlers might well have caused tension with the Native Americans in the area were it not for Penn's policies and laws that established a peaceful coexistence for everyone.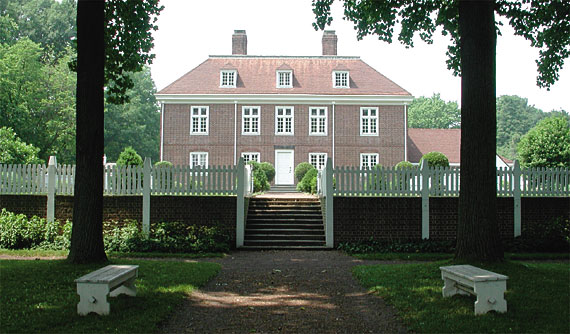 The Manor House


Pennsbury Manor was a microcosm of Penn's colony; its residents and workers representing different nationalities and races. James Harrison, the steward, was an Englishman who came to Pennsbury at Penn's invitation. A Dutch joyner (wood worker) was indentured. Elizabeth Seale, of Germany, was a contract washwoman. Others, however, were not there by choice: Sam, Sue, Yaff, Jack, and Peter were enslaved and worked alongside people whose fortunes were much different than their own. (This contradiction in Penn's philosophy and action continues to intrigue historians today.)

Pennsbury became the elegant country seat that Penn envisioned, and Pennsylvania, and the ideals upon which it was founded, continued to develop. But Penn could not fully enjoy his successes as business and legal matters in England limited his stay in Pennsylvania to two brief periods: 1682–1684 and 1699–1701. His lengthy absences produced internal conflict in his government and decline at Pennsbury. At the end of his life, poverty and illness plagued Penn and, although his thoughts often turned towards America, he never again visited Pennsylvania, dying in England in 1718.


---

The Country Life is to be preferr'd, for there we see the Works of God; but in Cities little else but the Works of Men: And the one makes a better Subject for our Contemplation than the other.1


---
The government that Penn had taken such pains to create overcame the loss of their founder and grew stronger with time, becoming part of an emerging American identity. In 1776, the "seed of a nation"3 Penn planted in Pennsylvania became reality. The abandoned Pennsbury Manor, however, deteriorated and collapsed.

Though in ruins, "many persons came to looke"4 at the site of the old governor's mansion. This flow of visitors finally took on the form of a grassroots preservation movement intent on creating a memorial to William Penn. In 1929, the land was acquired and donated to the Commonwealth of Pennsylvania. Colonial Revival architect R. Brognard Okie was charged with combining the available archeological and historical research into plans for a reconstruction. Pennsbury Manor formally opened to the public in 1939 amidst a great deal of fanfare and not a little controversy over how closely the reconstruction resembles the original. The full restoration of the estate was complete by 1942.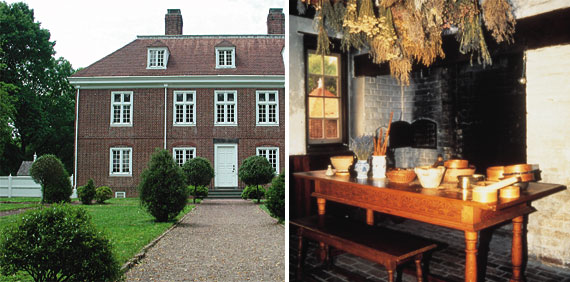 On left: Great Hall. Photography by David J. Healy. On right: Best Kitchen. Photography by David J. Healy.


In an area rich in eighteenth-century history, Pennsbury Manor offers a unique look into an even earlier period, reflecting the estate of an English gentleman living 300 years ago. The furnishings and decorative arts, appropriate to Penn's time of residence, exhibited in period room settings, are perhaps the region's finest collection of seventeenth-century English furniture open to the public. Buildings integral to maintaining a small community—including a bake and brew house, smokehouse, and joiner's shop—replicate the original structures on the grounds. The landscape, 43 beautiful acres, with vistas of the Delaware River, period gardens, and animals grazing in pastures evoke a sense of serenity. A full calendar of special events and demonstrations ensures that there's something for everyone of all ages.

Pennsybury Manor is located near Tullytown in historic Bucks County. It is administered by the Pennsylvania Historical and Museum Commission in association with the Pennsbury Society. Open year-round, Tuesday through Sunday, visitors should call in advance for information on tours and programs. Pennsbury is less than an hour's drive from Philadelphia's historic sites and attractions. Call 215.946.0400 or visit www.pennsburymanor.org.


Mary Ellyn Kunz is Museum Educator at Pennsbury Manor.


---
William Penn. Some Fruits of Solitude. Originally published 1693.


William Penn, June 25, 1681.


William Penn, March 5, 1681.


Rosamond Crozier (later owner of Pennsbury Manor site), 1826.