by Kevin J. Tulimieri


The Antiques Dealers' Association of America, Inc. (ADA) 1 is pleased to honor noted Chinese export porcelain dealer Elinor Gordon of Villanova, Pennsylvania, with the second Award of Merit for distinguished contributions to the antiques industry. Celebrating her fiftieth year dealing in fine porcelain, Mrs. Gordon is an author, lecturer, and scholar who has helped build numerous public and private collections. Mrs. Gordon will be honored at a presentation ceremony and dinner on Saturday, April 5, 2003, at the Philadelphia Antiques Show, 33rd Street Armory in Philadelphia.


Elinor Gordon's passion for fine porcelain is clear. "I am drawn to Chinese porcelain for the simplicity of design. It is restful to look at," she says, picking up an elegantly decorated dinner plate. "Look at the fisherman here. Look how delicately he's painted. The man is in Western clothes, that's what makes it rare." A natural teacher, Mrs. Gordon is always willing to share her vast knowledge. "I have done a lot of teaching during my time in business, especially if someone is interested." She encourages young collectors to "feast their eyes on beautiful things and talk to people who deal in good objects."

"I met Elinor about forty years ago when my father was doing the Winter Antiques Show," says Arthur Liverant, chairman of the ADA's Award of Merit Committee, "and even then she was one of the most highly respected dealers in the trade. She is the matriarch of ethics and quality." Reflecting the sentiments of many in the field, he adds, "She is a person dealers look up to. They aspire to be as respected as she is."


Elinor Gordon on the cover of Main Line, March 1992. Photography courtesy of John Mainka.

Mrs. Gordon, the daughter of James A. and Helen McIntyre, grew up in New York. Her father was general sales manager for Marmon Auto Company, and her mother was ahead of her time, working on Wall Street, in a position known as a "Customer's Woman." The family enjoyed a comfortable living until the crash of 1929 and the onset of the Great Depression. "I'll never forget," she says, "one day mother came home and told us she had retired. She was a married woman and the men needed the work. Then father came home and said to mother, 'Well, I got my pink slip today.' So there we were. We lost everything. Not that it was good, but it taught me a lot--that you can't count on things; you have to have other devices to keep yourself above the water level."

To help the family, Mrs. Gordon became a fashion model at age 17, appearing in Vogue, Harper's, and Life. "Times were still rough. Imagine! I was making $25 a week," she recalls. "My crowning glory was to be on the cover of Life in January 1939. Alfred Eisenstaedt was the photographer; a dear, sweet man. Years later he came to the New York Antiques Show. I didn't think he would remember me from Adam." She recalls with a chuckle, "Well, he came over to my booth and in his very thick German accent says to me, 'Elinor, you've come a long way baby.'"


Elinor Gordon in her booth at the 2003 Winter Antiques Show, New York.

Mrs. Gordon credits her success to her late husband, Horace Gordon, an aid to General George Wedemeyer, at the Office of Policy and Strategy in the Pentagon. "I owe it all to Horace," she says. "He told me that anything I wanted to do, it was within me to do it." Shortly after the couple married in 1943, they took the first of many buying trips to New York City. "Horace took me to see Otto Wassermann. He didn't have a shop, but there were two big rooms full of porcelain. Horace bought me two small plates. I still have them in my collection."

Ten years after the couple were married, they built an addition to their house as Mrs. Gordon started to sell porcelain as a business. "I was a pupil of Lloyd Hyde. At the time he was the only person dealing exclusively in Chinese export porcelain. I did not intend to imitate him, but I loved the material, and it was what I wanted to deal in," she says.


Elinor Gordon at a dinner party with her late husband, Horace Gordon.

Recognized as the leading representative of her field, Mrs. Gordon is also a founding member of a number of top antiques shows, among them the Winter Antiques Show in New York City, where she has exhibited for forty-nine years; the Ellis Antiques Show in Boston, where she has shown for its forty-three years; and the Philadelphia Antiques Show, exhibiting there for forty-one years. Having celebrated her 85th birthday in February, 2003, Mrs. Gordon still keeps an active schedule. "I love what I am doing," she says with pride, "I'm just lucky I guess."

Known for her wit and ability to appreciate humor, Mrs. Gordon remembers, "One time in New York, I was working very hard to sell this marvelous tureen. I had a couple who were very interested. When I opened the lid, there was a rubber chicken inside. I was so embarrassed. I turned around and there was fellow dealer J. J. Thompson standing around the corner laughing. Another time an elderly woman with a hat and veil came into my booth; I didn't pay much attention. Then the woman said something and smashed a cup on the floor. I was so shocked. As soon as I walked over I knew it was J. J. in disguise; he had planted a reproduction tea cup in my booth earlier." Mrs. Gordon laughs, "There is great camaraderie among dealers."

Skip Chalfant, president of the ADA, notes "She's been in the business for fifty years, does the best shows, has written books and lectured, and has an excellent reputation. She does it all." A friend and colleague for over thirty years, Chalfant continues, "Elinor is very warm and personable. She's always willing to share information, and working with her has always been pleasant and easy."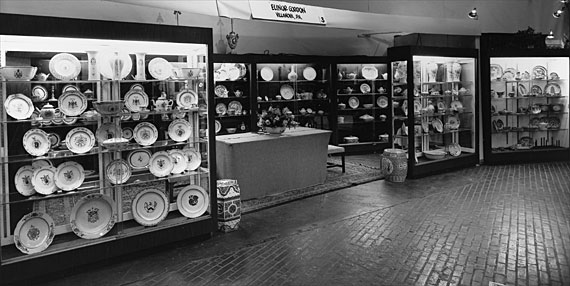 Elinor Gordon's booth displaying the Chinese export porcelain for which she is so well known.


Pursuing her career with passion and dedication, Mrs. Gordon's efforts have led to recognition from numerous sources, including a recent interview in The New York Times. Arie Kopelman, Chairman of the East Side Settlement House Winter Antiques Show in New York City, has nothing but praise for Mrs. Gordon. "Next year is the fiftieth year for the show, and Elinor has been there from the beginning. Discussing porcelain with her," he adds, "is such a treat because she has wonderful material, an encyclopedic knowledge of her field, and is honest as the day is long. You can see why people buy from her with tremendous confidence. There are a lot of good reasons why she is a legend."

Mrs. Gordon's advice to new dealers is, "Do your homework and study. It's human to make mistakes, but for heaven's sake own up to them!" When asked her advice to collectors, she quickly responds, "Find someone you can trust, and work with them. They will know who is honest and they will be able to guide you."


"Elinor has been active for so many years," says Liverant, "when she receives her award, there will be a lot of people smiling, and not only those in the room, but people who have already passed. They will be smiling because she represents many generations and decades of ethical dealers." Kopelman echoes Liverant's beliefs, "She's what this business is all about. When you meet people with that level of knowledge and taste, and when you top that with integrity, you have a dealers dealer."

For information and reservations for the ADA dinner, call 203. 259.3844 or write to the Antiques Dealers' Association of America, Inc., P.O. Box 335, Greens Farms, CT 06436. The price is $75.00 per person. A portion of the proceeds will go toward an institution selected by Mrs. Gordon.


Kevin J. Tulimieri is an Antiques Dealer and Research Assistant with Nathan Liverant and Son, Colchester, Connecticut.


ADA Forum is a regular column contributed by members of the ADA.

---
The Antiques Dealers' Association of America, Inc., was established in May 1984 as a non-profit trade association. Membership is composed of professional antiques dealers who are dedicated to integrity, honesty, and ethical conduct in the antiques trade