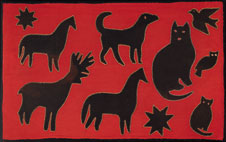 Minnie Culbertson (1868-1953), Shippensburg, PA, circa 1880
29 x 46 inches
Courtesy, Frank & Barbara Pollack, American Antiques & Art

This applique rug is constructed of black wool cut-out animal shapes embroidered and outlined in bright wool stitches on a vibrant red background [Fig. 1]. The rug descended in the original family and is said to have been made by Minnie Culbertson (1868-1953) of Shippensburg, Pennsylvania. In recent years two other rugs obviously executed by the hand of this, up until now, unknown maker have surfaced.

One, an elongated rug of two horses, was sold by us [Fig. 2], and the other, very similar to this one, is illustrated in American Hooked and Sewn Rugs: Folk Art Underfoot by Joel and Kate Kopp (plate. 229). We now know their maker to be Minnie Culbertson.

The rug is accompanied by a letter from the family and photos of Minnie Culbertson documenting her as the rug-maker. According to the letter, Minnie was born in 1868 in Amberson Valley, located in Perry County, Pennsylvania, and later moved to Shippensburg where she lived until her death in 1953. The letter reads as follows: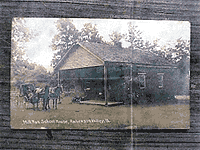 We think "Minnie" went to school at the above school. [Fig. 3] She was born in Amberson Valley which is located in Perry County, Pa. She lived there until she moved to Shippensburg Pa. which is about 40 miles south of Harrisburg, pa. We don't know when she moved. She lived in Shippensburg the rest of her life. She was born in 1868 and died in 1953. The large photo (which we have an identical one) was taken in the 1940's [Fig. 4]. She is the one with the hat in the two smaller photos [Fig. 5, 6]. My mom said she was very partial to hats. She married late in life and never had any children, which I guess is why my mother inherited the trunk. She was Minnie's favorite neice [sic]….Sincerely, Paul M. Boudin.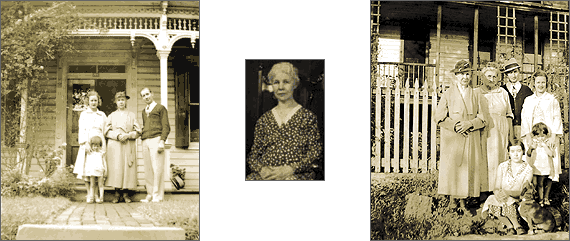 Another note by a family member:

Made by Minnie Culbertson
born Culbertson
and married
a man named
Culbertson (supposedly
no relation to her
prior to marriage)