by Brigitte Fletcher


Fig. 1: Rafraîchissoir by Jacques Dubois, Paris, ca. 1750–1760. H. 75, W. 38 cm. Courtesy Musée Nissim de Camondo, Paris. Photography by Laurent Sully Jaulmes.


In his Works In Architecture of 1778, Robert Adam expressed the opinion that his countrymen liked to partake of wine more so than the French.1 The considerable amount of wine indeed consumed by the English upper class, and their French and colonial American counterparts, required furniture forms to accommodate the storing, chilling, and serving of this convivial beverage, with craftsmen specializing in its manufacture.

Wine tubs of stone, marble, metal, and earthenware made expressly for the purpose of holding and chilling bottles, are known to have been made in Europe as early as the sixteenth century.2 In seventeenth-century France, freestanding stone containers, called cuves rafraichissoirs, were set on the floor near the table; their large size accommodating several ewers of wine for servants to pour as needed at large banquets. In the first half of the eighteenth century, wooden coolers appeared for the first time, often endowed with the decorative elements of the rocaille (rococo). Smaller in size than stone coolers, and circular or square in shape, they stood on cabriole legs and were lined with lead or brass to contain the cold water used to chill decanters of wine.


Fig. 2: Plate 254, Andre Jacob Roubo, L'Art du Menuisier, Paris, ca. 1772. Courtesy Winterthur Library: Printed Book and Periodical Collection.


In the second half of the eighteenth century, the dining room made its debut in Paris, courtesy of the English. These formal spaces were a "must-have" at the court of Louis XV, who was influenced by his beautiful and intelligent mistress, Madame de Pompadour, a trendsetter and patron of the arts with an insatiable appetite for the most fashionable trends.3 The new dining rooms were equipped with the previously existing buffet form of serving table, built to hold dishes and silver for serving food but not intended to hold wine. Soon, tables made specifically for wine were created for the new spaces. Called tables rafraichissoirs (Figs.1, 2), these small tables were more refined than the earlier coolers, and had the express purpose of keeping wine bottles and ice water4 in proximity to the dining table. Usually made with a marble top to accommodate spills, they were fitted with three or four cavities that held brass or lead buckets, and typically included two or three shelves below. The tables rafraichissoirs continued in use until the end of the nineteenth century, and can sometimes still be found in use in French homes.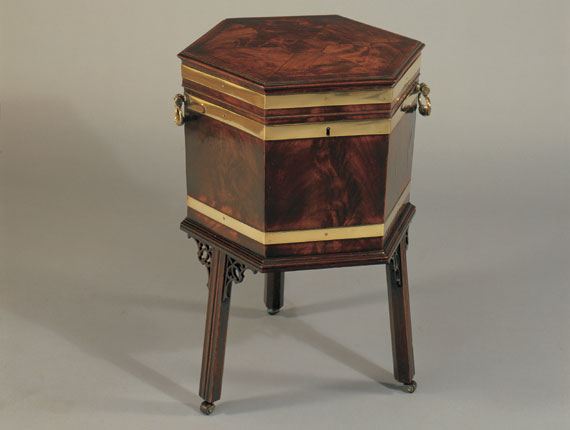 Fig. 3: Wine cellaret, England, ca. 1770. Mahogany. Courtesy of Norman Adams, Ltd., London.


On the estates of wine-growing regions such as Bordeaux, built-in wine cupboards were de rigueur in the eighteenth century. Incorporated into the paneling of a room and concealed behind doors, these recesses had divided compartments to accommodate bottles and shelves to display collections of glasses used for wine tastings. A freestanding variation of these cabinets also existed, and featured deep drawers in front and doors on the sides that opened to reveal partitioned shelves to hold bottles. An assortment of drinking glasses was also stored within.

In England, some of the earliest extant eighteenth-century wine coolers were part of lavish silver sets consisting of a fountain, cistern, and a cooler.5 English furniture associated with wine was in production by the 1730s. For the most part, surviving examples appear as plain mahogany boxes trimmed with bands of brass, though more elaborate versions were also available (Fig. 3). Because of the need to chill the bottles, coolers were lined with lead to hold the ice and water. Cellarets were a furniture form used in conjunction with coolers. These containers displayed and stored wine in the dining room prior to being chilled. Made with lead partitions, they accommodated upwards of eight to twelve bottles. Their designs are well documented in existing furniture (Fig. 4) and George Hepplewhite's 1788 and 1794 editions of The Cabinet-Maker and Upholsterer's Guide (Fig.5). As freestanding furniture, cellarets and coolers complemented serving tables and consoles and could be fitted with brass handles and castors so they could be easily moved about a room or placed under a table or the center cavity of a sideboard. Smaller wooden table coolers and bottle carriers were even more portable (Fig. 6).


Fig. 4: Wine cooler, partially shown, England, ca. 1775. Mahogany. H. 20, Diam., 14 in. Courtesy of Norman Adams, Ltd., London. Photography by Fortt Studios Ltd.


As the serving table evolved into the sideboard, the cellaret and lined cistern were incorporated into deep drawers at either end (Fig. 7). The first illustration of an English sideboard fitted for wine use appears in The Cabinet-Makers' London Book of Prices (1788).6 The increased production of sideboards toward the end of the century made cellarets obsolete in fashionable English dining rooms, with the advantages of sideboards enthusiastically described and illustrated in prominent pattern books of the period (Fig. 8). In 1788, for instance, George Hepplewhite noted "…a dining-room [is] incomplete without a sideboard…the right drawer has partitions for nine bottles…the drawer on the left has two divisions (one of them) lined with lead for the convenience of holding water to wash glasses etc."7

Sideboards made in America incorporated less of an emphasis on wine than their English counterparts, generally outfitted only with narrow compartmentalized drawers reserved for holding bottles. As a result, freestanding coolers and cellarets remained an important component of wine furniture in the early American dining room. Both forms took their designs from regional characteristics and needs, remaining within the confines of geometric forms.


Fig. 5: Cellaret, Plate 37, George Hepplewhite, The Cabinet-maker and Upholsterer's Guide (London, third
edition, 1794).


In the southern colonies, which were most closely aligned with eighteenth-century English fashions, wealthy plantation owners commissioned local cabinetmakers to make bottle boxes (cellarets) to suit their genteel lifestyles. Favoring the locally distilled Bourbon and sweet local wines over foreign imports, they used their cellarets for the purpose of housing such beverages. As a result, cellarets were often referred to as "liquor stands,"8 "gin cases," "brandy cases," or "bottle boxes."

The design of these pieces was inspired by the sugar chests in the "neat and plain taste" found in eighteenth-century southern dining rooms. They were made from native woods such as black walnut and generally consisted of a simple box supported by a plain stand, with a slider used to mix drinks and replenish bottles, and often having one or two front drawers (Fig. 9).9 The tops of the cases were hinged and their interiors were sometimes, though not always, divided to accommodate bottles. The earlier stands sometimes featured cabriole legs in the rococo manner, though such pre-revolutionary southern cellarets are rare.


Fig. 6: Table coolers, England, late 18th century. Mahogany. Courtesy of Norman Adams, Ltd., London.


Wine furniture remained in use throughout the nineteenth century as the wine culture further developed. In England, the habit of drinking red wine at room temperature gave rise to the introduction of uncovered cellarets (Fig. 10). By Victorian times, social customs and toasting etiquette were a part of elite dining rituals, further entrenching the need for furniture associated with wine. In the present day, we have reinvigorated our own wine culture in America through the interest in fine wines and the production of outstanding local vintages. Antique wine furniture is coming into focus as both fun and desirable. These pieces have become as relevant and interesting to our contemporary interiors and lifestyles as they were in the eighteenth century.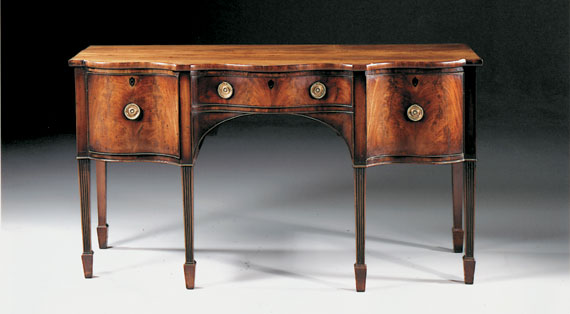 Fig. 7: Sideboard, England, late 18th century. Mahogany. Courtesy of Norman Adams, Ltd., London.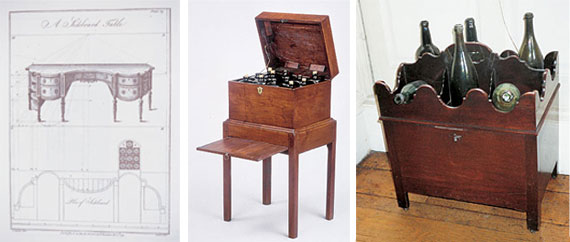 Fig. 8 (left): Sideboard table, Plate 29, Thomas Sheraton, The Cabinet-Maker and Upholsterer's Drawing-Book (London, 1793). Fig. 9 (center): Bottle case, Tidewater Virginia, probably Williamsburg, 1755–1775. Courtesy Colonial Williamsburg Foundation. Fig. 10 (right): Cellaret, England, 19th century. Mahogany. Photography by the author.


Brigitte Fletcher is a native of France and an independent decorative arts consultant and appraiser based in Boston, Massachusetts. She lectures and writes about French furniture.


---
Robert and James Adam, The Works in Architecture of Robert and James Adam, vol. 1 (1778; reprint, New York: Dover Publications, 1980), 3. The actual quote reads: "Accustomed by habit, or induced by the nature of our climate, we indulge more largely in the enjoyment of the bottle [than the French]."


See engravings of household scenes by Abraham Bosse of France, dated 1602, and engravings by Jean Le Pautre, for example. For rare early earthenware Italian Majolica faience, 1540–1550, see The Book of Wine Antiques (Antique Collectors' Club, London, 1986), 105, plate 95.


Stephanie Durand, "Les Demeures de Madame de Pompadour," Dossier de L'Art (February, 2002), 35, no. 83.


Camphor or sodium nitrate was added to the water to keep it cool. Ice was the preferred cooling agent in England.


Water was drawn from the fountain into the cistern where glasses were rinsed; the cooler held the bottle(s). A complete set, dated 1719/20, is in the collection of the Victoria & Albert Museum, London.


The Cabinet-Makers' London Book Of Prices (1788; reprint, Furniture History Society, 1983).


See also Thomas Sheraton, The Cabinet-Maker and Upholsterer's Drawing-book (London: T. Bensley, 1791, 1794).


Neat Pieces, The Plain-Style Furniture of 19th Century Georgia (Atlanta, Georgia: Atlanta Historical Society, Inc., 1983) 93, fig. 78.


Lester Margon, Masterpieces of American Furniture 1620–1840 (Architectural Book Publishing Co., 1965), 123.